Coming up with great long narrow bathroom ideas can be a daunting task, laden with design challenges. After all, the floor plan of your tiny bathroom doesn't allow for too much interior designing and decor ideas, right? Wrong! The truth is, if you plan your bathroom remodeling well, you can turn this restricted space into the most beautiful and perfect one.
The trick is to use clever bathroom designs to create an exciting, utilitarian, and fully functional bathroom. So, how do you make this space exciting? Create an illusion of depth, add drama, maximize space, etc. You can choose artistic ceramic tiles, compact sanitary ware, and bright lighting to create a feeling of spaciousness and airiness.
Let's show you exactly what we mean. Here are 15 long narrow bathroom ideas, tips, and tricks that will make your space stylish and functional.
Long, Narrow Bathroom Remodel Ideas
1. Wall mounted toilet
A wall-mounted toilet creates more visual space on the floor. It looks compact and is easy to clean too. The creative tile patterns, polished chrome, and a black-and-white palette lend glamour and visual drama. We love the fact that the checkered tiles effectively complement the yellow tile panel on top of the toilet. The engineered wood used for storage and open shelving gives the space a rustic charm which makes it really different. Notice that the designer has purposely used large rectangular tiles on the wall — lending depth to this small area and making it look bigger.
Instantly estimate the cost of your remodel...
...or take your time to personalize dozens of choices to transform your house into your dream home.
2. Extra-large mirror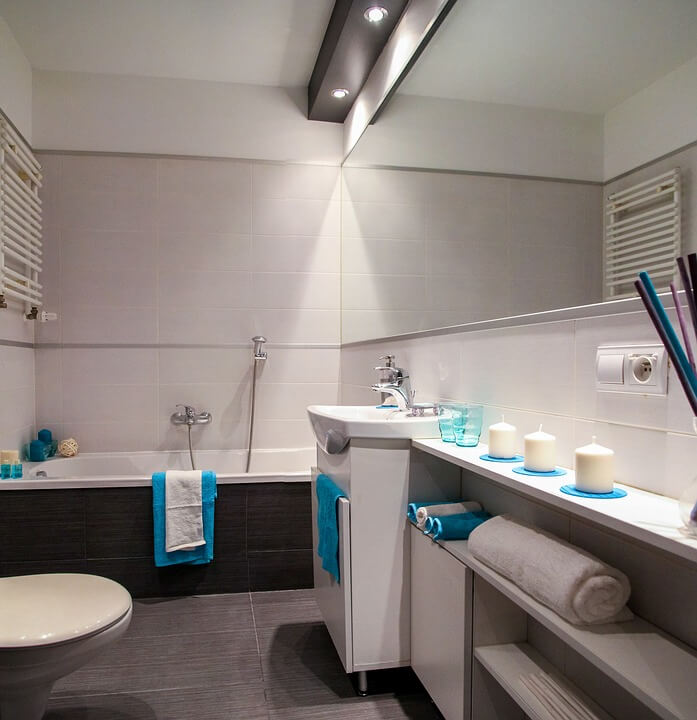 Mirrors instantly create more visual space. If you have a long, narrow bathroom — having an extra-large frameless mirror is your answer. What's more, the drop-in tub and the compact vanity make the space utilitarian and stylish. We feel the white and brown bathroom decor is simple yet pleasing to the eyes. The soft lighting, the aroma candles, and the incense add that touch of mystique to the bathroom.
3. Continual flooring
Continued flooring is the most logical design for a long, narrow bathroom. It makes the room seem more spacious. Changing materials can easily interrupt the space; something we don't want. Here, a marble floor effortlessly runs up to the walls — giving the area a cohesive look. We love the light-gray storage under a stark-white marble countertop sink. Notice the gold accents that seem to add richness to this otherwise simple design.
4. Curbless shower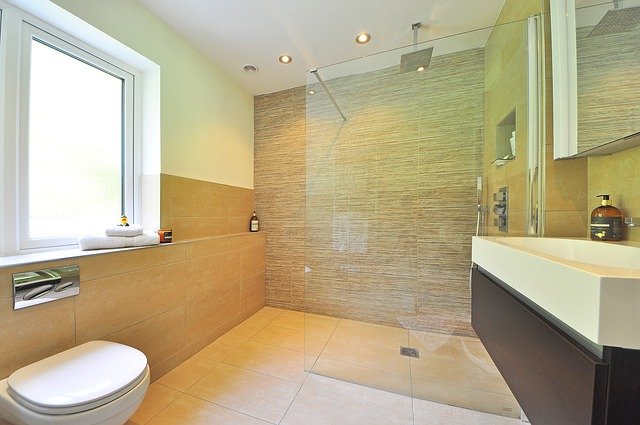 The first thing you must do in a narrow bathroom is to eliminate the curb around your shower. Let the flooring continue right into the shower.
The best materials would be concrete, tile, or stone slabs. Since there is no visual blockage to your shower area, the space looks roomy.
And, if you can manage to bring in a window — a large one at that — your bathroom will be airy too. You can even incorporate a concealed or infinity-edge shower drain for a totally seamless look. An added advantage of curbless showers — they are easier to clean too.
5. Wall-mounted sink and vanity
As with wall-mounted toilets, wall-mounted sinks and vanity are an excellent way to save floor space and to make your small bathroom appear roomier. And, you can add a little bit of storage space too.
Look for narrow washbasin designs and the latest thin-edge sinks. You can go for a ceramic sink. It is just as strong as a traditional one and is available in different shapes and sizes on the market.
6. Accent wall
Adding an accent wall is one of the most interesting small bathroom ideas. The ideal place for such a wall is on the back wall. You can add color to the whole wall or just a band of color. It will effectively add depth to the room and is a great way to add some color too. Since the pattern is only on one wall, the design is interesting without being overwhelming.
7. Open, tall shelving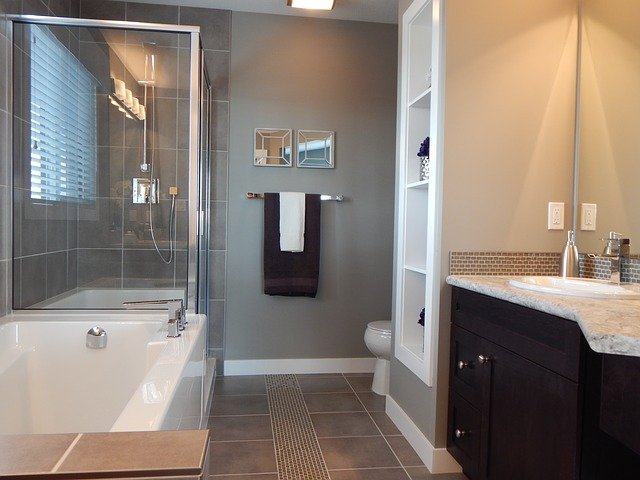 So, what if you have a small bathroom? There is no need to sacrifice storage. While there may not be enough space on the floor, you can always make it vertical. We suggest you opt for open, tall shelving next to the sink or at the end of a tub that will take care of your basic items. It gives a neat and light look to your tiny bathroom — effortlessly hiding the toilet from a direct view from the entry door. If you are looking for more storage, don't forget under the sink and even the back of the door which is a great place to add towel bars or robe hooks.
Read more: How to remove towel bars
8. Industrial look
Want your small bathroom to stand out? Think different. Be open to experimentation — opt for an industrial bathroom. Feature lots of raw materials in the design. And accessorize with industrial-style raw iron accents. Go for a rectangular concrete sink with an extra-large mirror. And say no to shower curtains. We like the iron ladder that holds the towels and the hexagonal tiled walls. Totally in keeping with the overall look.
9. Dark floor and light walls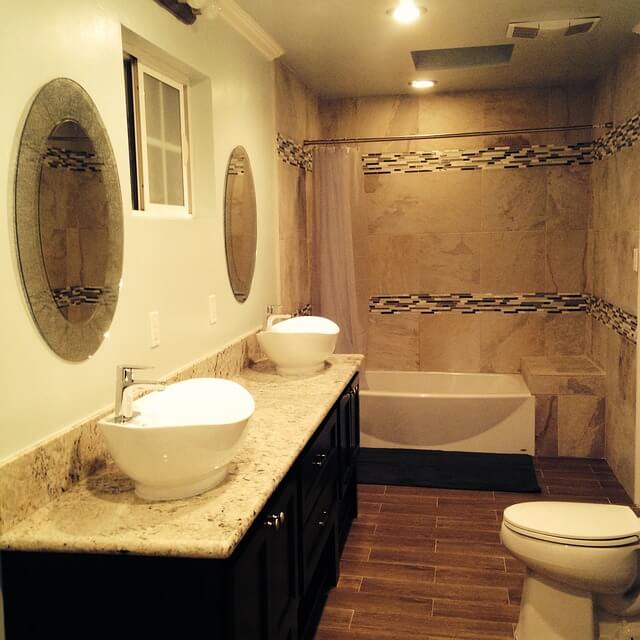 With small bathrooms, you must be smart with colors. For walls, you don't want a dark hue — it will make an already small bathroom look even smaller. Light walls will reflect more light and make this space appear bigger. Reserve dark colors for the floor for good contrast. You can, of course, keep the overall color scheme light. If you have wood floors, look for shower area tiles that match the wood in color and tone.
10. Smaller tubs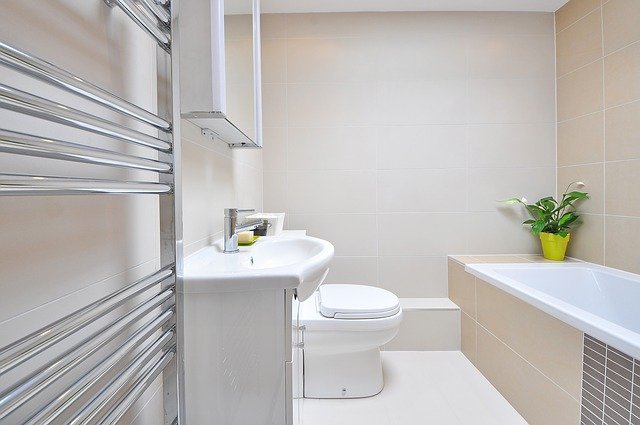 It is very much possible to keep a narrow bathroom stylish and functional. Just choose the right size, colors, and materials. We love the beige and white bathroom decor that spells class with its simplicity. And, there is no rule which says that you can only have a shower in such a small area. If you must have a tub instead of a shower, opt for small drop-in tubs that are sleeker and do not take much floor space. They are easy to install too.
11. Room with a skylight
This is one narrow bathroom idea we simply love. And, it's perfect for an awkward-shaped bathroom. Install a skylight in your bathroom. It will instantly make the space unique and brighter. And, you know what? A well-placed skylight that lets in natural light is a big selling point for homebuyers. This homeowner has beautified the area with exotic, tropical indoor plants that make your bathroom straight out of a magazine page.
12. Modern, minimalistic design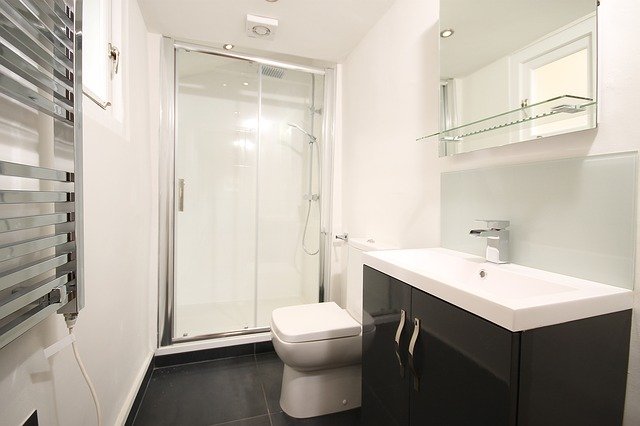 Keep your small bathroom neat and modern-looking. You can choose quartz or ceramic countertop along with dark-hued cabinetry and metallic accents. Together, they will make your bathroom look dreamy. We also like the fact that the shower doors are sliding. They do not need much space to open up and look sleek.
Read more: Buying Bathroom Medicine Cabinets? Keep These Factors in Mind
13. Maximum space utilization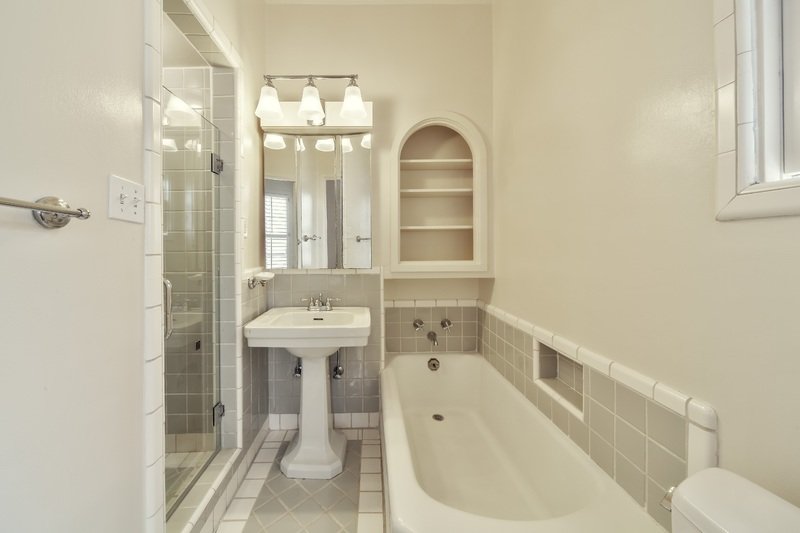 If you have the right design in mind, you can successfully optimize space to incorporate both a tub and a shower in a small space. This narrow bathroom is a classic example. The linear design has been planned well. Even the pedestal sink effectively unclutters floor space. The open shelving, the pendant lights — all make the room appear brighter and bigger. There is also a window that lets in ambient light. This is one bright room where we would love to spend a lot of time.
14. Matching shower wall panels and floor tiles
This design is perfect for a long, narrow bathroom. Right from the floating vanity to the sleek mirror — there is maximum utilization of space. What stands out in this space is the Bohemian tile design that runs from the floor to the shower wall panel. The unique pattern with its black-and-white palette adds a sense of drama to the bathroom — making it eye-catching while adding depth and style to it.
15. Vertical tile pattern
Sometimes, the right materials can be designed to create an optical illusion of more height. This bathroom is a classic example of it. Here, vertical blue-colored patterned tiles on the backdrop of large beige tiles make the bathroom look bigger than it is. The upper part of the ceiling is colored in the same blue tone to enhance this illusion further. A sliding shower door completes the look with its unobtrusive design. The bathroom has been purposely designed without a tub; it would have taken too much floor space and perhaps made the bathroom look cluttered.
Read more: Bathroom Ceiling Material: Which Option Is The Best?
Final words
The clever 15 long, narrow bathroom ideas show you how these small spaces can be quite appealing and functional. We suggest you hire a professional bathroom interior designer and work together to create a bathroom of your choice. You just need to carefully select the right materials, compact shower areas or tubs, sleek hardware, and perfect lighting, etc. So, even if you have a long, narrow bathroom, you can easily create an illusion of roomy extensiveness that will make your guests go wow.
15 Long Narrow Bathroom Ideas That are Functional and Beautiful
was last modified:
May 24th, 2022
by
Recommended