13 Spectacular Foyer Designs for an Unforgettable Entryway
Never judge a book by its cover but always judge a house by its foyer! Creating the perfect foyer design will undoubtedly make a stunning first impression — the kind that your guests will not easily forget. After all, you would love your entryway to reflect a unique, warm, and welcoming vibe, right?
An entryway sets the tone for your home. The more stylish you make it, the more it will enthrall your visitors. By using elements such as unique furniture pieces, lighting, colors, and other fixtures — you can create some of the most fantastic foyers.
To help you get inspired with stunning foyer designs for your next home renovation, we have 13 great ideas that will make your guests go wow with their charm and creativity. Our guarantee!
Planning a home remodeling? Use our free home renovation estimator to have a fair idea of the total expenditure of your project.
So, be prepared to treat your eyes with 12 amazing foyer designs.
Create a spectacular foyer design with a mirrored ceiling
This elegant and stylish foyer design will add depth to your space in the most beautiful way. Your mirrored ceiling will make the entryway appear double in size. With such a clever design, all you need is a signature light fixture to add even more splendor to your foyer. We recommend opting for an ornate chandelier for the ultra-stylish look.
The foyer is certainly the first thing that someone gets to see when entering your house. How to configure it so it gives a warm welcome to everyone? Take a look at our guide on how to create the best first impressions.
Home Renovation Cost Estimator
Sorry, we currently don't have that project at our disposal.
---
You can take a look at our most popular ones:
Water Heater Installation
Exterior Door Replacement
Install Recessed Lighting
Exterior Door Installation
Interior Door Installation
Interior Door Replacement
Keep a round table for the perfect lobby look
A small, round table can give your foyer the perfect hotel lobby look. Place a beautiful, round Persian carpet under it for a luxurious effect. You can use it to showcase your favorite flower arrangement (fresh or dry) and other decoratives. Your entrance will look great without a doubt.
We also love the hand-scraped wooden floor and the uniquely arched mosaic ceiling. Together, they make the foyer look grand, don't they?
Add a touch of drama with a modern artwork
Make your foyer stand out. You can make bold design choices, including a large piece of dramatic artwork. We like how the painting rests on a wooden console than being wall-mounted. The perfectly placed lamps provide a lovely symmetry. The intricate wrought iron front door adds a point of interest as well.
Give a carpeted welcome to your guests
A beautiful carpet lends a warm and welcoming look to your foyer. We like how this foyer design gives a cozy look to the space with its geometric carpet and unique choice of console table as well as a mirror. There's also a homey bench with furry cushions to add to the charm.
Add a rustic touch with wood
This foyer design delightfully rustic with its wooden furnishing. Complete with an antiquated wood door and sideboard, a beautiful landscape painting, the entryway has its own wooden guard dog too.
Think out of the box with a metallic console
We love how the interior designer has added a unique touch to this otherwise classy foyer with a steel, minimalist console. You can keep your decoratives or a live indoor plant on top of this console.
We'd recommend you to keep things simple with an eye-catching painting on the same wall. We also like how the half-wood-half lightly-tiled floor further adds to the uniqueness — flowing effortlessly towards your dining room.
Keep it stylish with a foyer wicker bench and a potted plant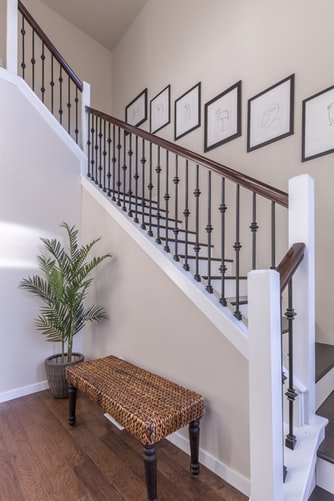 Photo by Francesca Tosolini on Unsplash CC0
Sometimes, even the simplest of foyer designs can make a beautiful statement. A basic wicker bench paired with potted palm and a hardwood flooring makes for the ideal welcome. The plant can be either live or artificial according to your preference. Just make sure that it matches the foyer space aesthetically.
Design a recessed wall in your foyer
We love this simple yet well-designed recessed wall in the entryway. This accent wall is beautifully lit by task lighting that illuminates a colorful wall painting, a family photograph frame, and a potted plant.
And speaking of lighting, did you know that if you are thinking in remodel your home, it should be at the top of your hit list?
Create a utility corner in your foyer with a unique coat rack
Who says, a beautiful foyer can't be utilitarian? You can strike a balance between style and convenience with a well-thought-out home design. We love the creative coat hanger that doubles as a shoe rack too! In fact, you can use it as a bookcase or a shelf to showcase your knick-knacks.
Go the minimalist way with a bamboo mirror
Here's another simple design that makes your foyer look stunning, but in a subtle and classy way. The bamboo round mirror and a matching bench are all that this area has but doesn't it look great?
Your guests can use the foldable bench to take off their shoes while entering your house.
If minimalism is something that has always caught your eye, take a look at this guide on using not wood, but stone for your minimalist home.
Make your foyer walls talk with exquisite wall coverings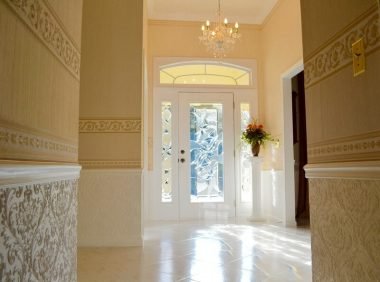 Photo by Pxhere CC0
Everything about this foyer screams elegance. The fiberglass door to the mid-century chandelier and the ornate wallpapered walls. These walls have been kept bare on purpose. With such beautiful walls, who needs any painting or unnecessary decor items?
Bring the foyer to life with lamps
Carefully-chosen lamps will enliven your entryway in the most beautiful way. We advise you to keep a pair of lamps for a symmetrical display.
To add a more elegant touch to the foyer, these porcelain lamps have been placed on a marble console that beautifully complements the rest of the home decor. Throw in a lovely carpet to complete the look.
Design in some stunning wall trim and molding
Wall molding can effortlessly dress up even the simplest of foyers. This entryway, for instance, looks classy because of the ornate wall trim and molding. Keep in mind that there's not much of anything else yet the entryway looks straight out of a magazine cover. And, the house looks almost like a palace!
A matching carpet adds to the charm. We love how the arched wall leads to the equally mesmerizing dining room.
Last words
We hope our 13 foyer design ideas will inspire you to create your own spectacular entryway. After all, the foyer is the first impression guests get of your home's interior. So, why not make it fantastic. You can hire a professional interior designer if you need help with home improvement.
The next time you're thinking of changing the way your foyer looks, keep these ideas in mind. Happy renovating!
13 Spectacular Foyer Designs for an Unforgettable Entryway
was last modified:
April 19th, 2022
by
Recommended