If you want to know about the best robotic pool cleaners this year, we have the top picks for you. What's more, we'll also give you the reasons why these models have made it to the list of the best robotic pool cleaners.
We hope this buyer's guide will help you make an informed decision when choosing an automatic cleaner for your swimming pool – whether an in-ground or an above-ground one. But first, let's understand what goes into buying a pool cleaner.
Why do you need a robotic pool cleaner?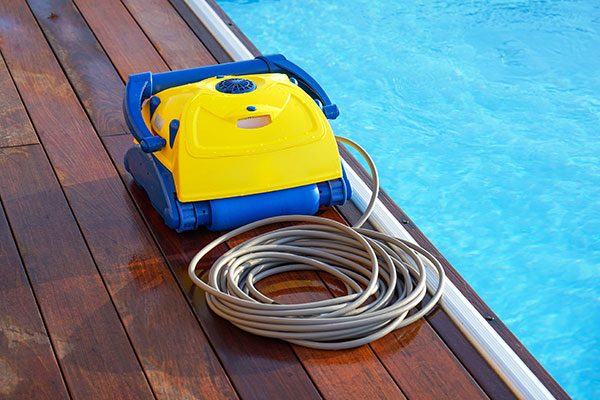 Owning a swimming pool is great but it does come with an elaborate pool maintenance schedule. You will have to spend a lot of time cleaning the pool or a lot of money to hire a pool cleaner or a pool pro.
The goal is to keep your pool looking its best and safe for swimming. And, to keep the water free of bacteria as well as algae. Therefore, it's important to maintain the structure as well as the water chemistry.
A robotic pool cleaner does both automatically. Although investing in the gadget is an expensive affair, it's worth the expense as it saves you money, time, and effort in the long run. You no longer have to push a vacuum around your pool manually. A robotic vacuum, basically, takes the hard work off your hands – cleaning the walls and floor of your swimming hole automatically.
What should you look for in a robotic pool cleaner?
When it's time to research the best robot pool cleaners, you need to consider a few things. These include the model, its features, functionality, reviews, and ratings. All these factors will help you manage your swimming pool properly.
Features and accessories
Based on your budget, the size and shape of the pool, and the frequency of your pool maintenance, you can choose features of a model that meet all your requirements. For example, a smart cleaner could take care of pool debris with a swipe of your phone. What's more, you could preprogram an elaborate cleaning schedule or a quick-cleaning mode according to the requirement. A cleaner with more advanced features such as deflecting mechanisms, gyroscopic mobility, and scanning software could make your pool maintenance much easier.
Furthermore, there are some pertinent questions that you can ask yourself before buying an automatic pool cleaner – do you want a cleaner that can be plugged into an outlet or one that's rechargeable? Do you need a caddy to wind up the excess power cord or will you do it?
Functionality
You'll have to choose a model depending on your usage. Or, whether it's an above-ground pool or an in-ground pool. For instance, robotic pool vacuums that are great for inground pools may not be so for above-ground pools. They may even damage the walls of the latter.
There are pool cleaners that just skim the top surface of your pool to collect the dirt and debris, while others may get into the sides and bottom of the pool to collect debris that may have sunk.
Your choice will also depend on whether it's an outdoor or an indoor swimming pool. If your outdoor pool happens to be surrounded by trees and plants, you'll require a cleaner with a big basket or filter bag to get the large debris.
Furthermore, it's a good idea to look for robot pool cleaners with wheels that can grip the slippery pool surface well. For example, above-ground robotic pool vacuums usually have wheels with rubber treads. These are able to glide easily on the bottom of the pool and finish cleaning cycles quickly.
Value and warranty
You'll have to look at the budget you have for the home improvement project. Pool cleaner costs may vary widely – depending on the features, size, usage, brand, and type of swimming pool it can clean.
Also, you need to make sure that you get the maximum-year warranty for your pool cleaner. It's a huge investment and you'd want your money as well as your pool financially protected.
Pool material
The type of pool floor material you have will help you narrow down your search. The swimming pool floor could be flat, rocky, irregular, or sloping – made with fiberglass, vinyl, tile, gunite, or plaster. Keep in mind that not every robotic pool cleaner will work with all floor materials. Always buy a cleaner that's rated for a specific pool floor material.
Pool shape
Most robotic pool cleaners work well on common pool shapes such as round, oval, kidney, or rectangle. However, if your pool features irregularities such as sharp angles, rising slopes, built-in bars, stairs, or bench seats, you'll have to find a cleaner accordingly. The layout of a pool will determine the type of cleaner that will prove to be efficient and effective.
Pool size
When you're buying a robotic pool vacuum, you need to factor in the size of the pool. It determines the speed at which the robotic pool cleaner will scour your pool. Moreover, you'll have to see the required storage capacity as well as the extension-cord length.
It should be long enough to complete the job. And the bag should be big enough to hold the collected debris. A cleaner meant for a 30-foot pool will not be as effective when placed in a 50-foot pool.
Your location
You need to consider where you live and the type of debris – dirt, sand, pollen, seeds, leaves, flowers, twigs, or bugs – you can expect regularly. This will depend on your landscape, local climate, and geographic location. Keep in mind that more debris will put stress on the pool's filtration system.
The robotic pool vacuum meant for leaves and twigs will ideally have a large filtration basket and one for dirt, sand, and pollen will feature ultrafine filters.
How do robotic pool cleaners work?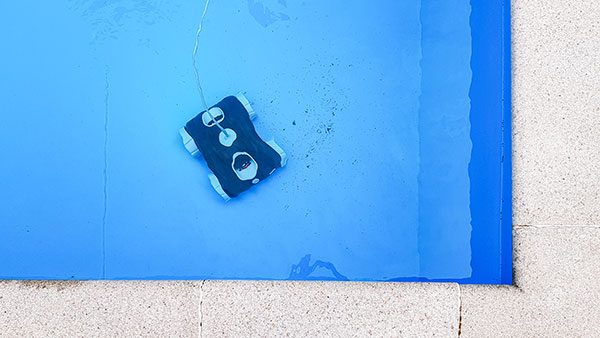 Robotic cleaners may be pricier than regular pool vacuum cleaners, but they are the easiest to use. Each robotic cleaner has in-built software that it uses to determine how to clean a pool. The best part is that such a device needn't be attached to a pump or circulation system.
If it's a cordless robotic pool cleaner, it will use its own power supply, filtration method, and cleaning cycle to clean a pool. Others may have to be connected to a power supply outside the pool with the help of a long power cord.
The robot cleans the pool floor as well as walls by moving around swiftly – collecting dirt and debris in a filter tray or filter bag.
How long do robotic pool cleaners last?
The average life of a robotic pool cleaner depends on the frequency of pool maintenance. The general lifespan of a robotic pool cleaner is three to five years. Having said that, such a machine could last up to seven years or more with maintenance and occasional parts replacement.
How much do robotic pool cleaners cost, on average?
Robotic pool cleaners typically cost $500 to $1,200. Some inexpensive robotic pool cleaners can be purchased for as little as $200 to $300, but they will have fewer features and a smaller cleaning capacity. Added features such as advanced programmed steering, built-in Wi-Fi, or Bluetooth add significantly to the pool cleaner's cost.
Is it a good idea to leave a robotic pool cleaner in the pool?
While it may be safe to leave a robotic pool cleaner in your swimming pool when not in use, it's better to store it in a covered area and keep the gadget protected. If you have a robotic pool cleaner with a built-in timer, you could perhaps leave it in the pool and let it run automatically at specific intervals. However, always remember to remove it when you're adding chemicals to the water or if you're winterizing the pool.
Which are the best robotic pool cleaners?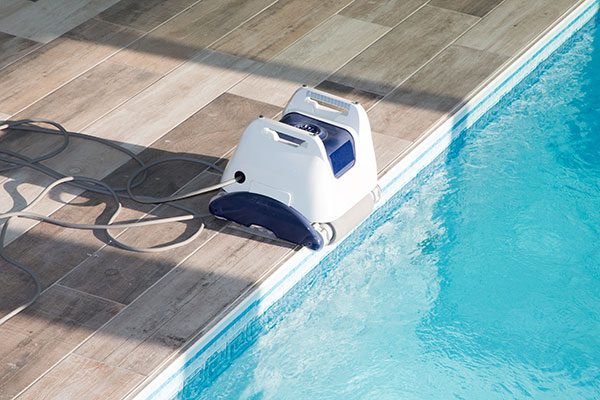 Here are some of the robotic pool cleaners that are big this year. And for good reason too.
Ideal for: Inground pools
Cable length: 60 feet
Cleaning cycle: 2 hours
This automatic pool cleaner uses dual scrubbing brushes and does a good job of scrubbing and sucking in the debris for around two hours. What's more, it has a large filtration system – an added advantage when collecting leaves, twigs, dirt, and pollen. You can schedule the cleaner to run regularly – every day, every alternate day, or every third day.
The power supply is not waterproof but it's water-resistant. And the best part is that the cleaner comes with wall-climbing capabilities — for pools up to 50 feet! It can be used on all types of pool floors and can even work while swimmers are in the water.
Pros
With wall-climbing and reversing capabilities
Big filtration system
Suitable for all pool-surface types
Easy scheduling
Cons
Without smartphone capabilities
Not meant for pool steps
Water-resistant but not a waterproof power supply
Ideal for: Smaller above-ground pools
Cable length: Cordless
Cleaning cycle: 60 to 90 minutes
If you're looking to keep your pool clean with no risk of accidental electrocution or tripping hazard, this cordless robotic pool cleaner is perfect.
All you have to do is start the vacuum and pull it out once it completes a 60- to 90-minute cleaning cycle.
It charges fully in six hours and one charge is sufficient to clean a smaller-sized pool. A large pool may need a second charge though. Interestingly, the cleaner automatically docks itself near the pool wall as the battery is about to die. However, you may still need a skimmer or a long pole to scoop up the unit.
Pros
Easy movement due to its cordless functionality
Safe, with no risk of accidental electrocution
Decent battery life – usually sufficient for a smaller pool
Conveniently docks itself poolside when on low battery
Cons
Takes time to charge completely
Can only take a slope of 15 degrees
Ideal for: Inground pools
Cable length: 70 feet
Cleaning cycle: Customizable
In terms of suction, traction, efficiency, device stability, and user control, this high-quality robotic pool vacuum is one of the best pool cleaners out there. Because of its four-wheel-drive system and a 70-foot power cable, it easily climbs pool walls, goes up and down steps as well as bench seats without an issue.
What's more, it's Wi-Fi compatible, connecting directly to a smartphone or to Amazon Alexa. You can customize the cleaning cycle according to your preference and convenience. And there's a dirty-canister indicator to tell you when to empty out the vacuum.
Pros
Climbs walls, stairs, and bench seats with ease
Compatible with Wi-Fi, smartphones, and Amazon Alexa
Includes a caddy and a dirty-canister indicator
Better control and stability because of a 4-wheel drive
Cons
Expensive price tag
Does not include a caddy cover
Difficult and expensive to replace broken parts
Ideal for: Above-ground and inground pools
Cable length: 40 feet
Cleaning cycle: 1.5 hours
This pool cleaner is specially designed to suit above-ground pools. It may not climb walls, but it cleans most types of pool floors up to 30 feet in length.
The easy-to-use and easier-to-setup machine comes with dual scrubbing brushes, a large-capacity filter trap, and a 90-minute cleaning cycle.
Remember that the power adapter is not waterproof and cannot be submerged in the pool or left out on the pool deck in the rain.
Also, since it may stop in the middle of the pool, you might have to tug on the power cord to pull the unit to the side of the pool.
Pros
Quicker cleaning cycle
Easy start function with a button
No charging required
Suitable for all pool surfaces
Cons
Not designed to climb pool walls
The electrical adapter is not waterproof
Heavy machine
Ideal for: Smaller above-ground pools
Cable length: 40 feet
Cleaning cycle: 1.5 hours
This easy-to-use cleaner is best for smaller above-ground pools up to 30 feet long. It comes with a high-suction vacuum, two filters to remove any type of debris, and a 40-foot cord. And it's easy to maneuver into corners.
The top-loading filter basket can be cleaned quickly and easily. You can expect some intense scrubbing. However, it cannot climb pool walls.
Pros
Easy to use and lightweight when out of the water
Great for small-size pools of all shapes
Quiet, quick, and efficient
Cons
Does not include a caddy
Short cable
Cannot climb walls
Ideal for: Inground pools
Cable length: 60 feet
Cleaning cycle: 2.5 hours
If you're looking for a solution to remove leaves, twigs, dirt, acorns, and other organic debris, this is one of the best robotic pool cleaners on the market. The machine is equipped with multiple debris-collection systems. That is to say, it has a micro-filtration cartridge to collect fine dust and dirt and a standard-filtration cartridge for regular pool debris.
It comes with a 60-foot power cord and can climb pool walls, scrub tile lines, and vacuum due to its 360-degree cable swivel. You can easily customize the energy-efficient cleaning schedule.
Pros
Can climb walls and scrub tile lines
Has a large filtration system for organic as well as inorganic debris collection
Can be scheduled daily, twice, or three times a week
Cost-effective cleaning cycle
Cons
Does not include a remote control, caddy, and cover
Longer cleaning cycle
Ideal for: Inground pools
Cable length: 60 feet
Cleaning cycle: 1.5 or 2.5 hours
This cleaner comes with front-and-back cleaning brushes, treads designed to climb walls, and a powerful suction vacuum. What's more, it has a dual-traction motor, great swiveling motion, a top-loaded 4-liter filter, a 60-foot cable, and even a rear water-flow outlet. It's interesting to watch the lightweight cleaner move and reverse around obstacles.
You can choose between two cleaning cycles – a 1.5-hour cycle or a 2.5 hour for some heavy-duty pool cleaning.
Pros
Light and easy to maneuver
Climbs walls and swivels
Tangle-free cord
Gives a choice of two cleaning cycles
Cons
Cannot climb pool steps
Comes with a long cord that needs a lot of wrapping
Ideal for: Smaller inground pools
Cable length: 50 feet
Cleaning cycle: 2.5 hours
This cleaner is perfect for smaller rectangular pools as well as plunge pools. It's inexpensive yet effective with good suction power, scrubbing action, and a 3-liter top-loading basket. You may even swim in the pool while it works. However, it doesn't work around built-in bench seats.
Pros
Climbs walls and scrubs waterline
A simple machine with an easy-to-clean debris basket
Suitable for all pool surfaces
Cons
Not great on pool stairs or benches
Doesn't include a caddy or caddy cover
The cord may tangle
Last thoughts
If you're looking for ways to cut down on pool cleaning costs and your pool maintenance efforts, you may consider buying the best robotic pool cleaner to help you keep a safer, sparkling swimming pool.
These robots work hard to clean the surface, floors, and walls of your pool – filtering out inorganic as well as organic debris efficiently as well as effectively. They do all the hard work, leaving the pool owners to enjoy themselves. 
Read more: Are robot vacuums worth it?
Best robotic pool cleaners for a sparkling pool
was last modified:
March 13th, 2023
by
Recommended