The National Safety Council as well as top pediatricians agree that children are more likely to be injured in their own homes than anywhere else. That's because they spend the maximum amount of time here. To prevent such unintentional child injuries and accidents, childproofing your home is a must.
Keep in mind that a baby-proofed home will go a long way towards keeping your child safe and you a little less anxious.
Here, we'll list out the most useful tips on childproofing your home room-wise. That is to say, how you can give special attention to high-risk areas such as the kitchen, the living room, the bathroom, and your child's bedroom or nursery. Moreover, you'll also understand how to address safety issues regarding electrical outlets, alarm detectors, home appliances, furniture, doors, and windows.
This childproofing checklist will help make your home safe for your baby. Moreover, it will give you the mental peace you need.
Childproofing your home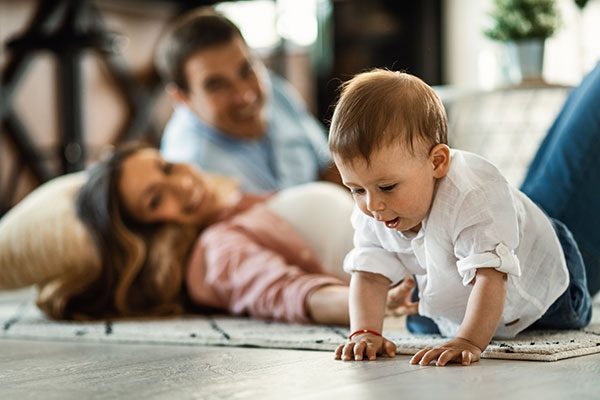 Before we give you the room-by-room list, here's how you can childproof your home in general.
Keep all doors closed properly. And, use door knob covers if possible. The good thing is that babies cannot reach doorknobs. Of course, you can place locks higher up on doors as kids become older. This will prevent them from entering a room unattended.
Use furniture anchors to anchor them to the wall. The last thing you'd want is a piece of furniture that's wobbly and can make your child trip.
Keep your guns locked away and unloaded. Every other day, a child dies from an accident involving a gun in the United States. If you own a gun, you must keep it under lock and key to ensure it doesn't ever reach your child's hands.
Safely put away the plastic bags and packing material. These are real safety hazards in the house.
Get baby safety gates put at the top and foot of the stairway. And, you can use zip ties instead of drilling holes.
Wipe up any spills immediately. A dry floor will prevent falls.
Grow the right plants. This is because some types of indoor plants can be toxic and you don't want your baby to ingest such plants.
Vacuum your house regularly. Vacuuming can help you pick up little things such as coins, earrings, buttons, batteries, or fridge magnets. Your baby could choke on them if you're not careful.
Store your alcohol properly. Keep your bottles out of your children's reach. Apart from the harmful contents, your baby could knock over a bottle and break the glass.
Get a pool guard. An unsupervised child could drown in your swimming pool. Make sure to use a pool cover and put up a pool fence.
Secure door stop caps. You must seal the caps with super glue. Otherwise, they might come loose and pose a choking hazard.
Make sure you have a smooth outdoor deck. Always, sand your deck well to get rid of rough edges and splinters. Furthermore, ensure that there aren't any stray nails sticking out.
Install a privacy fence. Fencing your yard will not just give your child a safe place to play later but also keep them away from playing in the street. It will also protect them from the unfriendly dogs in the neighborhood.
Childproofing your kitchen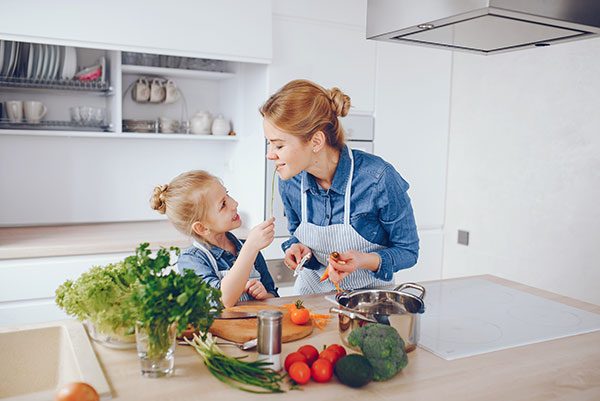 Young children can be in a lot of danger in the cooking space, succumbing to burns and accidents due to the many safety hazards present. You can use the following checklist to ensure the safety of your baby in the kitchen.
Never leave your child alone in the kitchen. If you're cooking or cleaning the kitchen, you might want to put your baby in a contained area or a baby swing.
Use the catch-and-hook style child safety latches and locks for lower kitchen cabinets and drawers. Especially those that hold cleaning products, dishwasher detergents, chemicals, cutlery, repair tools, or kitchen gadgets.
Keep away all the plastic store bags and foils. While bags can be a suffocation hazard, the jagged cutting strips in the kitchen foil can be extremely dangerous for children.
Keep heavy or breakable dishes up high. The last thing you'd want is your baby breaking these dishes and the glass shards all over the kitchen.
Make sure kitchen knives and other sharp objects are out of reach.
Ensure there are no dangling cords or electric cables.
Always use an electrical outlet cover or safety cap.
Remove small refrigerator magnets. Your baby can swallow these magnets and seriously injure their gastrointestinal tract.
Read more: How to test a GFCI outlet
Childproofing the living room
A living room can be a dangerous place – what with appliances such as the television, furniture, and possibly a fireplace. So, here are some good tips on how to babyproof your family room or living room.
Use wall-to-wall carpeting if possible to cushion the falls. If you have a hardwood floor that you do not want to cover, you can consider adding a sizable area rug.
Choose your furniture carefully. Make sure your coffee table, chairs, and dining table do not have sharp corners that can hurt your baby. Opt for rounded edges and soft storage solutions for your child's toys and other stuff.
Make sure the television stand or any other fixture does not wobble.
Ensure that there are no loose cords from window blinds, the TV, or the computer if you've set up a home office. The baby may accidentally wrap them around their neck.
Avoid using extension cords for the same reason.
If you have a fireplace in your living room, keep the matches up high and your child away at all times. The fireplace glass screen can get really hot to the touch.
Childproofing the bathroom
While the chance of your baby entering the bathroom unsupervised is not high during the first couple of months, you need to be vigilant once the baby starts crawling. So, here's what you can do to ensure maximum child safety in the bath.
Keep bathtubs clean and dry. When not in use, drain your bathtub. A hot tub apart from being too hot for your baby can pose a drowning risk.
Get a lockbox for your medicine cabinet.
Remember to keep your curling irons and hairdryers (and the power cord) far out of your child's reach to prevent injuries.
Always keep the toilet lid down. Or, you could buy a toilet lid lock to give you peace of mind. Apart from posing a drowning hazard, your toilet could well be a source of drinking water for your baby. Eww!
Make sure your cosmetics, razors, toothbrushes, toothpaste, and bathing soaps are stored high in a cabinet with a childproof lock.
Scale down your water heater temperature to less than 120 degrees to avoid serious burns.
Ensure that the bathroom drain covers are screwed in properly.
Add a non-slip bath mat. A wet floor, especially with shampoo and soap residue, may cause you or the baby to slip – leading to a serious bathroom accident.
Childproofing the nursery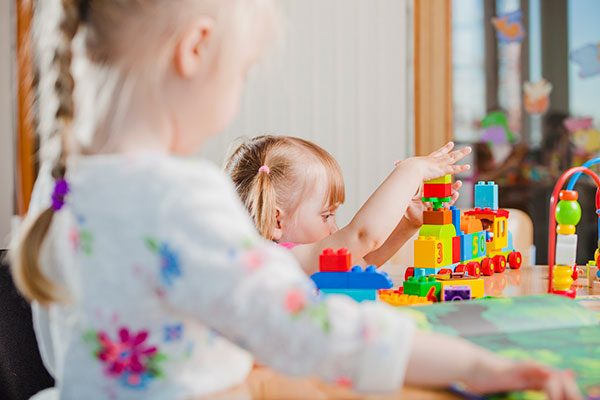 Every new parent wants a beautifully decorated nursery – right from the perfect wall color to comfortable nursery furniture. However, what needs to be at the top of your priority list is how to make the nursery absolutely safe for your baby.
Here are some of the safety tips that will help you along the way.
Use a reliable baby monitor. You may even invest in a camera to make sure your baby is safe.
Buy a good-quality crib. A second-hand crib may get you a good bargain but will it be sturdy and safe enough? Old cribs may have lead paint or wider slats – things you would want to avoid at all costs. Ideally, crib slats should be less than 2 5/8th inches or 6 centimeters.
Install a window guard for openable windows.
Avoid keeping pillows, fluffy stuffed animals, or blankets in the crib.
Buy toy chests with slow closing hinges – not those that snap shut.
Skip putting up wall art, sticker decals, or picture frames next to the baby crib.
Use a glider over your rocking chair to lock it in place when not in use.
Keep the crib away from windows lest the baby grabs the blinds or curtains and wraps them around the neck. It's a good idea to have cordless window coverings.
Last thoughts
Even if you're fairly certain that you have completed childproofing your home, there's a good possibility that you may have missed a potential hazard.
Looking around the house to determine what modifications need to be made to keep the baby safe can be challenging for expectant parents.
Therefore, to help you from being overwhelmed, we've made this checklist for childproofing your home. We hope it helps you ensure your child's safety in every part of your house. Happy parenting!
Read more: DIY upgrades for safer home
Useful tips on childproofing your home
was last modified:
June 12th, 2023
by
Recommended