8 Safe Design Solutions for Senior Friendly Bathrooms
It's fairly commonplace to hear about someone taking a nasty spill in the bathroom. Floors are often slippery, so it's easy to slip and fall. If you're absent-minded and stub your toes upon the shower threshold, or trip while getting out of the bathtub, the resulting sprains and fractures will definitely be painful to recover from.
Now imagine that happening to a family elder! The older you get, the longer it takes to recover even from minor injuries. Here are eight safe design solutions for senior-friendly bathrooms to help you make your elders' bathrooms as injury-proof as possible.
1. Space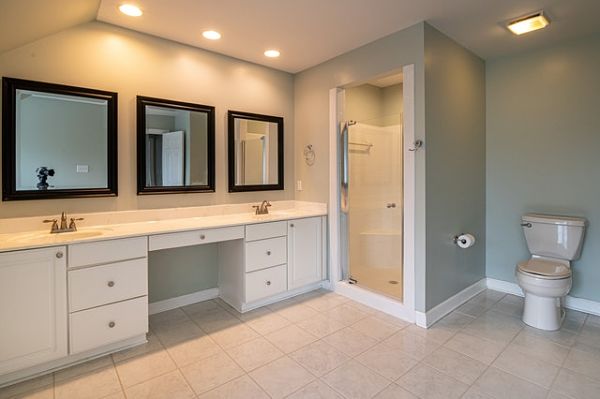 Remember that it's not easy for an elderly person to maneuver around narrow spaces. Some of them may even have mobility limitations. So it is of paramount importance that your bathroom design is spacious enough for a person in a wheelchair to be able to use the facilities without having to bother about tight spaces.
2. Easy Accessibility
The bathroom should be easily accessible without any obstructions. Make sure there are no stairs, platforms, or loose rugs to impede access to the bathroom.
Sensor operated lights illuminate the way to the bathroom and to light up the bathroom automatically when occupied will also be an added convenience.
Light switches should otherwise be at an easily accessible height and placement.
The door to the bathroom should also be easily operable. Ensure door levers are at an easily accessible point of the door and simple to operate. Sliding doors are among your best options. Do away with locking systems so the bathroom can be easily accessed from the outside in case of an emergency.
3. Floor Safety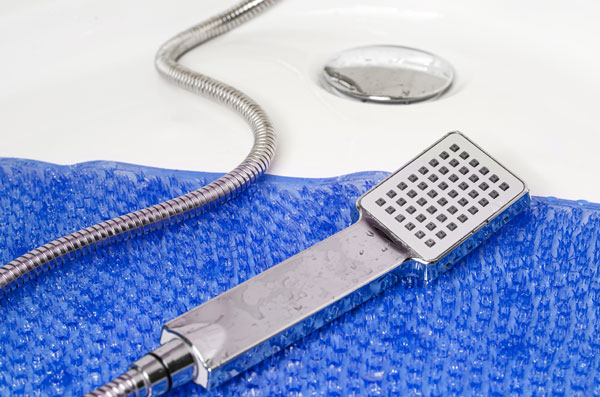 The deadly combination of soap and water makes bathroom floors dangerous for everyone, and doubly so for those with limited mobility. This means your senior-friendly bathroom needs to have a slip-proof floor.
Nonslip ceramic tiles, epoxy, cementitious boards, and rubberized floors are the most preferred materials for the job.
Installing an anti-slip shower mat in the shower area or bathtub is a great way to lower the chances of your elders slipping and hurting themselves in the bathroom.
Try and avoid fabric rugs and foot baths in senior-friendly bathrooms, since slipping on them can be hazardous. Make sure they're either rubber mats or at the very least, rubberized where they're in contact with the bathroom floor to avoid slippage.
For those of you with an ecologically responsible bent of mind, you can choose mats made of natural rubber, recycled PVC, and bamboo strips, among other options.
4. Toilet Comfort
It becomes difficult for older people to sit and stand up if toilets are fixed too low. Ideally, toilets should be at least 18 inches from the floor and firmly cemented to the floor to ensure they're used comfortably.
If the senior in your family is in a wheelchair or has mobility issues, you will need to build them an accessible toilet.
5. Support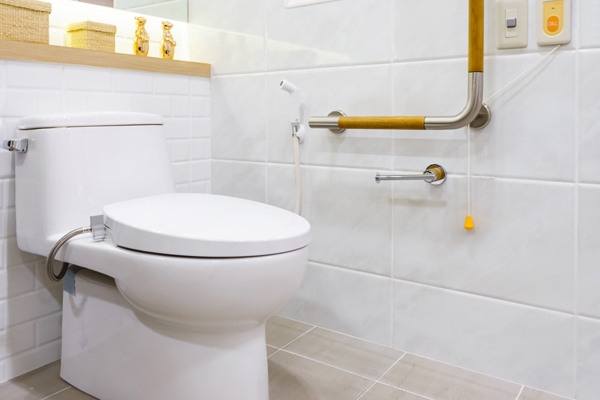 The elderly and those with disabilities will need help to get onto the toilet and to stand up. Installing grab bars to assist them is of paramount importance.
These bars should be strong enough to handle the weight of the user, so stainless steel or aluminum bars are usually preferred. Make sure they're mounted firmly enough on to the walls on either side and behind the toilet.
6. Sinks and Faucets
Like with toilets, sinks need to be at the ideal height for the senior members of your family. For example, if the person in question is wheelchair-bound, the sink needs to be low enough for him or her to access without having to stand up.
Try to avoid faucets that are knob operated. These become cumbersome for elders to use. Instead, choose automated sensor-driven faucets so there is no question of having to turn them on or off.
If you do have to choose manual faucets, choose those that are lever operated.
7. Showers and Tubs
To start with, make sure the shower area can be entered without any steps or thresholds. This greatly reduces the chances of accidents happening while getting in and out of the shower.
A lot of seniors require the help of a caregiver while showering, so make sure the shower room is large enough to facilitate that.
Add a shower bench so the user has the comfort of sitting while showering.
While we'd suggest you avoid bathtubs altogether, there are walk-in tubs that are built specifically for the convenience of seniors without severe mobility issues.
As with toilets, strategically placed grab bars and rails are a must for support.
8. Alarm Systems
No matter how many precautions you take, accidents are inevitable. In the eventuality that your senior ward should face such a predicament, have alarm systems installed that can be operated with minimal effort.
There are multiple alarm solutions that you can consider, including ones that connect to a telephone service provider or emergency service at the push of a button. There are also sensors that the elder in question can wear on his or her person that will detect abnormalities and alert caretakers.
Eventually, It's All About Personal Care
You know what they say about life coming a full circle? We're all vulnerable and helpless when we are born into this world, and often, we find ourselves in a similar situation in our senior years.
While these bathroom renovations may help make the bathroom more secure for our elders, what they all need more than anything is patience, love, and positivity. Making their lives easier will definitely make us feel as good as they will.
Read more: Get organized caring elderly parent home
8 Safe Design Solutions for Senior Friendly Bathrooms
was last modified:
April 22nd, 2022
by
Recommended