The cinemagic of Hollywood makes everything from a prehistoric, dinosaur-filled world to a trip to outer space possible. Holiday movies are no exception, and set designers work tirelessly to create spaces that you can't really imagine stepping into without bursting into a rendition of "Jingle Bells." If you want your holiday home décor to have the look of an iconic film, check out these six famous movie homes and get tips on how to bring the look into your own abode.
The McCallister home from Home Alone
The Winnetka, Ill., home that served as the home of the McCallister family in 1990's Home Alone and 1992's Home Alone 2 sold for a cool $1.58 million in 2012, and we like to think that the new owners deck their halls to the extreme seen in the beloved flicks.
To get the look:
Go all out with the red and green. This traditional home oozes holiday spirit with furniture in festive colors (think about acquiring some red, green, and floral slipcovers). A tree decked out in lights, toy soldiers, and wreaths – plus stockings hung over the chimney with care – will help you get your own Home Alone look. Extra points for a red rug, green curtains, holiday-hued throw pillows, and not leaving your child behind when your whole family goes on vacation.
Elf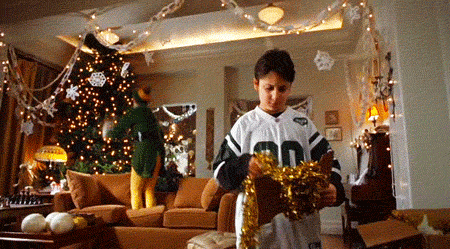 Buddy the Elf wants to know which color is your favorite – and if you want to steal the holiday décor look from this flick, your answer better be white, as in white construction paper.
To get the look:
First off, you're going to need one giant Christmas tree, and a lot of bright white or gold lights. Next, grab some gold garland and go nuts. Finally, unleash your inner artist (and enjoy having readily entertained children for a few hours) with gobs of white construction paper and glue, then string handmade snowflakes and paper chains from the ceiling. If you want to up your tree's style level, à la the department store in the film, get some toys and poinsettias.
Jude Law's family abode in The Holiday
When Cameron Diaz's character in The Holiday decides to take a solo trip to England for the holidays, she winds up finding a very sultry Jude Law, who turns out to be a great single dad with a beautiful mill house. Because that's what happens when you spend the holidays alone, right?
To get the look:
Think garland, garland, garland. Few things scream "It's holiday season!" like a banister wrapped in greenery and lights, topped with red velvet bows. Snowflakes and signs created by little ones will add an extra homey feel, as seen in Law's movie home.
Yours, Mine & Ours
Have a bunch of kids? Great, now marry someone else who also has a bunch of kids, buy a giant Victorian, and then deck it out for the holidays like none other, and you'll be living the 1968 classic Yours, Mine & Ours.
To get the look:
Garland is plentiful in this holiday movie setup as well, and don't forget the spools of bright red ribbon. Red stockings galore hung above a wreath on the mantle will add to the traditional holiday vibe, but the pièce de résistance is the ridiculously large tree, covered with candle-like lights (or actual candles if you're really brave) and personal ornaments.

Upgrade your home.
Kickstart your renovation with cost and ROI estimates now.
The Griswold residence from National Lampoon's Christmas Vacation
You can't read the words "holiday movie" without thinking of the 1989 classic National Lampoon's Christmas Vacation. This may be the most misnomered film in history, because Clark and the rest of the Griswold clan definitely don't get a vacation – instead, they're inundated with kooky relatives and plenty of mishaps while trying to throw the ultimate family holiday gathering in their home.
To get the look:
If you're up for the renovating route, get some wainscoting (faux versions can be installed relatively easily and aren't very expensive), some wallpaper (temporary if you don't want to keep the look year-round), and brass fixtures. Just looking to copy the holiday décor? Get a tree (don't forget the saw), bring out the silver tinsel and popcorn garland, place poinsettias near the door to provide a sense of the season the second your guests arrive, and – of course – lose your mind when it comes to creating a holiday light display. More is more when you're going Griswold.
Harry Potter … all of them
There are many reasons that the Harry Potter book series was a mega hit, and it wasn't surprising when the beautiful films destroyed the box office. Set designers did a bang-up job when it came to creating the stunning sets, especially for the holiday season.
To get the look:
Did you graduate from Hogwarts and now have the ability to make it snow indoors? Good for you, this is going to be easy. For muggles, think faux-snow-covered trees, white string lights strung across ceilings, rustic wooden furniture, and chic trees and wreaths decked out in gold, silver, and white.
A Christmas Story
There's a reason that A Christmas Story is on television for 24 hours on Christmas Day – few holiday films hold as special a place in people's hearts as this story of one boy's holiday experience. If you really want to immerse yourself in Ralphie's world, take a tour of the actual house from the film and visit the museum in Cleveland, or dress up in a movie-themed costume.
To get the look:
Valances and white curtains, a vintage radio for listening to "Little Orphan Annie", a green sofa, and a dark wood coffee table ought to give you the look of this humble 1940s abode. To recreate the holiday theme, you'll need large red lights, tons of tinsel, a slightly crooked silver star tree topper, and – of course – the infamous Christmas Story leg lamp.
Get the Look of These Holiday Movie Homes
was last modified:
July 24th, 2017
by