12 Ways to Use Ceiling Fans in Modern Design
There's no fixture quite as versatile as the ceiling fan. Not only does it help to regulate temperature, providing an enjoyable breeze when temps are high, but it can also serve as a functional piece of home décor, especially in fresh, modern design. Let's take a look at some of the ways contemporary designers are using modern ceiling fans to tie together their freshest spaces.
Make it White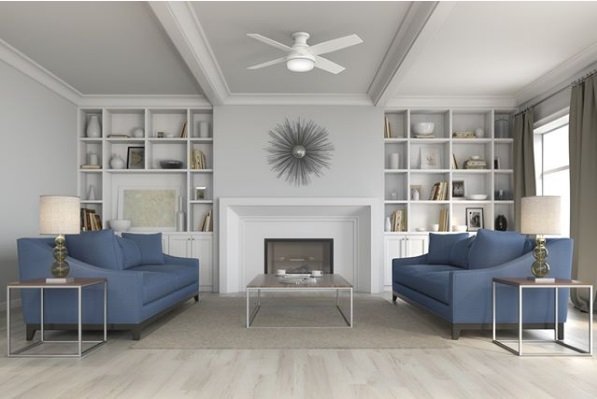 This dreamy space comes to life with a simple white ceiling fan. Featuring a more transitional vibe, this living room is all about clean simplicity, with a white and gray palette complemented by splashes of blue and green. The smooth, frosted white lens completes this fan's contemporary feel.
Double Up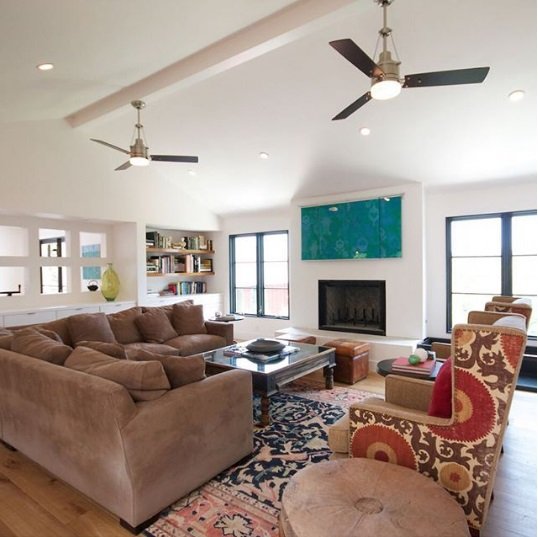 The double ceiling fan trend has really taken off in the past couple of seasons. In this room, we see two coordinating fans installed on a high beam, providing both general lighting and the functionality of two fans. Ideal for big, airy rooms, the two-fan design creates some unconventional intrigue.
Throw Some Shade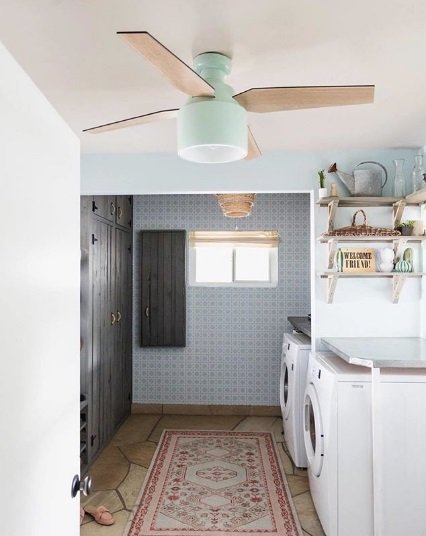 The focal point of this cheery, retro-inspired laundry room is the popular Hunter Cranbrook Ceiling Fan in mint. Inspired by mid-century furniture, the Cranbrook switches things up with a bright, eye-catching shade coupled with walnut blades. Pick a fan with a painted shade if you want to use your fixture to infuse some color.
The Bigger, the Better

Modern design is all about breaking rules, and sometimes that's best achieved by choosing an unconventional ceiling fan size. Right now, it's all about the big and oversized, with ample blades and a large footprint creating intrigue from above. This room is brought to life by the Fanimation Levon Ceiling Fan.
Stick to Chic Simplicity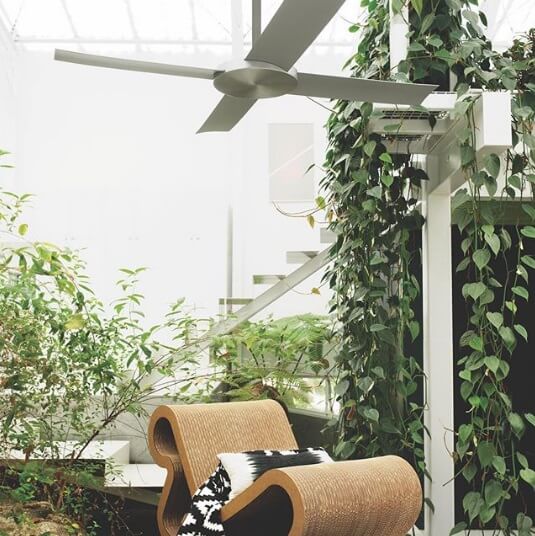 If your version of modern is equal parts futuristic, simplistic and sophisticated, then it's got to be a sleek nickel or chrome finish. These fans match the contemporary vibe of stainless steel appliances but are available in many more textures for a warm yet fresh feel. We love how this style skips the light fixture to keep the design totally pure.
Think Outside the Blade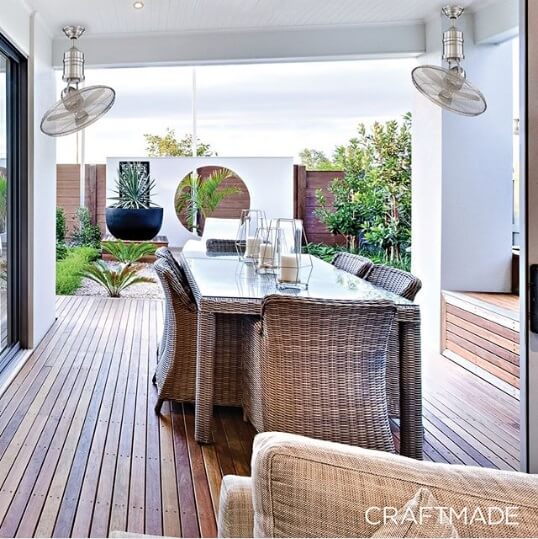 Who says you have to stick with the typical ceiling fan silhouette for the perfect blend of style and function? These kinds of ceiling fans are referred to as cage ceiling fans and they may be mounted on the walls or ceiling for an out-of-the-box approach. We love these kinds of fans in industrial, urban and retro living spaces.
Match Your Finishes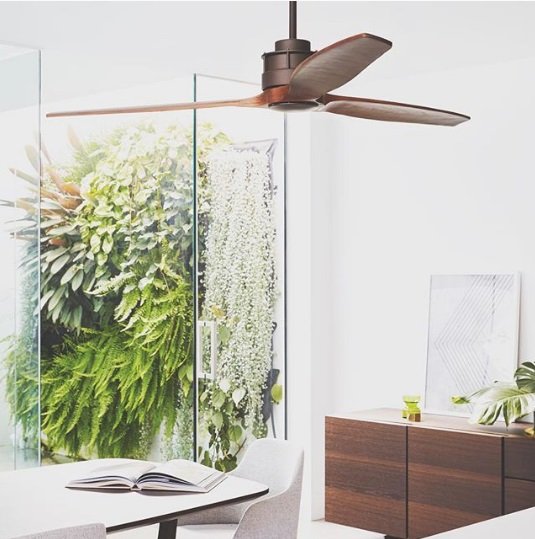 A big part of modern design is abandoning all the rules, but occasionally it makes sense to do a little bit of matching. We love the way this earthy bedroom is tied together with rich, dark-toned finishes. The simple three-blade fan and hutch provide the perfect warm contrast against the bright, white walls.
Soften the Edges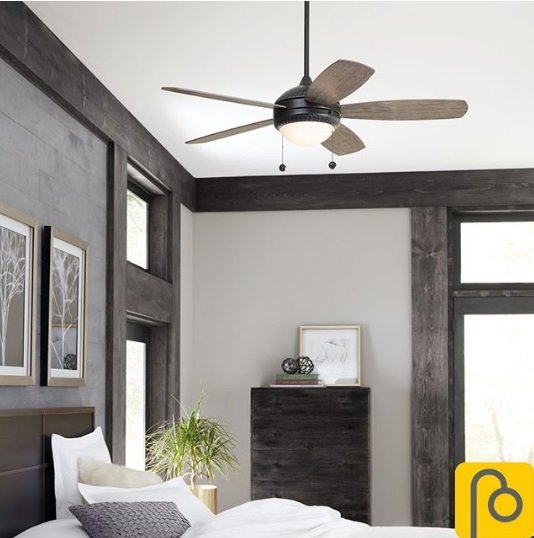 Ideal for transitional spaces, ceiling fans with round, frosted glass shades are perfect for bringing a little bit of softness to otherwise brooding rooms. We love the way this fan features a dark-toned motif to match the rest of the environment, but still feels warm and approachable thanks to the soft glass shade.
Make it Artsy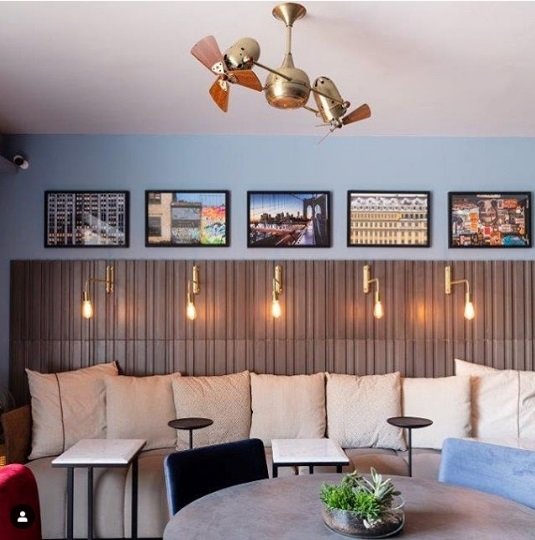 We're not saying you should go all out with a tie-dyed ceiling fan (yes, it's a thing!) but it's A-OK to let your fan make a statement, if you're up for it. This chic home entertaining space comes together with a unique, retro-inspired dual-head fan that draws the eyes upward. The coordinating sconces really play to this room's cozy yet industrial vibe.
Read more: How to Install Ceiling Fan Wiring
Go for Three Blades…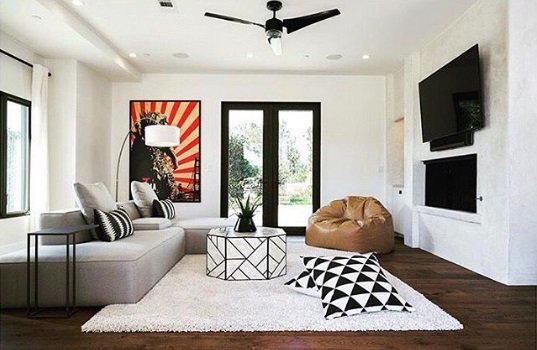 According to the Home Dweller, one of the most important aspects of modern design—or any design, really—is proportion. While the trend right now is erring towards large and dominating ceiling fans, there's something to be said about a simple three-blade style, especially in simplistic and understated spaces.
Or Eight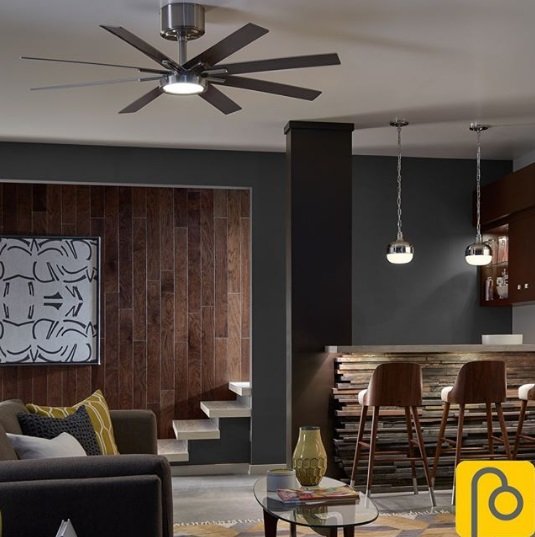 But, then again, sometimes it's best to go big or go home, as they say! We love the look of this bold, eight-blade ceiling fan in this cozy mid-century space. The reason why this design is so refreshing is because it proves that you don't need a vaulted ceiling or a massive, open room to capitalize off the big fan trend. When done right, large fans can complement smaller spaces, too.
Try Natural Finishes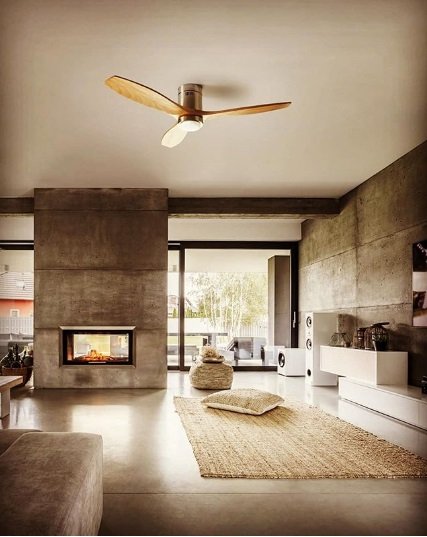 If your version of contemporary décor skews earthy, airy and clean, then don't be afraid to integrate some light, natural finishes into your décor style. This room features a sleek three-blade fan with an ultramodern silhouette done in a maple finish.
At the end of the day, your design should speak to your personality and aesthetic preferences from floor to ceiling, and there's no better way to tie it all together than with a chic, contemporary ceiling fan. Just as long as you're not bogged down by rules and aren't afraid to take a few risks, you'll find that these fixtures can do wonders to bolster your design vision.
Read more: How to Install a Ceiling Fan
12 Ways to Use Ceiling Fans in Modern Design
was last modified:
September 7th, 2022
by
Recommended