There's nothing like great-looking bed headboard designs to enhance the aesthetic value of your room. In fact, we would like to believe that no bed worth its salt is truly complete without a headboard that matches it in grandeur and style.
For centuries, bedroom designs have been structured around unique headboards that were almost garishly opulent — but were undoubtedly the focal point of that particular master bedroom, or guest bedroom for that matter.
Today, bed headboard designs might not be as luxurious, and might we add larger-than-life, but they are certainly attractive and eye-catching.
Thanks to a wide array of headboard ideas and styles available — choosing the best one for your bedroom has become easier. Some of these headboards are so out-of-the-ordinary that they inspire us.
From vintage wicker and repurposed wood to contemporary designs, designers are not shying away from selecting eclectic materials, style, and designs.
Let us explore some of these smart ideas. Here are 15 bed headboard designs to up your room's style quotient.
1. Rustic Headboard
This headboard design is perfect for a homeowner who is looking for a defined rustic style. There is an emphasis on rugged, natural beauty that is full of warmth. We love how the headboard embraces nature-inspired textures in an unpretentious, organic way. Such a design looks best in simple and earthy colors.
2. Luxurious Velvet Headboard
If you like to spend most of your relaxation time sitting up in bed, it's imperative that you choose a headboard fabric that is soft and easy on the eyes. Our personal favorite is velvet. You can, of course, opt for similar fabrics such as chenille or polyester for upholstering your headboard. There is a charm that velvet holds, it looks luxurious without even trying. This green velvet headboard is perfect for an elegant and decorative master bedroom.
3. Painted Headboard
Sometimes you just want your headboard to be nothing more than a purely decorative element that looks stylish and trendy. A unique design is to paint your headboard directly onto the wall. The idea is to give an illusion of having a headboard without wasting space with an actual one. We love how the designer has used glowing white paint to create an amazing visual impact.
4. Upholstered Headboard
Create the perfect bedroom design with upholstered headboards that match your personal style. This traditional quilted headboard looks cozy and inviting with its choice of color and pattern. Set against a floral wallpapered wall, it couldn't have given off a more homey vibe. A perfect choice for a guest bedroom to make your friends and family as comfortable as possible.
5. Variation Bed Headboard
The solid-wood bed headboard, with its varying grains and textures, is easily a statement piece for any master bedroom. It complements the low-height wooden bed perfectly. The look is understated elegance at its best.
6. Wicker Headboard
This unusual headboard made with wicker will anchor your master bedroom in an airy, tropical style. It's light-weight, eco-friendly, and gives a chic silhouette. The expertly woven headboard has a timeless and smart texture. And, it's perfect for a smaller bedroom because of its unobtrusive design. You can choose from a range of colors and patterns to match your bedroom aesthetic.
7. Antoinette Bed Headboard
A classic French-influenced design, an Antoinette bed headboard is beautifully carved, to say the least. One look at the aristrocratic style and you fall in love with its antique, almost regal, silhouette. Typically made of solid weathered oak, it can be upholstered in almost any fabric. This is one design that looks both ancient as well as trendy! Owning such a grand headboard is almost like owning an heirloom.
8. Victorian Wicker Headboard
Another beautiful option when it comes to wicker headboards is to opt for the more decorative Victorian wicker headboard. It is a perfect combination of beautiful design, functionality, and eye-catching antique style. Our favorite color choice is white which allows for every nuance of the workmanship to show perfectly.
9. Vintage White Wicker Headboard
This handcrafted headboard is a sight for sore eyes. If a mid-century boho chic decor is more your style, a vintage wicker headboard will be perfect for you. Beautifully woven around wood, this kind of headboard is eco-friendly as well as extremely easy on the eyes.
10. Seagrass Headboard
A seagrass headboard brings exceptional warmth to a bedroom. Since it has an all-natural texture and variegated colors, the look of the bedroom becomes casual yet modern. Again an eco-friendly option, this headboard is woven by hand in a crisp basketweave pattern. There is an interesting interplay of shadow and light which is perfect for a beach-house decor.
11. Swirly Headboard
This kind of swirly headboard in wrought iron helps you create an unusual look around your otherwise plain Jane bed. Apart from the decorative feature, it also adds considerable height to your bed. If you're worried that such a headboard will give an impersonal touch to a room, your fears are unfounded. Just throw in a couple of cushions and it will look superb.
12. Carved Headboard
A classic carved headboard in wood adds a lot of elegance to your living space. The best part is, it is generally handmade. The intricately designed structure suits any and every room and renders a warmth. You can choose oak, pine, cedar, or even fir. The most popular color choices include white, whitewash, or the traditional brown.
13. Contemporary Wood Headboard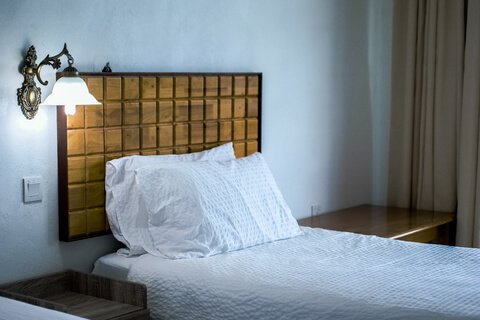 Photo from Pxhere
If contemporary is more your personal style, you can go for this kind of patterned wooden headboard. The wall-mounted bed headboard is functional yet not overbearing. If you choose it in an all-natural wood finish, be sure to select a material that showcases its unique workmanship.
14. Minimalist Headboard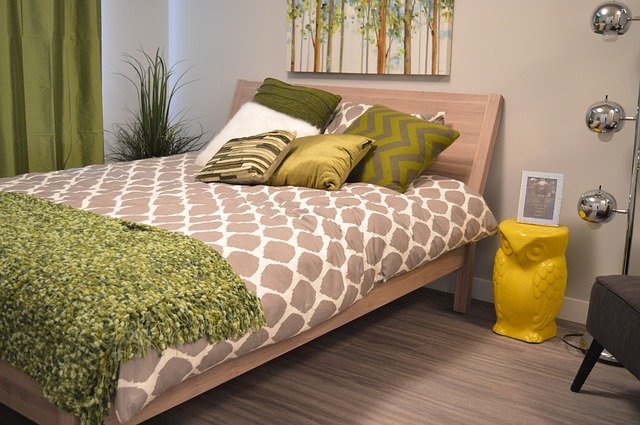 Somethings never go out of style. This minimalistic headboard is a perfect case in point. Matching the bed in color tone and material — it gives a structured, neat look to the room. A slight slant will add to the comfort value of your bed headboard. It's a perfect choice for a teenager's bedroom.
15. Customized Modern Stepped Headboard
Want to go for a customized headboard? We love this kind of a simple yet eye-catching design. The plywood framework is covered in an easy-to-maintain fabric that gives warmth to the whole room. The best part about this structure is that you can choose any size, height or fabric. The modern, stepped lines are the only ornamentation on this functional headboard.
Final Thoughts
The kind of bed headboard you choose tells a lot about your style and demeanor. You can personalize your space with any of these 15 inspiring headboard designs. After all, you want the perfect crown to rest your head beneath after a tiring, long day, don't you?
Great-looking headboard designs can completely transform the feel of your bedroom! The best part is, bed headboards are available in a variety of sizes and fabrics on the market. You can either buy a ready-made one that matches your bedroom decor or can get creative with unique customized ideas. A headboard can single-handedly become the focal point of your room and enhance its style quotient.
15 Bed Headboard Designs to up Your Room's Style Quotient
was last modified:
May 24th, 2022
by
Recommended