Choosing a color scheme for your kids' room is one of the most fun activities in the world, and the fact that you can do it together makes it even more pleasurable. Research says children, as young as two years old, have an opinion on what their room should look like! So when you involve them too, you get a better idea. Make this parent-child jaunt seem like a picnic. The idea is to pick from the best kids' room colors and match it with the personality of your toddler.
The symbolism associated with hues is generally not given importance, which we feel is most crucial when choosing a children's room color scheme. Never, ever, underestimate the power of colors and be aware of how, or how much, to use them when designing your kids' room.
Whether your child is energetic or calm, playful or serious — you need to explore their characteristic traits and then choose kids' room colors that suit them. The right combination will give wings to their imagination and creativity. Give your kids the room of their dreams, a room where they grow up to be happy adults.
And, we don't need to tell you that the old-fashioned color schemes — pink for a girl and blue for a boy — have been done to death. Today, everyone prefers unisex kids' room color options.
Firstly, colors create a variety of moods that need not be restricted or based on preconceived notions of what a girl or a boy should like. Secondly, in cases when it's necessary for siblings of the opposite sex to share a bedroom, you can please them both with colors that aren't distinctly male or female.
So once you're ready to play with colors that bring out the best in your children, choose the children's room paint colors that suit their personalities and individual preferences. Here are six popular kids' room color ideas for children's rooms.
Green Toddler Room Color Schemes
Green is one of the most popular colors — it's calming, serene, and refreshing. In fact, it's the best color for kids' room. It's best suited for an environment where a lot of learning is happening. The reason is that it promotes concentration and thinking process.
Green can usually be combined well with other colors as it's neutral. Did you know, a combination of green and another color helps children have a peaceful sleep? It makes them feel connected to nature too.
And, you can't go wrong with green. The options are many — fern green, sea green, forest green, pistachio green, mint green, and even neon green. Our personal favorite is lime green for its soothing and natural vibe. It appeals both to a girl and a boy equally and goes well with all possible combinations. Needless to say, green is one of the best colors for kids' room.
Bright Blue Kids' Room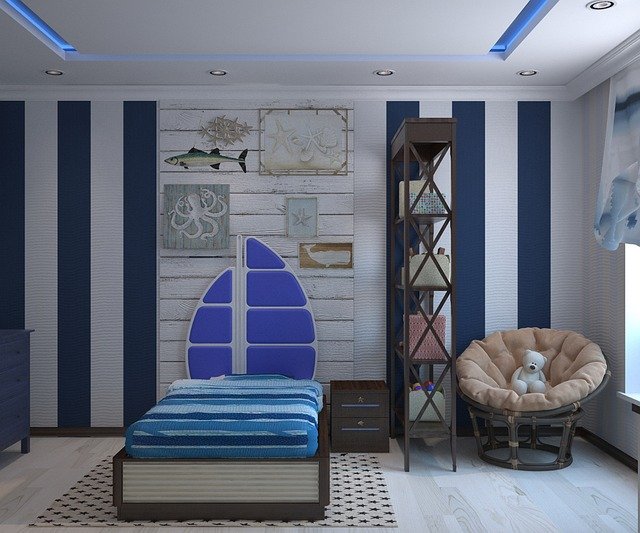 Pixabay
Decorating a kids' room in subtle blue is no longer reserved for boys. Girls too love the color. Blue is calming and healing. It's also cooling and increases productivity manifold. However, choosing the right shade is important. Steer clear of using too much grayish blue, navy blue, or other dark shades of blue — they are known to lean towards sadness.
Instead, opt for warm or bright ones from the teal and turquoise families. These unisex paint options appeal to both boys and girls. They give the children's room a peaceful vibe that is relaxing for the mind. This sort of color scheme is considered best for children in the transition phase, growing up from being a baby to an adolescent.
Blue can easily be the primary color as well as the secondary in a room. Blue carpet, curtains, pillows, or other decor accessories are great choices to break the monotony in the kids' room.
Orange Children's Bedroom
Nothing spells warmth and cozy as does an orange wall. This comfortable, happy hue promotes easy interpersonal interactions because it's friendly and puts children at ease. All reservations are set to rest, and the vibe of the room is very welcoming.
If you've recently moved to a new locality, orange is the best kids' room paint colors. It enhances enthusiasm, encouragement, determination, and stimulation in your children. Opt for earthy tones of orange for a super-cozy ambience and bright orange as a modern kids' room color.
Happy Yellow Kids' Room
Yellow is sunny, yellow is lively. It's one color in the spectrum that's bright, and if we may say, ultra happy. If you were to use a color to reflect energy, joy, and friendship; it's yellow. It is often considered as a classic unisex color for its impartial, cheerful appearance.
One piece of advice though: don't overuse bright yellow. Too much of it may agitate small children. Subtle shades, on the other hand, promote concentration and emotive thoughts.
Think pale yellow for the walls; it's easy on the eyes while retaining the happy vibes. Combine it with chocolate brown and see the positive effect it creates. You can choose from other color palettes too. When in doubt, ask your child.
Purple Kids' Room Colors
There's something very solid about purple. It beautifully combines the calm stability of blue and the fierce energy of red. We all know that the color is often associated with royalty, luxury, power, and ambition. But it's much more than that.
Purple also represents creativity, wisdom, dignity, pride, and independence. A perfect palette for growing children who are in the process of discovering their true self. The color has various effects on the mind and body. It uplifts the spirits, calms the mind and nerves, increases sensitivity, and encourages imagination as well as creativity.
Word of caution: avoid dark purple as it leads to sadness and frustration. Go for lighter hues that are pleasing and combine well with other colors to create a joyous space.
Chalkboard Children's Bedroom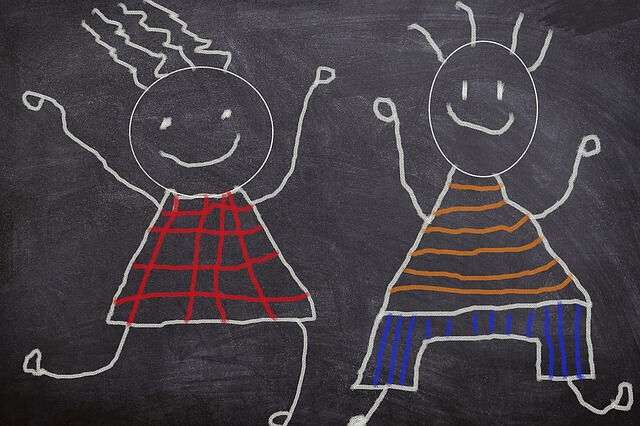 Pixabay
Want to give your child a room that is fun, creative, and out-of-the-box? Paint an entire wall in chalkboard paint. Your kids will love it! It will be their very own space to doodle and draw as they please. And you'll not even reprimand them for it. How awesome, is that?
Since chalkboard paint is generally a neutral gray, you can combine it with pale yellow, light orange, or creamy ivory walls to balance out the room and make it brighter.
Word of caution: it's going to make your child a little too popular among friends. Be ready to entertain them as they'll be visiting your home more than usual.
Read more: Kids bedroom interior design
Final take
Your children's room is an expression of creativity — both your's and your kids'. Use the walls as your canvas and let your imagination take flight. Apart from painting the walls, you can also opt for bright wallpapers, decals, and accessories that add a fun quotient to the room.
Just make sure that the space gets plenty of natural light and warmth so that your child grows happily, and in a balanced way. Make the room beautiful, versatile, and supercool. Create a haven for your children and let them dream big. We hope our article on kids' room colors helped you choose the best color for your child's room.
Read more: How To Create A Backyard Playground In Your House
6 Kids' Room Colors that are Fun and Interesting
was last modified:
May 22nd, 2022
by
Recommended