There are some advantages to having a small apartment. Utilities are less expensive and you have a great excuse as to why you can't host family events. The biggest downside is that you're constantly trying to make more space. You don't have enough room for your stuff in a small flat. In order to make the most of your space, you'll need some creative small apartment storage ideas to transform your flat.
1. Maximize your closets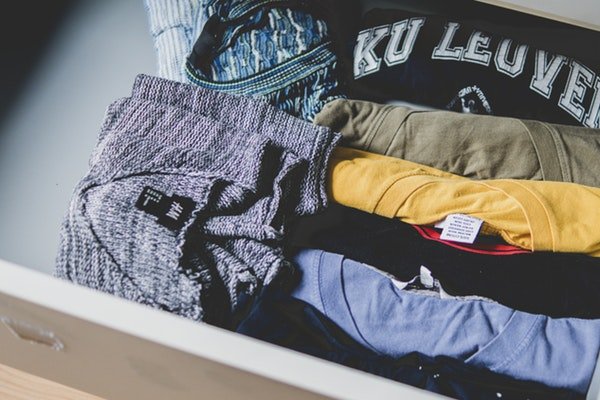 Closets have a tendency to get packed fairly quickly. Many furniture and storage solution stores allow customers to build custom closet organizers. While these are expensive, they can prevent you from having to shuffle through a huge pile of shoes and belts to find what you're looking for. Adding shelves and storage cubes to your closet organizer can give you a better to place to put your accessories or even boxes of keepsakes you've been collecting over the years.
2. Remove clutter
There will inevitably be things you need to keep, but you just don't have the space for. If your living room furniture set is taking up a lot of floor space, you probably don't want to get rid of the smaller couch or the armchair. You can use a community sharing site like Spacer to find inexpensive storage for the furniture items that are crowding your small flat. You can easily fetch them later when you're ready to move to a bigger place.
Read more: Storage solutions will keep home clutter-free
3. Invest in multi-functional furniture
Furniture takes up a lot of space, and you undoubtedly need it. Why not select furniture that does a little more? Footstools that double as storage cubes, bed frames with built-in drawers for storing clothing, shoes, or other sets of sheets and dining tables that expand or collapse depending on how much space you need are great solutions for small apartments.
4. Opt for vertical storage solutions
If you don't have the floor space, you probably have the floor-to-ceiling space. You'll never need to walk on the walls, so vertical solutions are unlikely to make you feel claustrophobic. Instead of wide bookshelves or file cabinets, opt for their tall counterparts. Tall, single drawer dressers can store as much as a shorter, wider dresser without occupying as much of the room. Use the height of your flat to your advantage.
Read more: Installing pegboard walls
5. Make the most of drawers and cupboards
Just because you can't see the inside of your drawers and cupboards when they're closed, doesn't mean that their internal organization won't impact you. Well organized drawers and cupboards can hold a lot more than messy ones that things simply get tossed into.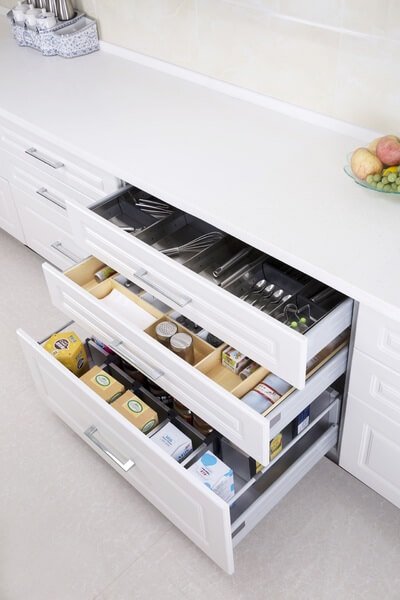 Drawer organizers are a must, particularly in areas like bathrooms, kitchens, and offices where tons of small implements will need to be stored. Go through the contents of your drawers and purge what you don't need while you're setting up your organizers – you probably don't need two can openers or two staplers.
Well organized cupboards, cabinets, and pantries may give you space to store appliances that are taking up a lot of your counter space. If you can put the toaster and the blender away when you're not using them, it will be easier to cook on a smaller counter. Spice racks, stacking shelves for the inside of your cabinets, modular canisters, and hanging racks that go beneath shelves can allow you to fit more in a smaller space.
6. Think over and under
When organizing your small flat, you should be thinking about how to store things over or under appliances or fixed features. Getting a storage rack to go over your toilet will give you a place to store folded towels and toiletries when you don't have enough room on your counter or under the sink.
Your kitchen probably has space below your counters in the cabinets. Getting a pot rack to store your cookware can keep those cabinets from overflowing. Under your bed and under your couch are prime locations for storage bins with a shorter height. Something like a yoga mat or small pieces of exercise equipment might easily slide beneath the couch.
7. Hang it up
Piles of mail, family pictures, and important paperwork can often get lost in the clutter of small apartments. Hanging them up will prevent you from losing them while also keeping them off of your tables, desk, and countertops. Get a corkboard for important paperwork. Frame and hang the most important photos. Get a mail organizer that mounts to the wall.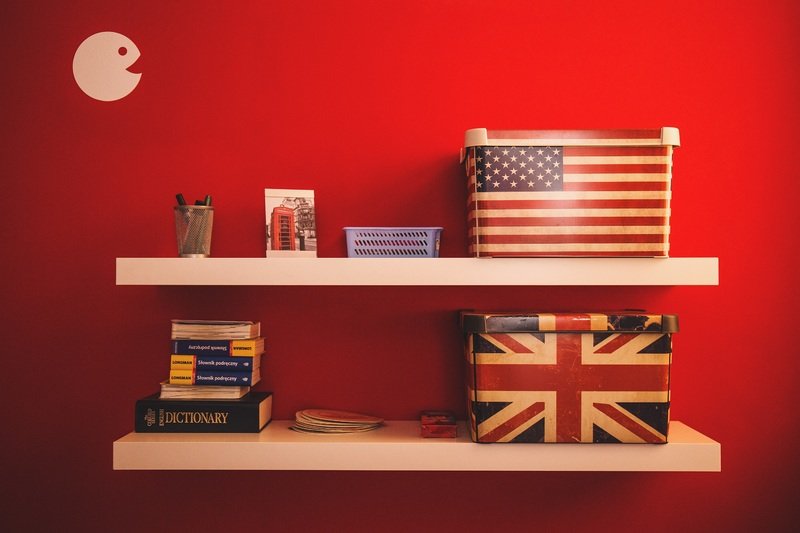 If you have a lot of things that look pretty that you'd like to display, use shelves or shadowboxes to show them off. If you're not allowed to hang things on the walls of your flat, a simple workaround is to use easily removable stick-on hooks or adhesives to put things on the walls without damaging them.
Remember not to buy duplicates of things you already own, things you don't really need, or things you won't really use. This is good for your budget and even better for your space, especially when you're working with a limited amount.
7 Smart Small Apartment Storage Ideas for Good Organization
was last modified:
May 18th, 2022
by
Recommended