A multi-functional basement layout by our expert architect
A well-planned basement layout design not only adds to your living space, but it can also increase your home value. Moreover, it allows you to explore some of the best basement ideas and additions that you often are unable to in your main living space.
You can use the space for more than one purpose — be it a home office, a laundry room, a home gym, a second cooking area in the form of a basement kitchen, a man cave, or a quirky media room for your family and friends.
An unfinished basement on the other hand tends to get filled with old and unwanted household items — wasting precious square footage.
If you're looking to transform your basement into a warm and welcoming area, we have beautiful and functional basement layout ideas from our in-house architect.
Option 1: Basement with family recreational room, functional spaces, and visitor area
Our experienced architect has given this basement layout a unique personality by turning the area into a multi-functional living space instead of a junkyard used for storage of tools, unused objects, or old utensils.
Planning for basement renovation? Get the best estimate with our tool!
As you see the design layout, you'll notice that the basement has been beautifully demarcated into a home office, a family room or living room, a storage area, a laundry, a basement bathroom, a guest bedroom, a gaming zone, and a wet bar.
It's a complete design in itself — with everything a family would want in a basement. There's something for every family member.
In fact, you can even consider subletting the complete unit to earn a rental income. Of course, you'll have to ensure it has independent access, and the right permits. This kind of arrangement can help you cover the expense of finishing your basement.
Basement floor plan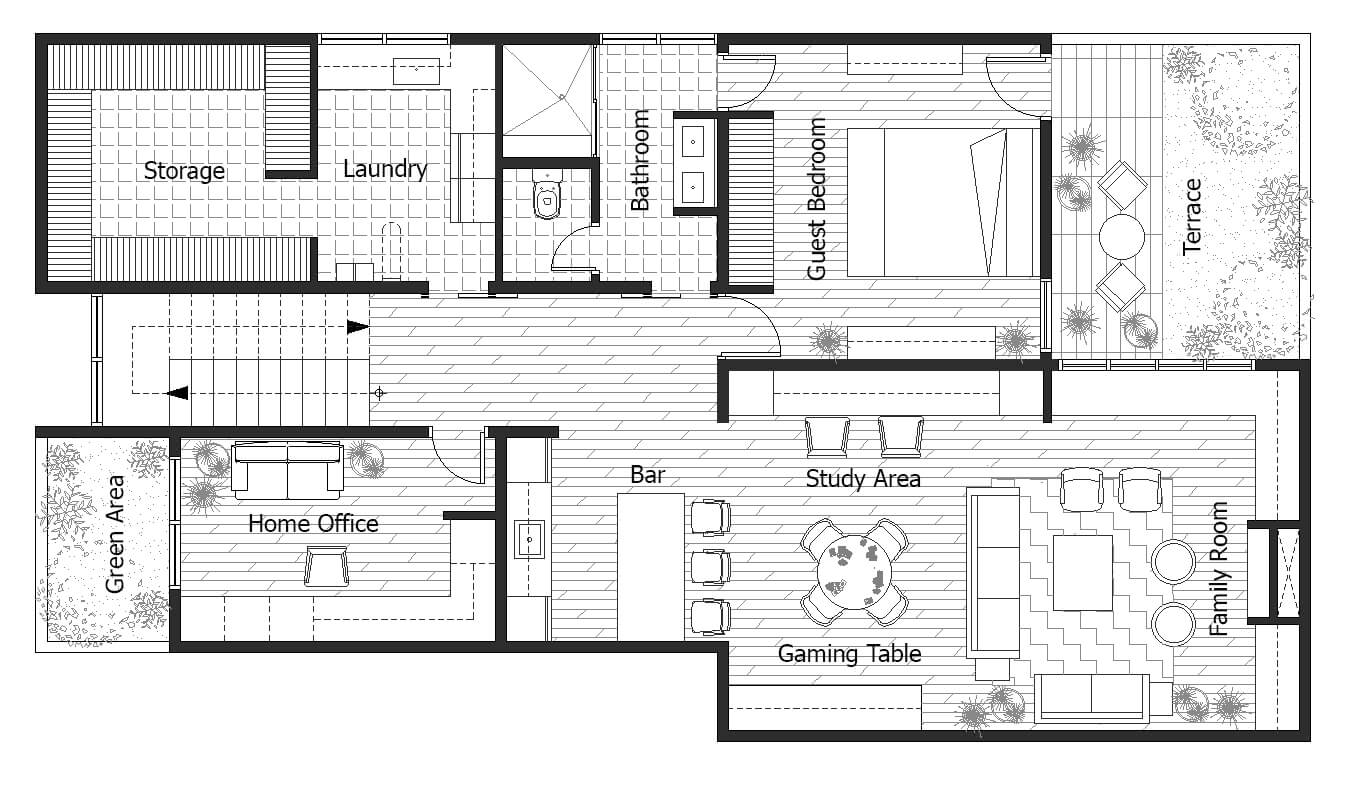 Assorted dimensions: 44.95ft x 14.44ft; 16.90ft x 26.25ft; 9.84ft x 29.77ft.
Total area: 1634.72ft².
Height: 9.84ft.
Circulation: 1.97ft to 3.94ft.
Hallway: 5.91ft.
Staircase: 11.81ft x 5.91ft; riser: 0.49ft.
The basement design

The basement layout design is ideal for a semi-basement that's not completely buried under the main floor. It will allow natural light to enter several rooms — making them more favorable and habitable.
The basement is accessed from the stairs that come from the main floor of the first level. The staircase connects with a corridor in such a way that it divides the area into two levels — one upper and one lower.
The functional areas include a laundry room, a storage area, and a home office. There's a ¾ bathroom, a guest room, and a terrace apart from a family recreational area, a bar, a study area, and a game room.
The visitor's room and the family area are ventilated and illuminated, with large windows. The other green area illuminates and ventilates the office. This space can double up as a second room. The other windows are placed high near the bathroom and laundry room.
The views
Upper level: Terrace, guest room with bathroom, laundry room, and storage.


Lower level: Office and the recreational family room.


Cross-sectional view between the family room and the terrace.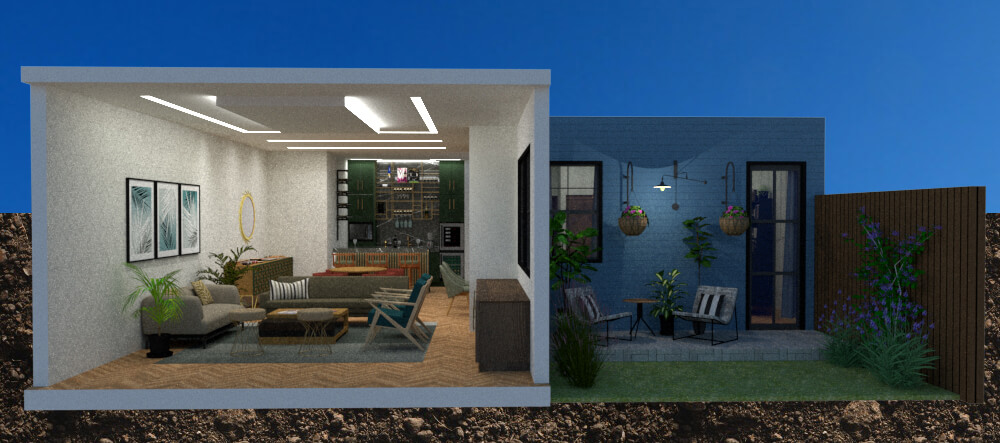 Dimensions of functional areas
Laundry room: 10.50ft x 7.87ft. Total area: 82.67ft².
Storage area: 10.50ft x 11.65ft. Total area: 122.27ft².
Office: 13.94ft x 9.02ft. Total area: 125.80ft².
Green area: 5.41ft x 9.02ft. Total area: 48.84ft²
¾ Bathroom with double sink: 9.51ft x 10.50ft. Total area: 99.89ft².
Guest room: 13.78ft x 13.94ft. Total area: 192.13ft².
Terrace: 10.99ft x 13.94ft. Total area: 153.25ft². Terrace floor area: 4.92ft x 13.94ft, remaining green area.
Family recreational area (bar, study area, and living room with fireplace and audiovisuals): 25.26ft x 15.91ft; 9.84ft x 9.68ft. Total area: 495.73ft².
The levels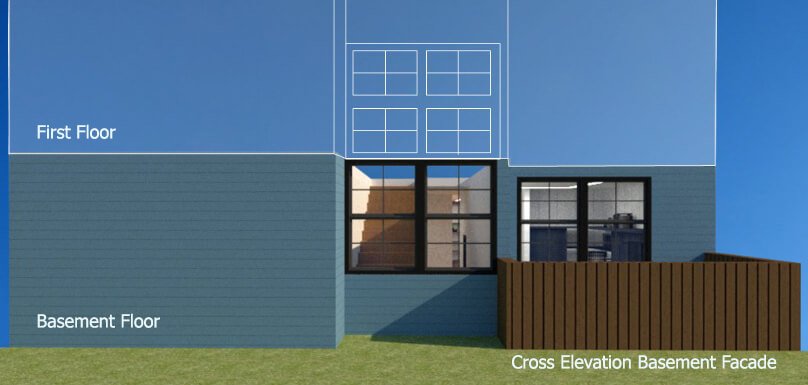 The left side elevation begins from the storage area, staircase, and office towards the outside area. The green area has a perimeter fence and the windows are aligned at the height of the stair landing.
To maintain the continuity towards the upper floor of the house, the architect has used a design feature of repeating the window of the lower floor.
Option 2: Basement with 2 recreational areas, gym, home office, laundry, guest room and ¾ bathroom
The second model is a basement that has two green open areas or patios at the back. This layout allows a lot of natural light and ventilation — making the area more habitable. The rest of the underground area makes use of ducts and air conditioning.
Basement floor plan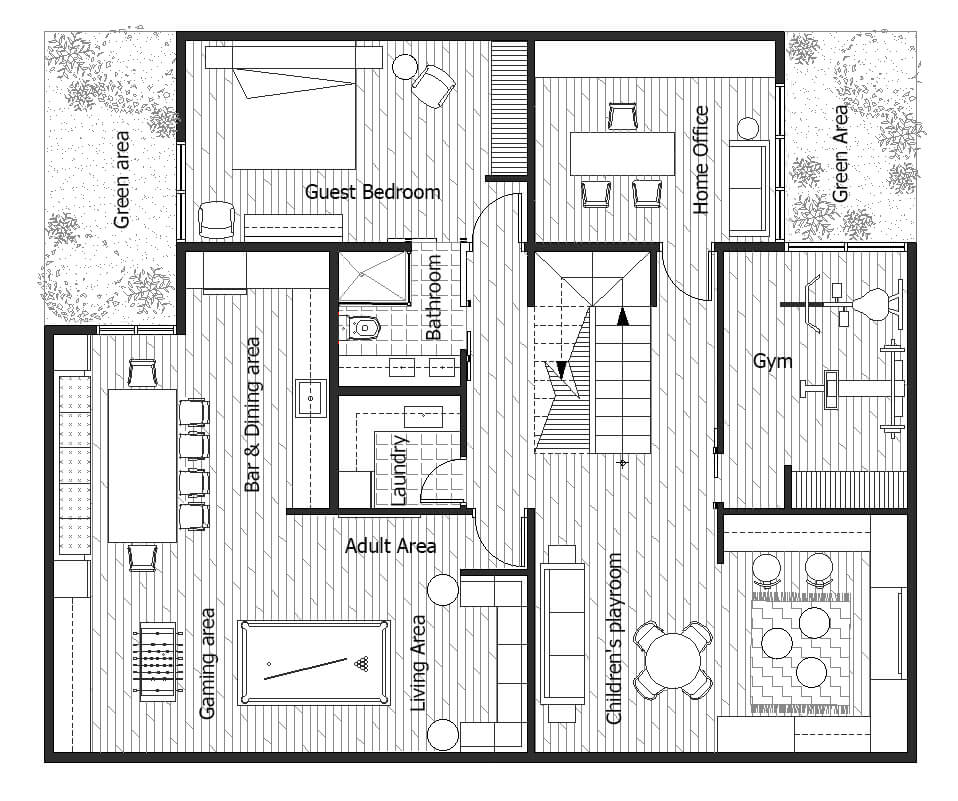 Dimensions: 46.75ft x 31.21ft. Total area: 1832.96ft².
Height: 10.33ft.
Circulation: 1.97ft to 2.95ft.
Hallway: 2.95ft to 3.28ft.
Three-sectional stairs: 6.23ft x 10.83ft, width: 2.95ft, riser: 0.49ft.
The basement design
A staircase connects to the basement in the center in a "U" shape. There are seven rooms in the basement. On the left side, there's a guest room, bathroom, and laundry room. In the front, there are two recreational and multipurpose areas. Both can be used by adults as well as children. From the right side up, it takes us to the gym and the office. Both rooms have been designed in a way that they can be used as guest rooms if required.
Each area has its own storage space and furniture to keep the space organized and in order. Additionally, there's a closet (7.87ft long and 2.95ft wide) under the flight of stairs to store utilities.
The basement layout allows for a reading area in the guest room, a dining room with a snack bar in the lounge. The architect has made use of a large window, which could also be double doors, to connect to a terrace.
Read more: Small home gym ideas by expert architect
Dimensions of functional areas
Laundry room: 6.56ft x 6.07ft. Total area: 39.83ft².
Gym: 9.84ft x 13.78ft. Total area: 135.63ft².
Office: 12.96ft x 10.83ft. Total area: 140.31ft².
Green area (between office and gym): 7.05ft x 12.29ft. Total area: 79.61ft²
¾ Bathroom with double sink: 6.56ft x 7.71ft. Total area: 50.59ft².
Guest room: 18.37ft x 10.83ft. Total area: 198.92².
Green area (between bedroom and lounge): 7.05ft x 15.75ft. Total area: 111.08ft².
The recreational area comprises a snack bar, a dining table, and wall-mounted storage. It can house 11 people. This space has two gaming tables (foosball table and pool table), and occupies a total area of 501.63ft².
The children's area has a living room, a study, and a screen with video games. The total dimensions are 256.07ft².
Read more: Remodeling ideas for a basement game room
Option 3: Basement with multipurpose areas, and office/guest room
The third finished basement design idea also has a semi-underground façade, protruding 3.28ft high to the outside. Such a structure helps to illuminate and ventilate the entire area through windows. It even allows for a central green patio or terrace area, further brightening up the hallway and the rooms.
The basement floor plan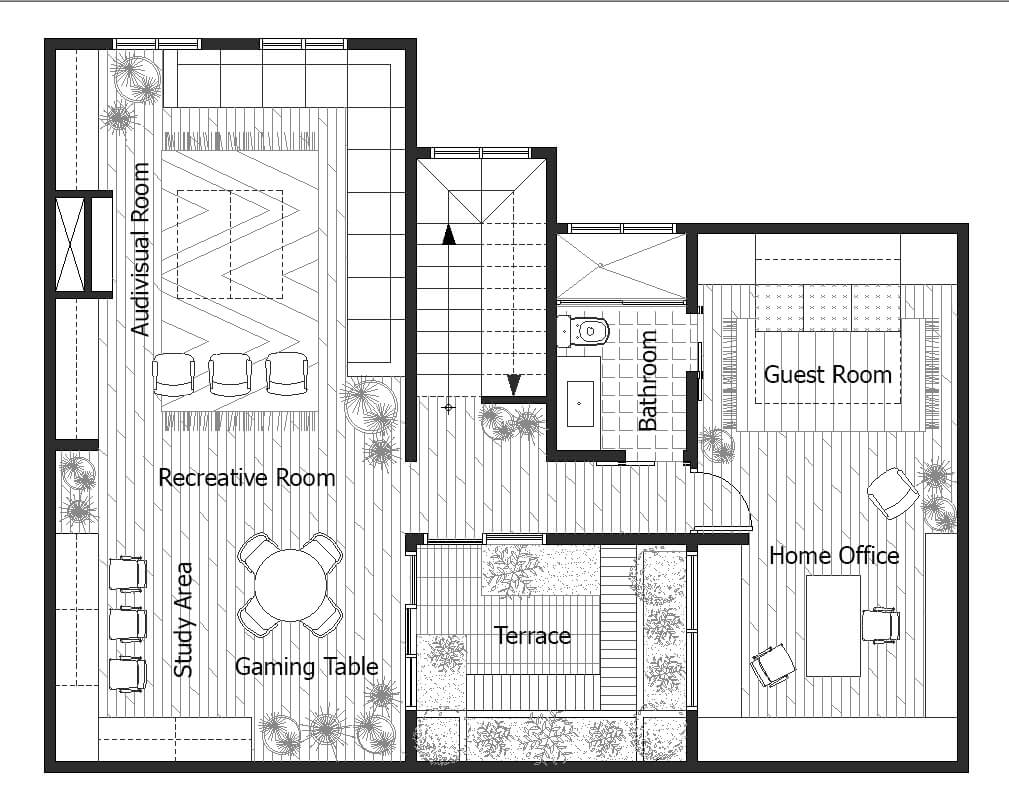 Dimensions: 18.04ft x 32.81ft; 28.38ft x 6.40ft; 18.70ft x 24.93ft.
Total area: 1200.18ft²
Height: 10.33ft.
Circulation: 1.97ft to 3.94ft.
Hallway: 3.28ft.
Three sectional staircase: 5.91ft x 10.83ft, width: 2.95ft, riser: 0.49ft.
The basement design
The staircase connects with a corridor in a linear way, leading to four zones. There's a central patio, a family recreation room to the left, a bathroom to the right, and an office that can be turned into a guest bedroom.
Each space has been developed as a multipurpose area, with its own storage, furniture, and appliances. The family room has an AV system (you can even put a home theater if you have a large area), space for a 60 inch TV, a living area with a fireplace, good storage, armchairs, a folding table, a study with a desk, a library in an "L" shape, and a gaming table. 
The garden area or patio provides good ventilation and natural lighting. The architect recommends placing a lot of plants that serve as air purifiers and adding seats in the shape of an "L". The access to the patio is through glazed, sliding doors.
Interestingly, the office, with a large closet and a sofa, gives way to another living area. This area can serve as a temporary guest room.
Read more: Beautiful basement family room
Dimensions of functional areas
Family recreation room: 15.91ft x 32.32ft. Total area 514.22ft²
Patio/Terrace: 12.30ft x 9.84ft. Total area: 121.09ft²
Office: 11.81ft x 9.83ft. (variable dimension)
Guest room: 11.81ft x 14.11. (variable dimension)
¾ Bathroom: 5.91ft x 9.84ft. Total area: 58.13ft²
Plan your basement renovations properly with our estimator tool.
Last thoughts
When you decide to finish your basement, you end up expanding the functionality of the basement space and increasing the comfort level of your family members.
It's important that you plan your basement remodeling well and ensure good lighting and natural ventilation. Also, manage the humidity levels and the right temperature. Once that's done, your basement will become a lovely habitable space where you and your loved ones can spend a lot of family time.
Read more: Basement laundry room ideas
A multi-functional basement layout by our expert architect
was last modified:
April 4th, 2023
by
Recommended