A wet basement is one of the most unpleasant things for a homeowner to have to deal with. The whole house starts to smell musty and unsavory. As the year gets colder, your walls will begin to feel colder as well. Your family could develop upper respiratory infections, maybe even asthma. The solution is a simple one: waterproofing your basement. Here's a guide to basement waterproofing costs to help you fix your basement woes.
Average Cost of Basement Waterproofing
The average cost of basement waterproofing projects varies based on multiple factors. These include the size of your basement, the age of your home, the type of foundation your home has, and the extent of the damage.
While minor damages are inexpensive to deal with, the national average cost of waterproofing projects ranges from between $1,920 to $6,320.
Some waterproofing companies charge customers on a per-project basis, while others prefer to charge per linear foot. We suggest that you get multiple free estimates before hiring a basement waterproofing contractor.
We're going to break down waterproofing costs based on indoor and outdoor waterproofing.
We will then delve further into individual causes of damage and the cost to rectify each of them.
Read more: Basement remodel financing: How to finance finishing a basement
Indoor Waterproofing
1. Hairline Foundation Cracks
If your foundation walls or basement floor have hairline cracks, you will need to fill them by injecting the cracks with epoxy before you start waterproofing.
Once you've injected the epoxy, you need to wait at least five hours for it to cure. This will stop water seepage through the cracks.
Epoxy injections could put you down between $350 to $500 per crack.
2. Flood Water Clearance
If your location is prone to flooding, chances are water seeps in through your basement walls and floods your basement. In these cases, the best protection for your property against water damage is a sump pump.
Sump pumps will automatically pump out water from your basement when it gets flooded.
Sump pumps could cost anywhere between $2,000 and $10,000. The better the sump, the better the protection.
Alternatively, you could choose to install a perimeter drain or weeping drain tile system to do the same task. Here, instead of pumping out water, the system redirects water away from your foundation to keep your basement dry. This will cost around the same as a sump pump, between $2,500 and $10,000.
3. Crawl Space Sealing and Proofing
Installing a vapor barrier to seal and proof your crawl space might cost you between $2,000 to $10,000. The cost could fluctuate based on the size of your crawl space, the type of insulation you choose, and the thickness of the vapor barrier.
4. Removal of Standing Water
Before you can effectively waterproof your basement, you will first need to ensure there is absolutely no stagnant standing water in it. The removal of this water could cost you around $500 to $2,000.
5. Basement Waterproofing Paint
Using waterproofing paints to keep moisture at bay is a method that is often frowned upon by a lot of contractors. It's considered more of a quick fix solution than a way to actually prevent water damage.
Painting your basement with waterproof paint is something you could do yourself. But if you're looking for professional help, expect to be charged anywhere between $0.61 to $0.87 a square foot.
A gallon of waterproof paint ought to cost around $30, and will cover around 75 to 125 square feet.
Outdoor Waterproofing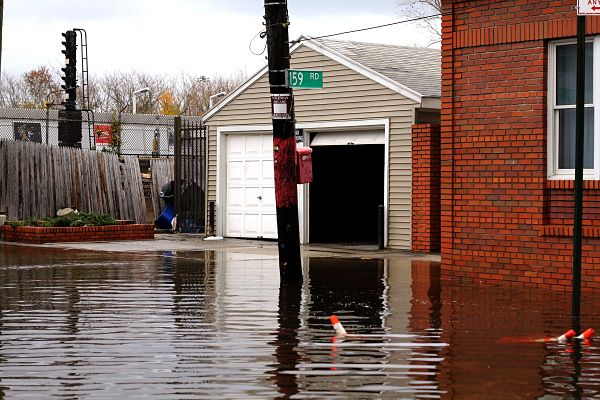 If you live in a region that is prone to flooding or has poor soil conditions, we'd advise you to consider these outdoor waterproofing solutions as well to keep your basement and foundation safe.
The best time to waterproof your basement from the outside is when you're constructing your home, or if you're carrying out a major home renovation.
Some contractors may not offer these services, so make sure you chose a contractor who does.
1. Water Damage Inside Walls
When your contractors can't access the damage done to your basement walls from the inside, they resort to excavation. This is often the case with wet fireplaces, wet bars, and leakage behind wall panels.
Excavation will allow you to waterproof entire walls or portions once completed. Depending on how deep your contractors have to dig and how accessible the damaged areas are, you could end up spending between $100 and $200 per linear foot.
2. Water Seepage and Leakage From the Outside
If the soil around your foundation is wet, it could cause seepage through gaps between the soil and the foundation. Treating the gap with sodium bentonite is one of the most effective waterproofing systems to stop such seepage.
Sodium bentonite is a clay-like substance that expands and fills up gaps as soon as it comes into contact with water, effectively stopping any water coming in.
Sodium bentonite costs around $500 a ton.
Another great way to prevent exterior water leakage is by installing foundation membranes. A sheet membrane costs between $3 to $7 per square foot. Liquid waterproofing membrane costs even less, between $3 and $5 per square foot.
3. Outdoor Flood Water Clearance
A simple but effective way to stop water from entering your basement, especially during floods is exterior French drains. Getting these drainage systems in place would put you down between $1,000 and $4,000, much less than its indoor counterpart.
Window well drains are another cost-effective way to prevent water from entering your basement. You ought to budget between $500 to $1,500 if you intend to install well drains around your basement windows.
Don't Forget About Labor Costs
This guide should have given you a pretty good idea of the different variables you'd need to factor in when you decide to waterproof your basement. A lot of costs we've mentioned here are indicative prices of materials, and not necessarily the labor involved. Labor costs may vary depending on where you live and the amount of work needed. Once again, make sure you get multiple estimates before you decide on a contractor.
Read more: Types cost estimates project management
A Guide to Basement Waterproofing Costs
was last modified:
September 29th, 2022
by
Recommended