Adding a mirror on the wall of your bathroom or powder room is often the finishing touch to your bathroom renovation or upgrade. However, if your space is small and cramped, you can use some creative tips to give the illusion of light and additional volume. With some twists to the conventional designs, you can lend style and sophistication to your room. So, check out these smart bathroom mirror ideas for a small bathroom to jazz up your morning routine.
Think About a Mirrored Wall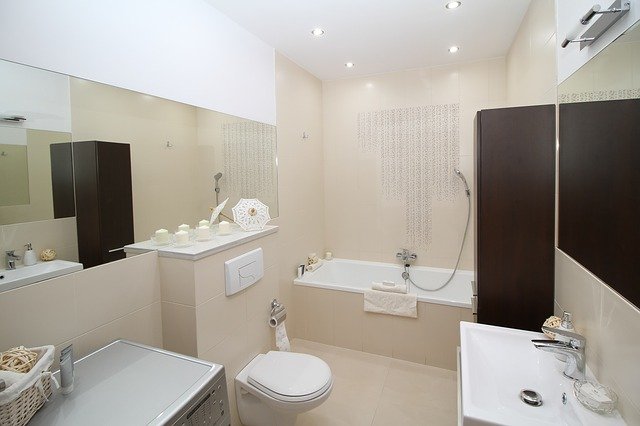 Pixabay
No space in your small room to add an additional mirror? Why not think big? Convert an entire wall or most of it into a large mirror and see how it changes the look of your area. This idea will not only give the illusion of more square feet but will also act as the focal point of your bathroom. Your tiny chamber will look bigger, brighter and you will definitely love it!
Is your small bathroom a small ensuite bathroom? what is an ensuite bathroom?
Go Unconventional
A great way to add an element of an aristocracy to your bathroom is to pick up ornate, antique mirrors. You can even go for unconventional styles. Doing so will lend a statement style to your bathroom and will do away with the need for placing additional decorative pieces. Yes, functionality and looks with a single mirror!
Hang It
Bathrooms need not have only a wall mirror. Instead of a wall mounted model, go for a mirror which you can suspend from the ceiling or a window frame. When your walls have less space and are already packed with fixtures, this is a great choice among bathroom mirror ideas for a small bathroom. Since this idea is uncommon, be prepared to get some compliments from your visitors and guests!
Vintage Mirror on a Cabinet
Vintage is always sophisticated. And what could be better than a multi-purpose cabinet that also holds an antique, ornate mirror? Storage, looks, and make-up — all in one single unit — bring you the best of each world. Discuss with your interior designer and pick a set that can be custom made to fit your current small bathroom layout.
Go for Full-Length Mirror Surround
Installing full-length mirror surrounds is one of the most clever bathroom mirror ideas for a small bathroom. You can mount one on the door or on a wall and check yourself from top to bottom while getting ready. Take this idea a step further and bring in a complete floor-to-ceiling mirror. Remember that when you are doing this, one door or wall will be completely dedicated to the mirror. You won't be able to use this space for anything else.
Ditch the Square Shape
Sometimes, the wall above your sink vanity needs to be utilized for fixing several knick-knacks — especially when space is a concern and you need to use this particular area for multiple purposes. In such cases, you may not be able to install a square mirror. Therefore, to solve the problem, a round mirror can be a classic choice. It will also soften up the sharp angles in contemporary spaces.
Opt for Slim and Minimalist Mirrors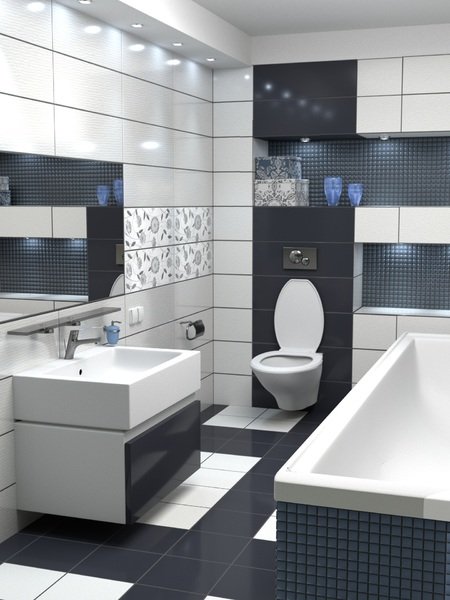 Pxhere
An additional option is to pick up a streamlined mirror with slim borders. This design will go perfectly with small, contemporary bathrooms. Choose a basic shape that is frameless and simply mount it above the vanity.
Layer it Up
Want more sparkle but short on space? Go for a layering layout. Double up a smaller mirror and place it over a mirrored wall. And there, you are all set!
Backlit Mirrors
Another tip to make a small space feel bigger is by adding illumination to a simple mirror. When you add a few backlights, your bathroom will not only look more glamorous but will give the illusion of natural light. You can get these units with readymade, built-in, soft and mild light green, light blue, rose or lavender lights. They are perfect for cramped rooms that have less luxury of letting in ample daylight.
Have You Thought of Pivot Mirrors?
If you don't have space for a full-length unit, an excellent choice among bathroom mirror ideas for a small bathroom is to opt for a pivoting mirror. You can adjust it in angles so that you can view yourself at varying heights.
So which tip did you like from our list of bathroom mirror ideas for a small bathroom? Let us know in the comments below!
Smart Bathroom Mirror Ideas For A Small Bathroom
was last modified:
May 19th, 2022
by
Recommended