Some of the best neighborhoods in the Bronx for you
Thinking of living in New York City, but needing more affordable housing? You should consider moving to the Bronx – one of the best boroughs of NYC. Buying a house here doesn't just come with a cheaper price tag but also green spaces, kid-friendly activities, and low crime rates. If you're looking to move to NYC with your family, here are the best neighborhoods in the Bronx for you.
The Bronx sits alongside the Hudson River and is the northernmost borough in New York City. it's located in Bronx County. Home to the Bronx Zoo, the New York Botanical Gardens, the Yankee Stadium, and some of the best bars, restaurants, and coffee shops – this borough never has a dull day.
With above-average public schools, parks, and good housing options, the Bronx is a great place to raise a family.
If you're planning to shift to the Bronx, it's important that you research the different neighborhoods and find your perfect home according to your needs and lifestyle. So, here are some of the best neighborhoods in the Bronx, NY, for you.
Riverdale
Median home value: $358,962
Average monthly rent: $1,305
Ideal for: Young professionals and families
If you want to buy real estate and settle down with your family, Riverdale is one of the best Bronx neighborhoods. Thanks to its location along the Hudson River, this beautiful riverfront area offers amazing views and fun outdoorsy things to do.
Moreover, there are some excellent local schools, the popular Riverdale Park, boat rides, live music, and delicious food all around. And, you can easily commute to other parts of NYC by using the 1 Train. 
Baychester
Median home price: $417,404
Average monthly rent: $1,376
Ideal for: Young families
This family-friendly neighborhood offers affordable housing options, including apartments, condos, and single-family homes with lovely backyards.
Furthermore, the residential area has good schools, shopping centers, restaurants, a golf course, swimming pools, and lots of green spaces. You and your children will love playing handball, volleyball, or swimming. Moreover, you can relax your day at the beach, eat BBQ, Italian, or Mexican dishes to your heart's content, or explore the promenade. This Bronx neighborhood has easy access to the 5 Train and I-95.
Country Club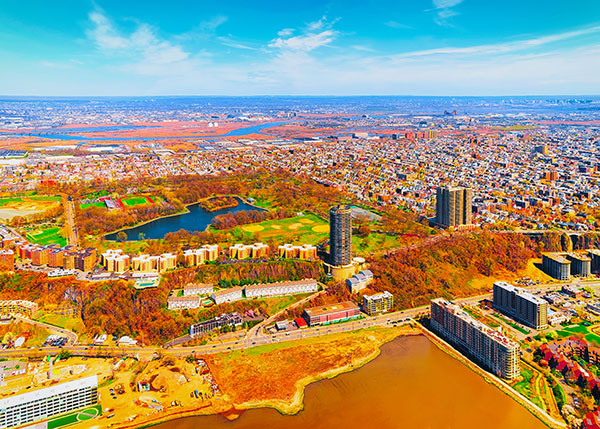 Average home price: $244,659
Average monthly rent: $933
Ideal for: Families, retirees
If you're looking for a place to retire in NYC, the Country Club is one of the best neighborhoods in the Bronx. With beautiful green spaces, public parks, and waterfront views – this suburban neighborhood is simply gorgeous. And it offers great housing options such as brick rowhouses, apartments, and Colonial-style houses. Because of its proximity to the Pelham Bay Park subway station, you can easily commute to Manhattan via Line 6. You can play beach volleyball, visit your favorite restaurant, or go for long walks along Orchard Beach.
Morris Park
Average home price: $334,795
Average monthly rent: $1,238
Ideal for: Families with young children
If you're looking for the perfect place that offers a combination of both big-city amenities and quiet residential living, Morris Park is your place. The housing options are affordable, and the elementary schools, as well as high schools, are great.
Most importantly, the place offers close proximity to Jacobi Medical Center, the NYC Children's Center Bronx Campus, and the Albert Einstein College of Medicine.
There are some stunning gardens including the famous New York Botanical Garden, landscapes, and picnic spots that you can enjoy with your family. Pizzas, steaks, burgers, or cream pies – you can find every culinary delight here.
Parkchester
Median home purchase price: $223,630
Median monthly rent: $1,179
Ideal for: School-going children, budget-conscious renters
Whether you're looking for budget-friendly apartments, spacious condos, or beautiful single-family homes, this part of the Bronx has it all.
Furthermore, it houses a variety of unique shops, multi-cuisine restaurants, local parks, libraries, and some of the top schools – both private schools as well as public schools – in the area.
Kingsbridge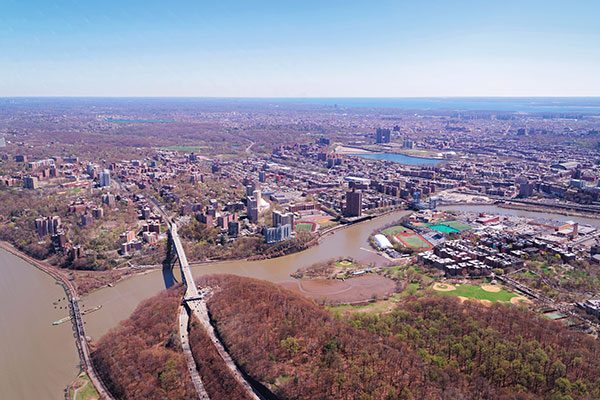 Average home value: $127,395
Median home rent: $1,263 per month
Ideal for: Students, singles, young professionals, and families
This largely friendly neighborhood is located just outside of Upper Manhattan and near Manhattan College. Despite the proximity, the residential community offers affordable apartments, spacious condos, budget-friendly co-ops, and single-family houses. You can also enjoy the various local pet-friendly parks, fun activities, music festivals, expansive green spaces, wonderful restaurants, and easy access to public transportation.
Throgs Neck
Average home price: $356,028
Average monthly rent: $1,202
Ideal for: Families with older children, marine and naval students
This family-friendly Bronx neighborhood offers some of the best schools in the entire NYC area. Moreover, it's home to the State University of New York Maritime College (SUNY). So, if you or your children are aspiring marines and naval students – this place is a dream destination.
In case you're planning to buy a home here, you get to choose from a wide range – right from condos, and in-land apartments to homes overlooking Long Island Sound. And, you can easily commute to NYC and its different boroughs via the Throgs Neck Bridge and the 6 Train.
There are interesting museums, family picnic areas, clubs, and sports courts to engage you and your family.
Last thoughts
Thinking of moving to live in the Bronx borough of New York City? It's a good decision. The popular place offers affordable housing, rich culture, outdoor activities, neighborhood safety, and expansive green spaces – all this just a few minutes away from the main metro city of New York!
We realize that finding the right isn't easy. Especially, if you're moving to a big city like New York. to make your quest a little easier, we've listed some of the best neighborhoods in the Bronx that will suit your lifestyle.
Some of the best neighborhoods in the Bronx for you
was last modified:
November 2nd, 2022
by
Recommended