What Are the Best Nursery Paint Colors?
Expecting a baby? Congratulations! Having a new member in the family is a joyous occasion and also a time that requires tons of planning. Choosing the perfect nursery for your newborn can be a tad overwhelming. But, don't worry, we have your back. We've curated a list of 11 best nursery paint colors that are soothing and beautiful to look at.
Once you get your color schemes and theme right, nurseries are the most fun rooms to decorate. You can be playful and innovative as you await the arrival of your little bundle of joy. So, let's begin with some of the best nursery paint colors. They are calming, popular, and the perfect choice for a baby's nursery.
2019 sees a lot of softer hues. To-be-parents want their baby to have a nurturing, comforting place with wall colors that have a soothing vibe. The good news is that most of these are neutral nursery colors and allow the room's look to grow with your child.
1. Subtle Blues
We do not agree that blue is only for boys. In fact, blue is a color full of contradictions and is perfect for any newborn. It's proven to help children sleep better at night. This cooling color tends to relax both mind and body.
Interestingly, blue decreases anxiety and aggression — making it a good choice for nervous newborns and tantrum-prone toddlers. What better reason to choose blue, right?
Having said that, you must avoid navy dark blues. Dramatic blues tend to have an energizing effect, keeping sleep at bay.
Our verdict: Opt for soft, calming colors such as powder blue, aqua, or light shades of turquoise.
Check these tips for Living With a Baby in a One Bedroom Apartment
2. Refreshing Greens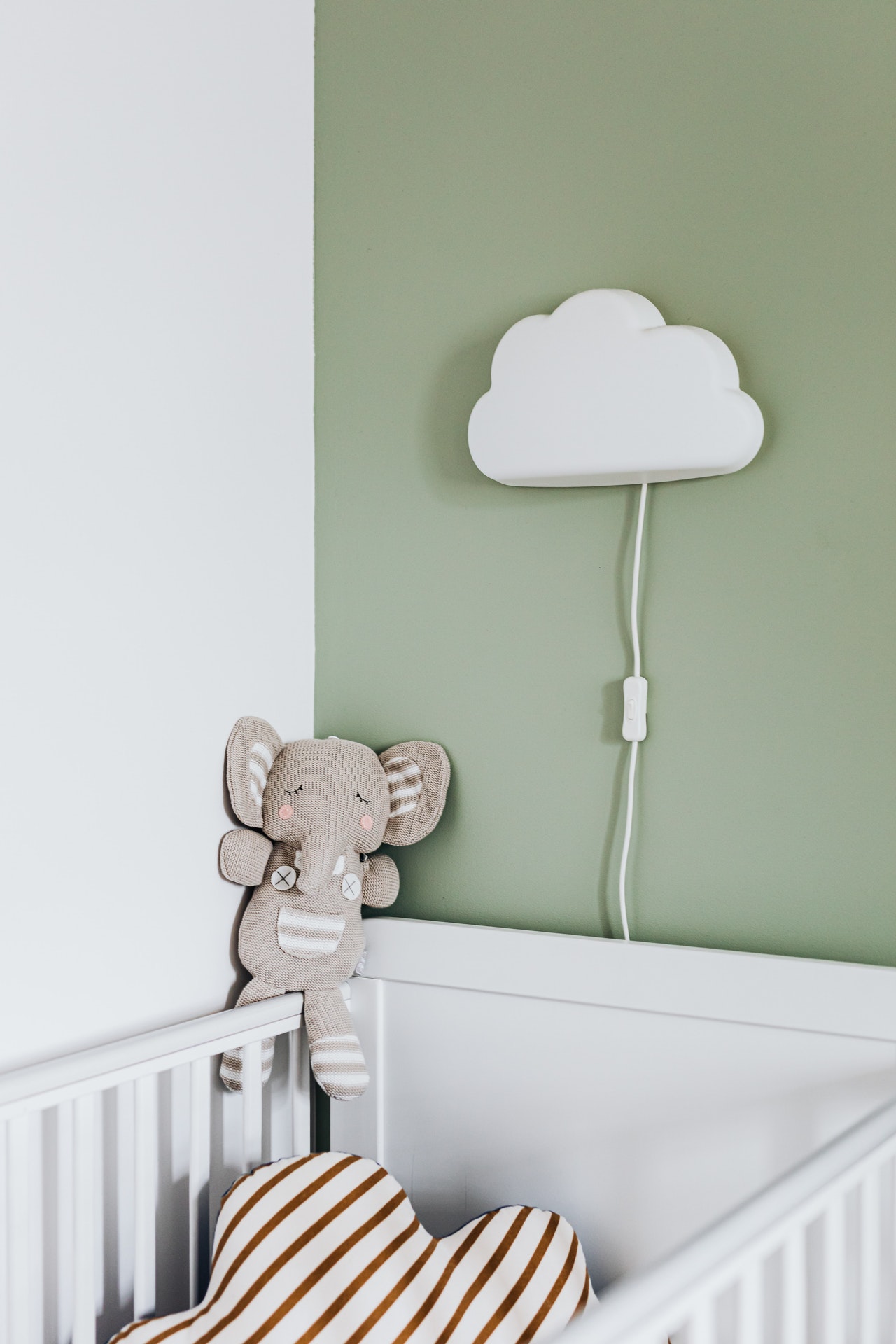 Green is one of the most calming colors — boasting the nurturing power of Mother Nature. Infant or adults, it provides us with a deep sense of security. Children grow and thrive in the presence of this healing paint color. It reduces anxiety and is associated with a sense of well-being.
Green is a great room color for nurseries; it's serene, calming, and natural. And, you can't go wrong with it!
Our verdict: When choosing a shade for your nursery, opt for light to medium greens in earthy hues such as sage and moss. You can also try Lido Green by Benjamin Moore. It has a quirky punch and works well in a baby's room that gets a lot of sunshine
3. Green-blue Mix
Blue-greens are an excellent choice for a nursery — successfully combining the calming powers of both colors.
This shade is not too vibrant to overwhelm the baby, yet stimulates happiness and creativity. It gives the nursery a cozy and inviting feel.
Our verdict: Try Benjamin Moore Palladian Blue for a beautiful blue-green-gray blend. It's a more grounded hue than a bright teal or aquamarine. You can even go for Glimmer by Sherwin Williams. It's a light color — pale green with a touch of blue — that brightens up any room.
4. Earthy Browns
If you don't want to stick to a color that's overly masculine or feminine, go for the gender-neutral deep brown or tan.
There's a reason brown is huge this year. The timeless, warm color lends a carefree and positive vibe — giving your newborn baby a chance to explore a spectrum of feelings as he or she grows up.
Our verdict: Stick to cozy lighter shades, paired with soft neutrals. You can even mix them with brighter pops of color to prevent the room from feeling too boring.
5. Cheerful Yellows
Yellow is a great color for any nursery regardless of the baby's gender. What's more, it's an ageless hue that will be perfect for much of your kid's young life. Also, it can match any nursery design ideas and styles.
Yellow is bright, it's sunny, and brings a certain warmth to a room. Just make sure you stick to softer yellows if you're going to paint all the walls yellow. Do note that too bright a yellow might agitate an infant.
Our verdict: Subtle yellows promote emotive thoughts and concentration. You can even go for deep gold mustard colored hues this year. The depth of this color allows for relaxation.
Your interior painting cost calculator is important. Get the best estimate with us.
6. Playful Purples and Lilac
Purple combines the soothing properties of blue with the nurturing softness of pink. Apart from it, colors such as lavender and lilac create a serene atmosphere, but only in pale shades. DO NOT choose too dark a color or your nursery may end up looking gloomy.
Keep in mind that purple and lilac almost always appear darker than expected on the wall. Go for a shade lighter than your original choice for better results.
Our verdict: Pair an airy lilac or a pastel purple with a neutral-colored decor to create a serene, composed nursery.
7. Pastel Pinks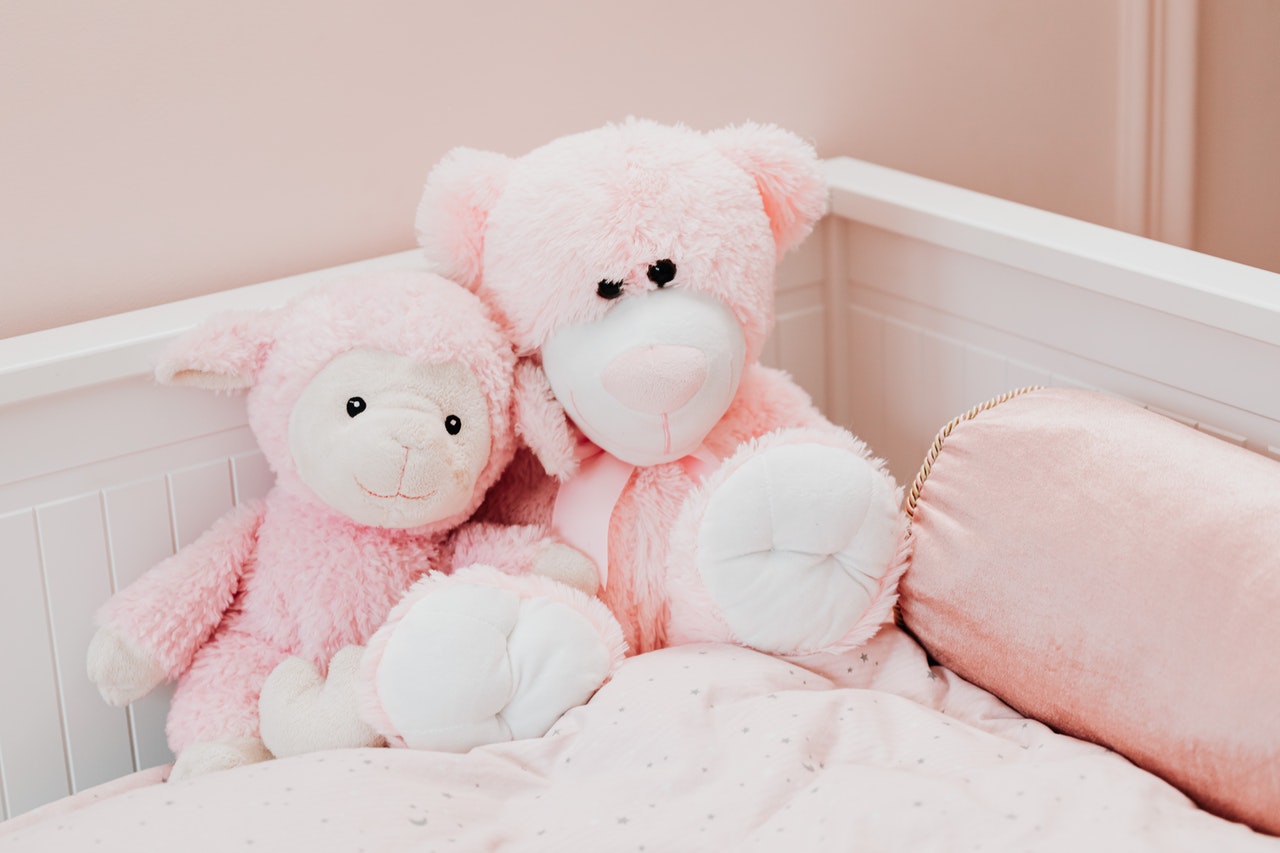 Traditionally, pink has been used in nurseries for baby girls. However, with the right shade, you can have positive impacts on your children regardless of gender.
Pink is unconditional love, it's compassion. It's a good color for a kid's room or a nursery, particularly for children who are prone to throwing fits or tantrums. It tends to create a happy, comfortable space, which may help your little one relax.
Our verdict: Opt for a pale or pastel shade and use sparingly. Avoid a pink overload — it might lead to agitation and anxiety in toddlers.
8. Serene Whites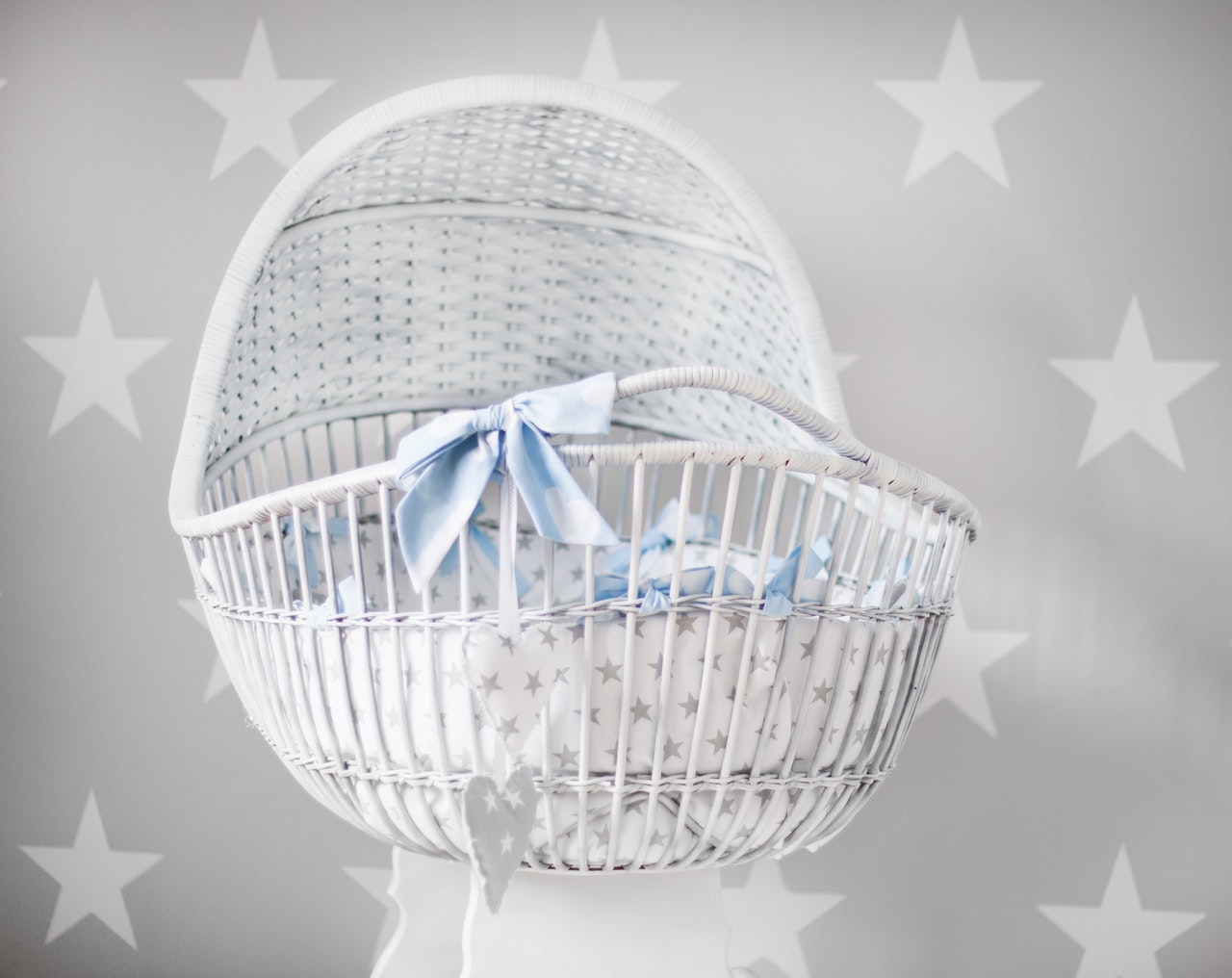 White creates a clean backdrop for any accent or design. Opting for a white color scheme for your nursery gives you a lot of creative freedom. You can easily create a new look ever so often by changing your furnishing or creating newer wall decor ideas.
White is a popular choice among expectant parents because it isn't too stimulating. Yet, it allows your baby to relax and develop their own personality.
Our verdict: Avoid strong blue whites and opt instead for creamier hues such as soft ivory and antique white. Try Cloud Cover by Benjamin Moore. It's not stark white but has a bit of warmth in it.
But, beware: white is prone to stains!
Read more: Architects vision baby room design
9. Contemplative Grays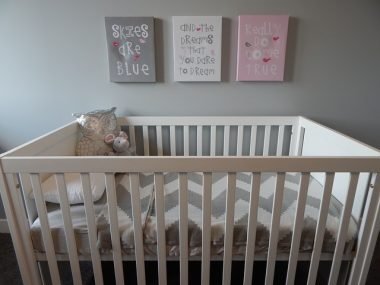 Gray again is one of the best nursery paint colors that promote thought and emotion. It's a calming color if you choose the right shade. Just don't make it too dreary.
Since it promotes emotions, you need to be careful with grays. The wrong shade can as easily evoke sadness or loneliness. If you want to use gray, use a warm tone and mix in some brighter colors.
Our verdict: Avoid dark and stormy grays and choose light, blue-grays. Pair them with clean, white trim and soothing pastel accents.
Try Benjamin Moore Gray Owl; it's a soft, light gray with subtle undertones of blue and green.
You may even go for Rock Candy by Sherwin Williams. It's a light gray that's perfectly warm.
10. Beige/Neutrals
A great nursery color is beige or any neutral hue. They have a warm, grounding effect, and are good for creating a cozy atmosphere.
What's more, neutrals are easy on the eyes — giving your little one the much-needed rest from stimulating colors and contrasts.
A neutral never goes out of style — bringing about a soft and gentle feel in your nursery.
Our verdict: Pair your neutrals well with wooden accents and cream-colored walls. Think neutral decor and a wooden crib.
Thinking about interior paint? Find the best cost with our estimator tool.
11. Mild Orange
A subtle shade of orange creates a soothing, comfortable baby's room. The best part is that you can go a tad darker and yet not go wrong. The trick is to mix and match accessories and accent wall colors.
Orange is full of warmth and is as cozy as possible. It reflects light in a playful way — making the room engaging and the perfect space for growth.
Our verdict: Begin with a pale of orange initially. As your child grows up, you may darken the wall paints for a modern, trendy punch.
Last Words
You can design your new nursery in a myriad of fun ways. We hope the colors we have listed out will help you create the perfect environment for your baby's arrival.
The right color creates a relaxing nursery space for your baby — affecting your child's psyche and influencing everything from his or her mood to physical wellbeing.
Armed with the perfect color scheme — you can transform a nursery into a soothing sleep sanctuary. Happy parenting!
Read more: 9 Must-Have Items for Designing the Perfect Baby Nursery
What Are the Best Nursery Paint Colors?
was last modified:
October 14th, 2022
by
Recommended