Want to give your backyard deck an enhanced look and feel? How about trying some awesome deck ideas or simply installing some deck lighting for that magical feel? Decking lights can be extremely fascinating and attractive when it comes to giving your outdoor space an improved look. This article will tell you everything you need to know about choosing deck lighting.
What is deck lighting?
Deck lighting is the art of adding deck lights to enhance the look and feel of your outdoor area. The idea is to use soft light on the railing or stair risers or the deck itself to make it easier for people to walk around outdoors after sunset. The light should not be too bright and loud. It should just act as an easy way-finder. Most Americans tend to prefer white light for path lights and step lights. Click here for some more outdoor lighting ideas.
How far apart should deck lights be?
The normal rule of thumb is to have 5 to 7 feet gap between two deck lights. However, this rule can be changed if you feel the deck is not getting enough light. This usually is the case when you have a more complicated structure that can cause shadows such as stairs. Another important thing to remember in this regard is to have the total number of fixtures in odd such as 3,5,7,9. This is because the human eye has a tendency to see odd numbers in a more cohesive manner as compared to that of even numbers.
If you are wondering about the cost of installing your new deck, you can try our free estimator tool.
What are the different types of deck lighting fixtures?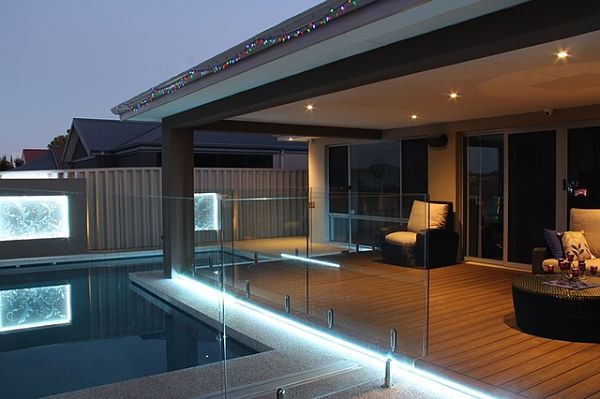 Some of the more popular types of fixtures are:
1. Steps
The best available fixtures for the steps are flush mounts, surface mounts, LED deck lights, solar deck lights, waterproof LED lights, and path lights. You need to pick the one that goes best with your exterior decor. You can also have a solar-powered light kit, if you are looking for a more eco-friendly option.
2. Spotlights
Spotlights work really well when used to illuminate paths. You can also use these fixtures as a wall mount to highlight plants, adding to the final look and feel of your lawn.
3. Downlights
Use this fixture on patio roofs, trees, and walls for the best effect. This fixture needs to be anchored to the surface.
4. Balusters
Illuminated balusters can be a very stylish addition to any railing. This will heavily amplify the look and feel of the exterior of your house.
5. Rail lights
You will find a wide variety of decorative fixtures for the deck rails. Pick the one that suits you best and brighten up your rails.
Take a look at these Easy and Useful Deck Repair Steps and Maintenance Tips!
How much will it cost?
The average cost of installing deck lighting can vary between $35 and $150 per light. You will need to add an average labor cost of $65 to $85 per hour. The area that you are looking to cover along with the complexity of the structure will have a huge role in determining the final price.
Can you DIY?
Well, you will find multiple articles claiming deck lights are easy to install. They also state that you can actually consider installing warm white deck lighting as a DIY exercise. However, if you do not have sufficient experience in electrical works, it is best to let a professional take care of it. Amateurish handling of this exercise can not only tamper with the final output, but can also prove to be extremely risky.
How to get hold of the right professional?
Try googling trained electricians near you and you will find a never-ending list of results. It can be very difficult to actually filter out a credible vendor who can be depended on. This is where a reputed home renovation and decoration website can prove to be useful. You can use our cost estimator to have an idea of the total home improvement project cost. This will help you to negotiate correctly with the shortlisted vendors and get the right deal. You can also check the credibility of the vendors by looking at the customer reviews.
Now that you know everything you need to about deck lighting, what are you waiting for? Get started today and give your exterior the magical touch of decking lights.
Read more: Residential teak decking
What Do You Need To Know About Deck Lighting?
was last modified:
May 30th, 2022
by
Recommended