Want to give a completely new look and a stylish vibe to your existing kitchen? Bring in new kitchen cabinets for the most magical transformation. They can freshen up your kitchen's appearance while adding immense value to your home. And, if you plan this home improvement well, the cost to replace kitchen cabinets will not burn a deep hole in your pockets.
The good news is that any type of kitchen renovation yields a high return on investment aka ROI. So, the money you spend on a kitchen renovation will return to you — in higher resale values.
Planning a renovation for your kitchen? Try our free kitchen remodel cost estimator; it's easy and convenient to use!
The key for a successful cabinet replacement is to estimate cabinet installation costs and consider all the important factors that affect the total budget for your kitchen cabinet installation project. Here comes this cost guide to give you a fair idea of what to expect.
Simply put, your budget depends on your preferences. For instance, the types of cabinets you choose, the cabinet material, whether you're hiring professional installers or kitchen designers, or want to replace the cabinets yourself, and the size of your kitchen — all will have a bearing on the final cost to replace kitchen cabinets.
In this guide, let's explore these cost factors in detail. But first, we'll answer the most important question for you.
What is the cost to replace kitchen cabinets?
On average, a cabinet installation would cost homeowners approximately $5,000. The actual amount could go as high as a whopping $30,000! Like we said, there are various factors included in calculating the cost to replace kitchen cabinets.
Cabinet refacing costs $6,800 on average and may go up to $14,000. Here, you reuse your existing cabinet boxes and simply update the cabinet doors and drawer faces. Refinishing cabinets, on the other hand, costs $2,700 on average.
Instantly estimate the cost of your remodel...
...or take your time to personalize dozens of choices to transform your house into your dream home.
Take a look at everything you need to Know About Kitchen Cabinet Refacing.
Factors that affect the total cost to replace kitchen cabinets
The total cost depends on whether you choose stock, semi-custom, or custom installation. The prices of cabinets range widely from $100 to $1,500 per linear foot or $50 to $650 per cabinet for the materials alone. A semi-custom and fully custom installation (for an average-sized kitchen) will range from $13,000 to $30,000.
See the table below for a clearer idea:
Type of installation
Features
Materials plus hardware cost per linear foot
Labor cost
Stock cabinets

Inexpensive
Manufactured in large quantities
Available in many colors and trim styles

$50 to $200
$50 to $100
Semi-custom cabinets

Offer more flexibility
Available in traditional & contemporary styles
Available in different sizes

$80 to $400
$80 to $250
Custom cabinets

Easily fit odd-shaped rooms
Expensive option
One-of-a-kind pieces

$300 to $800
$200 to $500
The materials you choose for your cabinetry also add to your total cost. Whether you're installing solid wood cabinets, engineered woods, or decorative veneers — your new kitchen cabinets will define the final cost as well as your home's aesthetic.
Keep in mind that cabinet material costs make up 25% to 50% of your kitchen remodeling project costs.
Solid wood cabinets are the most common, rich-looking, and the most expensive option. You can choose from pine, red oak to white oak or cherry. You can also consider non-wood materials that often mimic wood, and are quite durable.
Cabinet material
Cost per linear foot
Pros
Cons
Hardwood (Maple, oak, white oak, redwood, cherry, and birch)
$200 to $550

Looks beautiful
Durable
Easy to repair and fix scratches with wood filler

May rot, discolor or warp in humid regions
Can easily scratch

Plywood, MDF, wood veneer, and particleboard
$100 to $300

Affordable option
Easy to clean
Resistant to stains and water

Unable to cover or fix flaws
The adhesive may become weak over time
May swell in humidity

Steel
$1,000 to $1,500

Looks modern
Easy to clean and durable
Resists rust, stains, and water

Expensive option
Absorbs heat
May dent

Acrylic
$5,000 to $20,000 per cabinet

Resistant to moisture and scratches
Easy to clean
Available in a variety of colors
Withstands wear and tear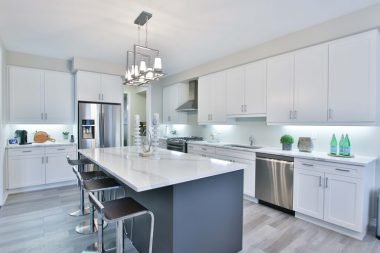 Photo by Sidekix Media on Unsplash CC0
Whether you have a small kitchen or a large one — you can estimate the total cost to replace kitchen cabinets based on the size of your kitchen.
For a more accurate estimate, measure the linear feet in the room, measuring along the wall.
| Size of kitchen | Total cabinet replacement cost |
| --- | --- |
| Small kitchen (70 Sq. ft) | $$1,800 to $11,000+ |
| Average-sized kitchen (120 Sq. ft) | $2,200 to $15,000+ |
| Large kitchen (200+ Sq. ft) | $4,000 to $26,000+ |

Keep in mind that most custom jobs will increase the price by 50% to 100%.
Even the cabinetry styles make a huge difference — from the framed ones or frameless to the shaker and ultra-modern style. 
Cabinet design
Pros
Cons
Framed cabinet

Available in various materials and styles
Hangs well on walls (both even or uneven)
Affordable option

Usually made of light materials
Less accessible
Time-consuming installation

Frameless cabinet

Contemporary
Easy to hang
Accessible
Made of durable materials

Expensive option
May warp
Limited colors and styles to choose from

Shaker cabinet

Affordable option
Choice of different materials
Easy to access

Requires more maintenance
Not available in many decorative choices

Raised cabinet

Easily available
Can incorporate decorative molding or edging
Easy maintenance

Expensive option
Difficult installation
Take a look at our guide on Types Of Molding And Architectural Elements For Kitchen Makeovers
You can have either painted vs stained cabinets to fit your home and style. Painted cabinets provide a smooth finish in any shade to match your kitchen. Moreover, you can use less expensive cabinets such as MDF-constructed models and save money. On the other hand, stained cabinets show off the appearance and grain of the wood beautifully. They are easy to clean and maintain too.
Read more: Kitchen Cabinet Colors
Hardware for your kitchen cabinet will cost you anywhere between $2 and $50 for pulls and handles. Remember that most stock cabinets will also require hinges.
One must plan and prepare the kitchen area for setup. Often, top cabinets are installed first and then the base cabinets. If you need to put together the cabinets prior to installation, most installers would charge $100 per cabinet, plus the cost of hanging the cabinet.
Cabinet installers typically charge an average of $35 to $65 per hour. Experienced handymen charge approximately $60-$90 per hour. Most cabinet installations take about 1.25 hours for each cabinet. If you're working with a kitchen designer to create the kitchen layout of your dreams, that would be an extra $100 to $125 per hour.
Removal and disposal of existing cabinets
Removing old cabinets generally costs around $300 to $500 for demolition and disposal. You can consider donating the old ones if they're in good condition for a small tax break.
While estimating the cost to replace kitchen cabinets, you will have to consider moving electrical outlets, plumbing, and redoing drywall as well.
Moving electrical wiring will cost approximately

$300

depending on the type of work and the complexity of the project.

Drywall patching would cost

$500

on average.

Rerouting plumbing will be around

$650 to $800

.

Painting costs would be

$350

(depending on the size of the area).
Conclusion
If you're looking to replace or install cabinets, you've made a wise decision. Who likes outdated cabinets to mar your cooking experience? We certainly don't.
Simply follow our cost guide and factor in all the above-mentioned points. A kitchen remodeling that includes new kitchen cabinets will create an attractive and functional space that you'll simply love.
Read more: Corner Kitchen Cabinet Ideas
What's the Average Cost to Replace Kitchen Cabinets?
was last modified:
November 15th, 2022
by
Recommended