How to hire the best deck contractors near me?
Are you wondering, "How to hire the best deck contractors near me"? That's a good start! It's extremely important to find the right contractor for any home improvement project. A good contractor, without a shadow of a doubt, will help you build the deck of your dreams.
If you're planning a deck installation or a major deck repair work, you'll need the services of a skilled and experienced deck contractor. Here, we've compiled some of the best practices that will help you choose a good contractor.
What exactly does a deck contractor do?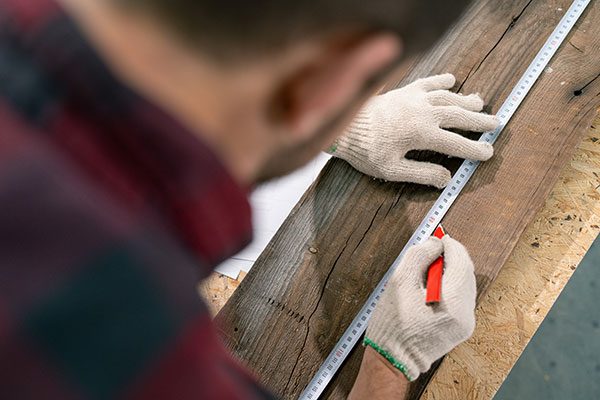 A deck builder is essentially a carpenter who has expertise in building outdoor decks. They seamlessly build a deck keeping a homeowner's needs, blueprints, and budget in mind.
Remember that installing a deck properly provides you with a sturdy and safe outdoor space to socialize or relax with friends and family. Simply put, hiring a good deck contractor will ensure that the deck project goes smoothly and efficiently.
Why hire a professional deck contractor?
Keep in mind that building a deck requires careful planning. A deck pro has the right knowledge and the equipment to ensure the structural integrity of the deck and your safety. Furthermore, an experienced contractor will also get you the requisite deck-building permit without any hassles. When you hire a deck professional, you can rest assured that you'll have a deck that's beautiful, functional, and safe.
What to consider before the deck installation?
Before you begin the home improvement project, you need to have a good idea of what you want in your decking project. Most importantly, you'll want to set a remodeling budget so that you know how much you can afford to spend. Here are some of the factors you'll want to consider when planning a deck installation.
Deck size
You should work out the rough dimensions of your deck to know exactly what type of deck is possible on your property. It will also give the contractor you hire clarity regarding the scope of the project – from start to finish.
Deck levels
Decks can be of different types and different levels. A multi-level deck will significantly increase the cost of building the deck, much more than a simple single-level deck. Moreover, complex deck designs such as two deck areas connected by stairs will mean a bigger deck-building budget.
Deck material
Gone are the days when the only option for outdoor deck flooring was pressure-treated wood. Today, there are different materials available on the market. These include wood-composite decking, PVC decking, and even aluminum decking.
Additional deck features
Extra features such as a deck fire pit, a water feature, built-in seating, storage units, screened enclosures, or ornate deck railings will add to the total deck installation cost.
How can I find the best deck contractors near me?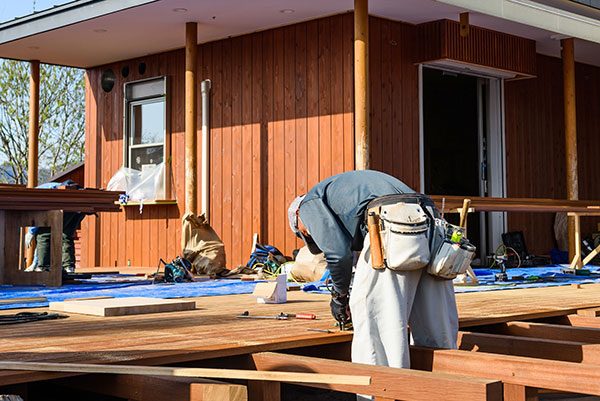 With the budget and deck design ideas in place, it's time to find a trustworthy contractor near you. You can rely on references from your friends and family, the Internet, and other resources to hire a good contractor. One of the easiest ways to find a decking contractor is through Kukun's free online tool Find a Contractor. You'll get the best options for professional remodeling contractors who have worked in your neighborhood.
Most importantly, you can explore each contractor's profile, peruse their online reviews, and view their building permits.
You can then zero in on the best local contractor and set a formal interview before hiring them.
Questions to ask a deck contractor?
It's crucial that you choose a respectable and trustworthy person or business to work with. Additionally, you must get complete information before beginning any job. Therefore, you need to be sure to ask them the following questions.
What type of contractor insurance and coverage do you carry?
How many deck projects have you successfully installed in the past?
Could you give the contact details of your previous clients?
Will you handle the required permits?
Will you contact the public utilities and get the underground lines marked?
What will be the working hours of your subcontractors?
What will be the payment schedule?
Important things to ensure when hiring a contractor
Make sure the contractor is licensed and insured. A good deck builder will be more than happy to provide copies of their insurance plan and warranties for their previous work.
Compare contractor quotes from at least three different deck builders.
Check the references, client testimonials, and online reviews of the contractor thoroughly. Especially ask about their timeliness, honesty, material usage, and construction methods.
Always get a written contract for your deck installation project, with complete details of the total cost estimate, payment schedule, time frame, and the breakdown of all of the costs.
Double-check to ensure that there aren't any hidden fees.
Make sure the specific decking materials and their quantities are inventoried.
Read more: Software that helps streamline processes
How much does deck installation cost?
The price to build a deck varies depending on its size, style, material, intended use, and location. For example, it might cost you $12 to $15 per square foot to construct a modest deck using pressure-treated wood. But, if you upgrade to composite or higher-end wood decking or include amenities such as deck stairs, custom railings, built-in seating, and levels, the cost may increase to $35 or more per square foot.
Furthermore, a more substantial deck foundation, larger beams, and posts will add to the decking price. That's another reason hiring a pro is a good idea. They will help you carefully plan your deck building and budget.
How long does it take to build a deck?
Most small, single-story decks can be built within a few days. A more elaborate project may take a week or more – depending on its complexity, foundation, framing, stairs, and railings. Painting or staining the deck after it's built will mean a few extra days to let the finish dry completely.
Read more: How long contractor have to refund money
Last thoughts
A deck can help extend your outdoor living space beautifully. And a well-maintained deck can last you 20 years or more.
Before you plan a deck installation, do consider how you'll use the space, how much room you'll need for the furniture, and how much deck maintenance you can manage.
A pro can help you design a deck that's functional, lovely, and complements your lifestyle as well as budget. 
Read more: How to fire a contractor?
How to hire the best deck contractors near me?
was last modified:
June 19th, 2023
by
Recommended