Decor ideas for dining room by front door
I'm sure a lot of us have a picture in our heads about how we'd like our dream home to look like. I, for one, have it all planned out. A large home with a garden that's open to the elements in the middle of the home, that all the rooms open out to…but I digress. I'm sure a lot of us find ourselves either buying or renting out less than perfect homes thanks to circumstance. Here are some handy decor ideas in case you find yourself in a home that has a dining room right by the front door.
Dining room by front door decor ideas
1. It's not weird, it's actually contemporary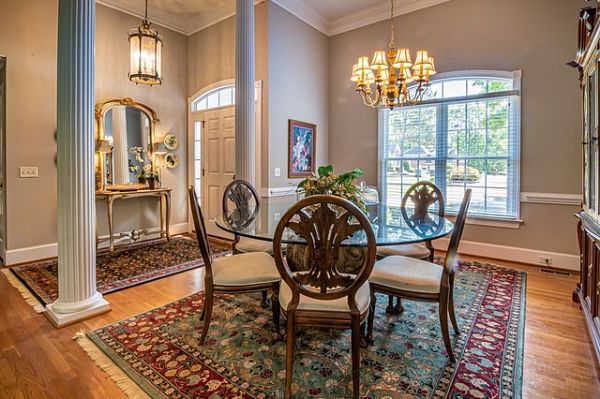 I was doing some reading to see what interior designers and architects thought about homes where the dining room was in close proximity to the front door, and it turns out, a lot of contemporary floor plans actually feature outdoor spaces in the front of the house opening up into the home's dining room first, with the kitchen and living room following in that order. A simple foot rug is often used to define the entry.
A lot of homes built around the 1920s also had floor plans that were similar to this.
2. Defining boundaries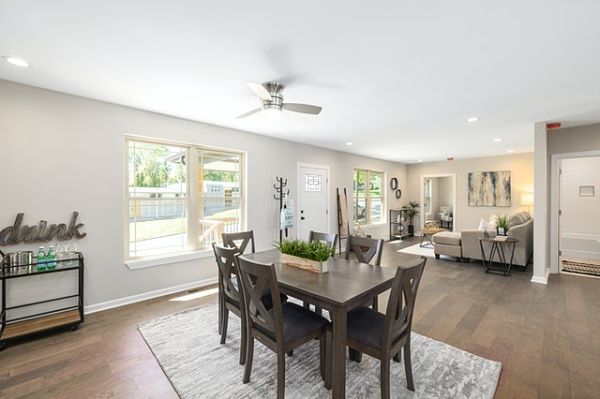 It is also possible to segregate a smaller space into a separate kitchen, dining, and formal living room by simply choosing the right pieces of furniture and arranging them a certain way.
Like we mentioned earlier, a great way to begin delimiting the room is by placing a foot rug or welcome mat by the main door, defining the entrance to the home.
You can make up for the lack of a foyer by placing a small sitting bench and maybe a keyholder and umbrella stand on the side of the door.
The way you arrange your furniture will give you the opportunity to delimit your living room and dining room. Set your couch up in a way that the back of the couch is facing the dining area. If you have a sectional, your job is even easier.
3. Adding character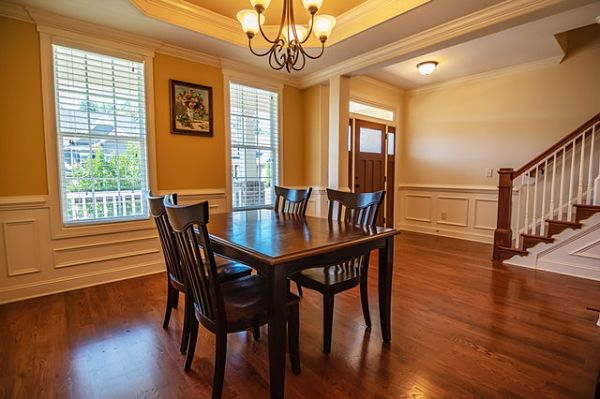 Now that your couch or sectional physically separates the living room and dining area, here are some tips on how to add more character to the two rooms.
The living room or family room of any home is usually the most feature-filled, with photographs and paintings on the walls as well as on showcases, the television, coffee tables with vases and knick-knacks, etc. To draw attention to your dining room, utilize a different lighting scheme from what is present in the living room.
For example, a chandelier right above the dining table is sure to catch the eye and draw attention to the crockery and dinnerware.
Alternately, tall floor lamps in the corners of the dining room will give the space a calm and tasteful aura.
If you have a cabinet in your dining area, add a few select family photographs and draw attention to them with inbuilt lighting or with track lighting.
Another easy way to add character to your dining section is by painting the wall behind the dining table a bolder color. However, this might not be an option if you're renting the home.
A simpler option is to use tasteful but not overwhelming dinner sets and cutlery while entertaining guests. A large rug or carpet under the dining table would only add to the visual appeal.
Read more: The best time to order a new dining room set
4. Sizing it right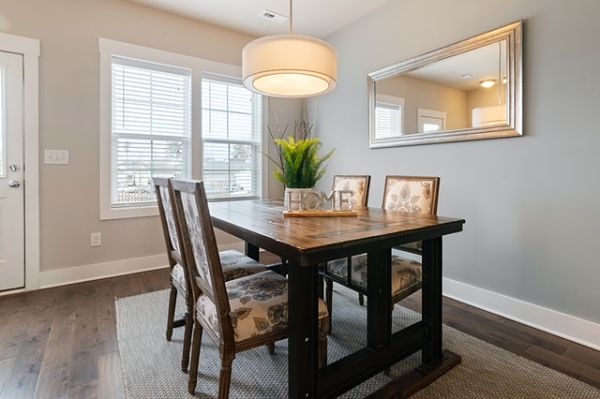 Another important aspect of working with small living spaces is choosing the right size and shape of furniture to complement the space.
For example, if your dining area is square and boxy, a large dining table will fill up the space and seem almost claustrophobic. Instead, a circular dining table that can sit four to six people comfortably would be ideal.
If the dining area is elongated, a rectangular or oval dining table would be better suited. Decide on the seating capacity based on the actual space available.
The same concept ought to be applied while buying your living room furniture as well. Buy oversized sofas, and you will be eating into your dining area space.
5. Flip rooms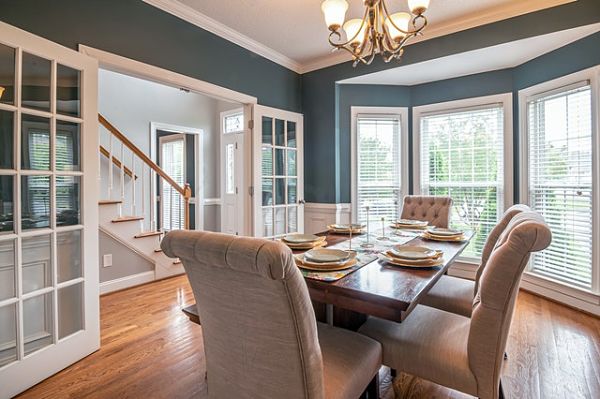 What it comes down to eventually is that it is your living space. If you don't like where your dining room is, maybe you ought to just flip rooms.
A lot of homeowners decide that they don't want their dining area right by the front door, so they convert that area into a family room or a great room. This automatically moves the dining room inwards to a different space.
Of course, that may mean a smaller living room but a larger dining room, which may work for large families that eat together, but not necessarily for families that entertain a lot of guests.
Another thing you may need to consider if you're flipping rooms is the proximity of the kitchen from your new dining area. After all, the kitchen and dining room belong next to each other in an ideal world. It might be awkward if you had to carry food past your guests in the living room to your dining room.
Conclusion
What you have here are just a few ways you could play around with your furniture and decor to make your dining room placement appealing even if it is right in front of the main door. For some people, something as simple as just moving the placement of the dining table so it isn't the first thing people see coming into the house works just fine. For others, flipping rooms seems like the only plausible option. At the end of the day, it is up to you to decide what works best for you.
Decor ideas for dining room by front door
was last modified:
October 14th, 2022
by
Recommended