How to Enhance the Beauty of Your Studio Apartment
Studio apartments can be ideal dwelling units for young adults who want to kick start their lives in a big city. They are tailor-made for students and working adults who can't afford the luxury of renting a 3-bedroom apartment house. Decorating a studio apartment can be a tough task since everything is basically in one big room. Sometimes you have to fit a bedroom, living room, kitchen, an office and still have some room to breathe.
While designing a studio apartment requires some innovative thinking and planning, the end result is always worth it. Despite the design challenges, such apartments have their own upsides such as low rents, proximity to bustling areas, and cozy charm. To figure out how to enhance the beauty of a studio apartment, we have compiled six design tips that will make it easy for you to get started in the right direction. Stick to these decorative tips, and you will never get bored of studio living.
1. Divide your room into zones:
When decorating your studio apartment, it is best to divide it into different sections. Define specific areas for specific activities. For instance, you can put a bed and a dresser in one section of the bedroom and a coffee table and sofa in another section. This will make your apartment look less cluttered.
By creating zones in your apartment, you can use the space more effectively, which will also make your studio apartment look more spacious than it really is. When dividing your room into sections, it is recommended to use pieces of furniture such as bookshelves, desks, tables, couches, curtains, and dressers. Since these pieces of furniture are easily movable, you can try them in different order before you are completely satisfied.
You can also use area rugs as room dividers, and you will be surprised by the impact that it can have on the beauty of the apartment.
Read more: Open Floor Plan Ideas To Divide Spaces Like A Pro
2. Choose your furniture wisely: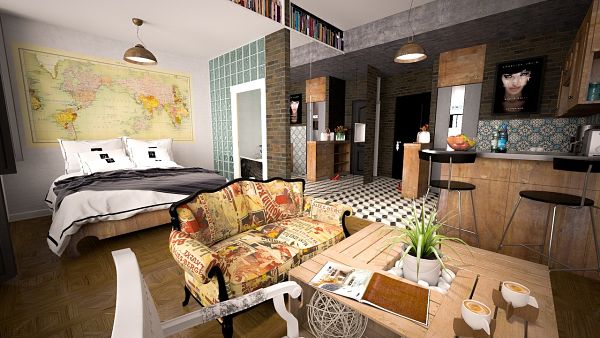 A studio apartment can be a perfect place to have dual- or multi-purpose furniture. Consider beds, chairs, and ottomans that have storage space inside them. You just lift the top and store your blankets, pillows and other stuff. However, you might need proof bed bug spray and regular cleaning to keep the stored items safe and clean.
When choosing dual-purpose furniture, make sure the pieces fit your space. Don't necessarily avoid big furniture just because you feel you have a small apartment. A lot of small furniture stuffed into a space might make it look more cluttered and uninviting. Try to use smart and large pieces that will make your apartment look larger and airier.
Once you have found the right furniture pieces for your apartment, you can complement them by using similar shapes in your accessories. For example, instead of choosing straight floor lamps, you can use table lamps with a more rounded shape. It is equally important to keep the natural shape of the apartment and play it up. Choose furniture items and accessories that would suit specific spots of your apartment and still meet your needs and personal style.
Planning a big home improvement? See our ultimate guide and start planning!
3. Avoid clutter: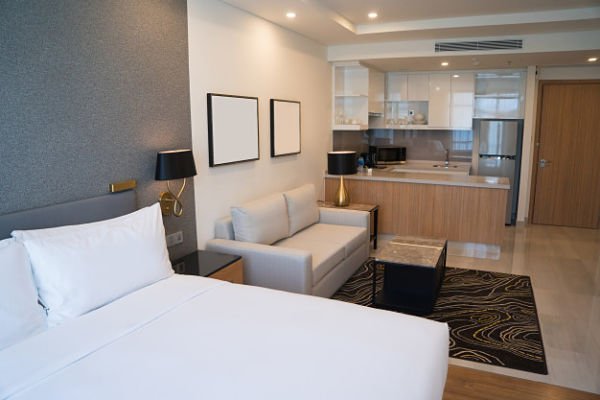 When you live in a studio apartment, you will always need to keep the clutter at bay. Too many items and extra furniture crowds the space and makes it feel like a closet. For small apartments, it is a much bigger problem because there are fewer places where you can hide the clutter. One solution for this issue is to use double-duty furniture that we discussed earlier in the post. You can also make an effort to review your possessions and keep only those that you actually need. Your apartment will appear much cleaner once you remove items that are less than necessary.
Other things you can do to unclutter your apartment is by using baskets and trunks to store your out-of-season clothes, towels, and linens. Try to make the storage in the same color as the walls so that they blend into the apartment. Keep all the shelves and counters clean with all the necessary items put into the cupboards.
4. Use space wisely:
After spending some time in a studio apartment, you might realize that the spaces in the apartment may serve a more useful purpose. Look around your apartment and think of the areas that aren't currently used as effectively as they could be.
Identify the blank walls, unused corners, and dead-spaces and think of ways to use them to your advantage. Use hooks on the apartment walls to hang your items. You can also place a bin in a corner to keep things off the floor and make your apartment cleaner and functional.
Read more: What to do with unused space in your home: Tips and tricks
5. Lighten your studio apartment:
Though dark rooms can have a certain dramatic effect, a lighten and brighten studio has its upsides. Making your apartment brighter will make it feel bigger. So, clean your windows and uncover them of any blinds that would obscure the natural light.
Using lighter paint colors will also expand the space more than dark colors. If you cannot live without bold colors, you can get your fix with the furniture. Mirrors also have a space-enhancing reputation. If you want to open up some space, simply hang a mirror. You can also use furniture with metal or glass to make your apartment look brighter and visually larger.
6. Use antiques:
Though the small dimensions of your studio apartment might limit you to small furniture, you can still use antiques and vintage pieces. While most of them tend to be on the larger size, there are many petite options available that will fit perfectly in your apartment. These vintage pieces will bring in a personal vibe, which will further enhance the beauty of your apartment.
Read more: Apartment Flooded? Here's What You Need To Do.
Conclusion:
A small apartment doesn't mean that it should be short on style. Refer to these tips when decorating your studio apartment to ensure that it meets your needs while looking sharp.
Want to share your pick on this? Do let us know what you think in the comments section below!
Read more: Creative Small Apartment Interior Design Hacks
How to Enhance the Beauty of Your Studio Apartment
was last modified:
September 28th, 2022
by
Recommended