Today, a homeowner gets to easily customize bathroom or kitchen cabinets to their specific taste and needs. When selecting cabinetry, there are two types of construction to consider: framed vs frameless cabinets. Both types of cabinets have endless design possibilities — with their own unique advantages.
Whichever cabinet style you choose will depend on your kitchen space and your personal preference. In terms of sturdiness, both types of cabinets are similar. Despite the fact that framed cabinets have an additional layer of hardwood and frameless cabinets are usually made from engineered wood, frameless cabinets also have good strength and stability because of thicker box construction.
Keep in mind that buying bathroom or kitchen cabinetry is a significant part of renovating your home. Your cabinets can make lasting impressions on your guests and family members, and also enhance the value of your house. That's why you need to weigh your options carefully when deciding between framed vs frameless cabinets. In this blog, we'll explore both cabinet styles so that you can choose whichever suits your living space.
What is a framed cabinet?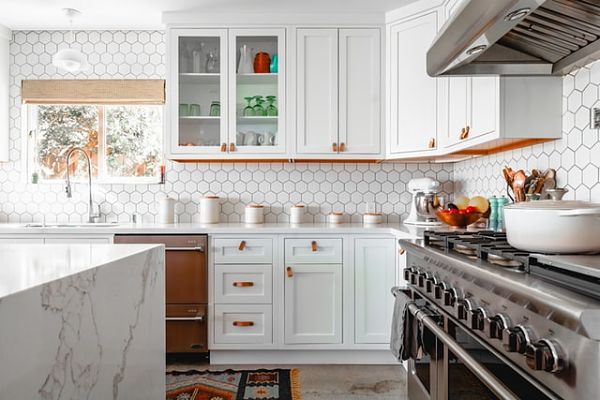 A framed cabinet is an American-style construction that has a 1-1/2 inch face frame that covers the front of the cabinet box. This kind of framed construction resembles a flat picture frame. The cabinet door is then secured to the frame to add dimension to the door front. 
Such a structure gives the cabinets more strength and sturdiness. Moreover, you have many design possibilities, including different arrangements of doors and drawer fronts. For example, you can create a uniform, flush-mounted look as a full overlay when the door is mounted inside the frame or a partial overlay when the door is mounted to the front of the frame.
And, the face frame is usually designed as horizontal members called rails and vertical supports called center stiles.
What is a frameless cabinet?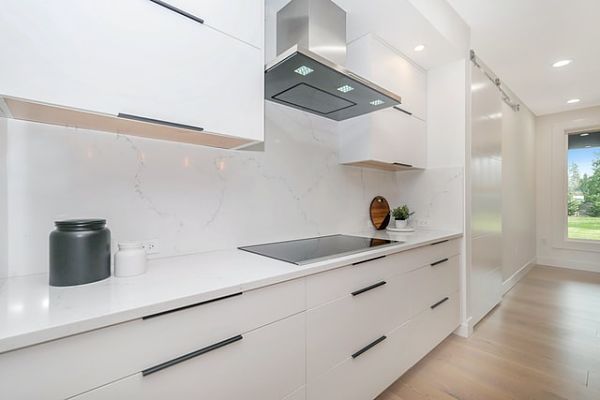 This kind of "full access" cabinet construction is a more European style but has become popular among American householders as well. Especially those looking for a simple, sleek, and contemporary cabinet designs.
Since a frameless cabinet style eliminates the face frame, it offers greater accessibility. However, keep in mind that you can use only full overlay doors whereby hinges are attached directly to the sides of the cabinet box. That way, the design is more streamlined as it's not interrupted by vertical face frames.
Framed vs frameless cabinets: Costs
The cost for frameless cabinets is generally $500 to $1,000 more than framed cabinets, with the same type of wood and style used. The installation cost for both cabinet types is around $2,000 for a 10×10-foot kitchen.
The average cost for frameless cabinets runs to around $5,570 while the cost of framed cabinets is $4,740. Of course, the pricing depends on the cabinet manufacturer and the design. 
Pros and cons
So, which one should you choose — framed or frameless cabinets? The answer depends on your kitchen needs. Framed cabinets are great for kitchens or bathrooms with large cabinet space. So, you do not require any extra room. Also, if you prefer a traditional kitchen look with flexibility for door choices and decorative hinges, frame cabinetry is for you.
Frameless cabinets are great for small kitchens or bathrooms as they maximize the available storage space. While there's no difference between framed vs frameless cabinets in terms of outer space, frameless cabinets offer slightly more interior storage space.
Let's look at the table below to understand the difference between framed and frameless cabinets more clearly. 
Framed cabinets

| Pros | Cons |
| --- | --- |
| Less expensive cabinet style | Lesser storage space due to frame and stile |
| Easier to install | Installation may take longer |
| Can be placed on uneven walls | May be made of lighter material |
| Many style and material options to choose from | Less accessible and harder to use  |
Frameless cabinets
| Pros | Cons |
| --- | --- |
| Contemporary, highly stylish look | More expensive option |
| Faster installation | Available in fewer styles and materials |
| Made of thicker materials | May warp when placed on uneven walls |
| Provides easier access, and is easier to use | Since there's no cabinet face frame, it relies on construction for support and stability |
| Slightly larger inner space — with 10% to 15% additional usable space | |
| More flush finish as there's no seam when looking at the sides | |
Framed vs frameless cabinets: last thoughts
When it comes to cabinets for your kitchen or bathroom space, you'll have two choices — framed and frameless cabinets. As we've seen above, both types have their own advantages as well as disadvantages. Both offer various door styles and design options. Keep in mind that the key difference between them is how they are constructed. It's a good idea to choose the option that meets all your spatial as well as aesthetic requirements.
Read more: Ideas to update your kitchen cabinets
What's the difference between framed vs frameless cabinets?
was last modified:
November 10th, 2022
by
Recommended