If you're unable to function without your morning cup of coffee, we hear you. With most people working from home amidst the deadly pandemic, going to your local favorite coffee shop has become harder. What if we told you that you can create your own home coffee station? And that too, easily?
Well, you can have a wonderful coffee bar experience in the comfort of your home. We have some great coffee station ideas to make your life easier. And, happier!
According to the National Coffee Association, 64 percent of Americans consume coffee daily. With Americans drinking more than 400 million cups of coffee every day, it's no surprise that coffee stations are becoming an important part of the modern household. For coffee lovers, a smart home coffee station is not a want. It's a need. 
So, if you're a "coffee addict" who misses going to the local café, we're sure you'd want to create the ultimate coffee space at home.
We've put together some simple yet amazing coffee station ideas that will make your coffee drinking experience super luxe.
Decide where to place your home coffee station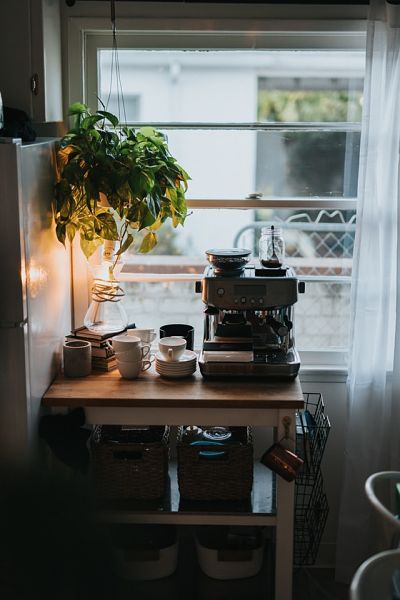 A coffee station is basically created to keep all your coffee-making supplies in one area. Make sure the design is elegant and convenient. You can set up your coffee station in a nice corner of your kitchen, dining room, living room, home office, or even a walk-in pantry. When you utilize the area well, it will feel and look like a professional café.
Know what you need for a home coffee bar
If you're a relatively new coffee aficionado and wondering what should be included in your coffee bar, we have your back. Here are a few articles that will help you create the perfect coffee station at home.
Coffee machine or espresso maker.
Coffee powder, coffee beans, and specialty tea bags.
Mug rack, glassware, and interesting coffee cups.
Sweeteners, milk frothing pitchers, or creamer pitchers.
Cinnamon sticks and chocolate in decorative, clear containers.
Spoons, strainers, diffusers, and stirrers.
Modern pieces of furniture in cool color palettes.
Home coffee station décor items.
Create the right home coffee bar vibe
You should know, what goes where in your coffee or tea bar. For instance, it's a good idea to display your favorite items — be it mugs, coffee beans, coffee-making tools, French press, teapots, or a coffee pod holder.
You can decorate the space with jars, tins, ceramic containers, and baskets. The idea is to mimic elements of a coffee shop.
Get your placements correct
Keep everything in trays or baskets so that they look grouped neatly together. Make sure the coffee maker and/or teapot are placed at a convenient spot on the counter. Keep the drink station close to the kitchen sink (if it's in the kitchen area) for easy access to the water supply. This way, you'll be able to put together a stylish and functional kitchen coffee station.
Make use of a chalkboard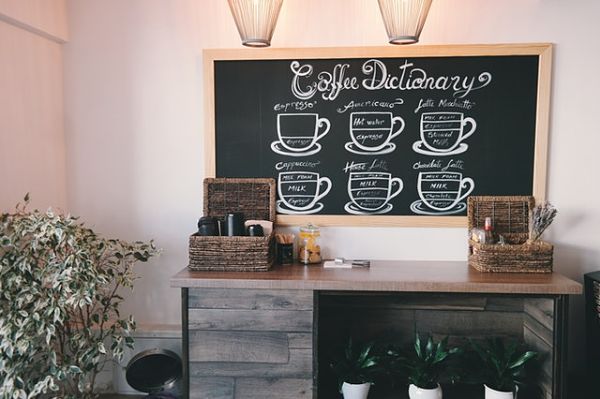 What gives you the most obvious coffee shop vibe? It's the chalkboard-covered café wall. You can paint a portion of the wall with chalkboard paint to bring some of that coffee house charm to your own home setup. All you have to do is come up with the wackiest liners, menu, or inspirational quotes. Or, you can curate your own daily specials!
Add a rustic charm with wood accents
A décor element that instantly adds warmth to any coffee space is wood. You can add wooden features — right from wooden countertops to bar stools and wall-mounted wooden shelves or cabinets. The natural-looking storage will help you keep the area well organized and stunning.
Create a tiny reading nook
Some of the best coffee houses in the world provide you with a place to chill out with a good book. Well, you can easily cozy up with your favorite bestseller and a hot cup of Joe. Add a practical bookshelf to hold beautifully bound books for the ultimate coffee bar feel.
Get a good audio system
A good Bluetooth speaker will add to the ambiance. You can play your favorite coffee house music — right from Norah Jones to Jack Johnson. With good music in place, your home coffee station can easily double as a wet bar — accommodating your brewing as well as blending needs.
Let your coffee pot be the star of the setup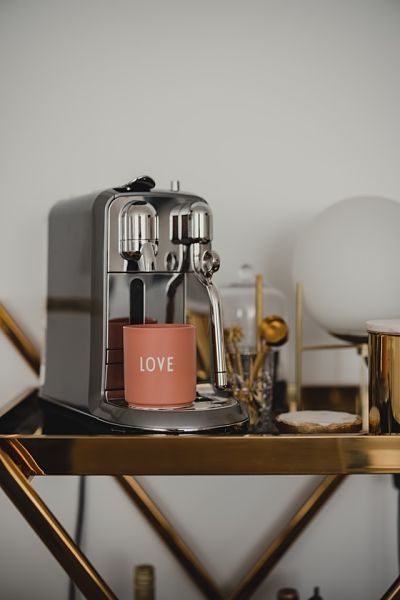 The coffee pot (or a tea kettle if you're a tea person) should be the focal point of your home beverage station. Whether you prefer a traditional drip, pour-over coffee, espresso, or a single-serve pod, let your coffee maker stand proud in the home coffee station setup.
Invest in good appliances and tools
Go all out and select state-of-the-art and the most utilitarian appliances such as an espresso maker or an electric tea kettle for your coffee or tea bar. An expertly crafted coffee will give a good start to your day.
Paint an accent wall
The best part about a home coffee station is that you can experiment with wall colors. You have the choice of using warm, neutral colors or pops of colors for the accent wall. Make sure the funky chairs or the mobile kitchen cart you choose for this area fit in with the overall color palette and create a bigger visual impact.
Get creative with your cup storage
The best way to store coffee mugs is to hang them. You can set wall hooks beneath open shelving. This kind of arrangement will not only emanate an authentic coffee house vibe, but it'll also help clear valuable counter space for you. And yes, you can also stack your mugs one on top of another for a whimsical look.
Set up a DIY coffee station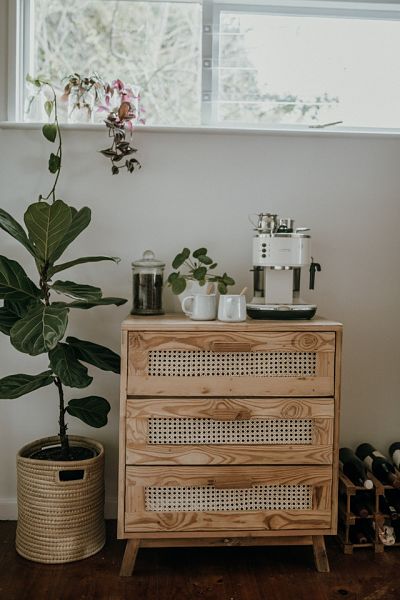 If you do not have a space that can be dedicated to a home coffee station, you can place a basic console table, an espresso maker, a hanging mug rack, a few baskets to hold the essential supplies, and a collection of coffee cups. By the way, a built-in coffee station is also an idea worth exploring.
Home coffee station costs
It will definitely cost you good money to set up your coffee bar. However, you'll be able to recoup your money after just a few weeks of usage. With fewer trips to your local café, the unmatched convenience of brewing delicious coffee at home, and the wonderful coffee aroma wafting in the house — will make you appreciate the real value of a home coffee bar, every single day.
Having said that, your total coffee station cost will depend on the items you've invested in and their scale. As far as the cost of coffee machines goes, it depends on the type and model. You can choose between – automatic, semi-automatic, manual espresso machines, or pod aka capsule coffee machines. The prices vary drastically from $100 to $3999. 
Last thoughts
If you're a true-blue coffee lover, it makes perfect sense — financially as well as emotionally — to splurge on creating a beautiful and functional coffee corner at home.
We hope these clever beverage hub ideas will inspire you, and you'll be able to brew a steaming cup of coffee — right from the comfort of your home.
Stunning home coffee station ideas and tips for you
was last modified:
October 1st, 2021
by
Recommended