Your front porch gives the first impression to your guests – welcoming them in style. A great porch decor idea also adds considerable curb appeal to your home. Therefore, it's definitely worth paying special attention to this part of your home. Here, we have some great tips on how to decorate the front porch in a stylish yet simple way. Let the first area your visitors see be an extension of your unique personality.
With a beautiful porch, you needn't be indoors all the time – especially if you're hosting a get-together and want to enjoy the fresh air outside. Even when you do not have a large backyard or front yard, you can do a lot with a relatively small front porch. When you know how to decorate the front porch with creative ideas, this living space can become an extension of your house.
We have some great front porch decor ideas that will make you extremely house-proud and your guests feel comfortable as well as welcomed. Regardless of whether you have an open porch or a covered one, these tips will complement your outdoor living space beautifully. So, let's begin.
Add decorative elements in keeping with the porch theme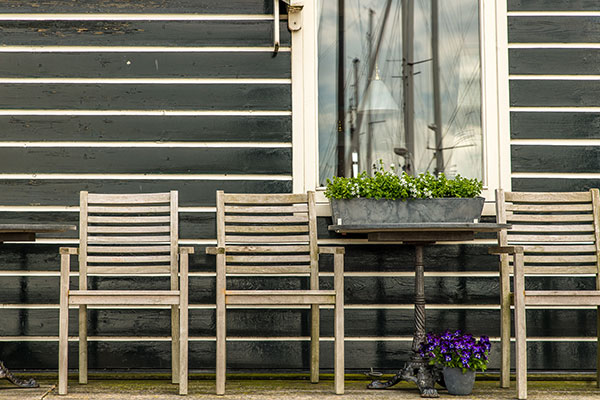 If you're aiming for a contemporary look for your porch, you can add modern patio furniture, some potted boxwood shrubs, a bright area rug, and wall art with clean lines. A vintage vibe would involve decorating your porch with rustic wooden accents, lanterns as light fixtures, dried flower arrangements, a rocking chair or a wooden chest of drawers, and muted wall colors. A porch with a farmhouse feel can have overflowing planters and mismatched outdoor furniture. And, if you're looking for seasonal decor, there's no dearth of wreaths and accessories for every holiday. You just have to look for the right one.
Read more: Fall porch decor ideas
Utilize urns, pots, and planters
When you do not have a large yard, but still crave a good amount of greenery, you can use potted plants to brighten up your porch. They add color and visual interest in a lovely way.
You can invest in stone or terracotta pots and urns in different sizes and place them strategically at the side of your front door or one on either side.
Get the right porch lighting
Remember that lighting can make or break the look of your porch area. The type of outdoor lights you install depends on the size of your porch and its purpose.
For example, if you're looking to light up a specific seating area or want to brighten up your entire porch, you'll need lights accordingly. It's essential that you utilize creative front porch lighting options for a cheerful-looking space.
Go vintage
Feel the vibe of the area and enhance it. If you love old-world charm, show off your favorite antique pieces outside rather than inside your living room. Bring out that rustic table and turn it into your new outdoor serving station. Set a large mirror against the wall and place your brassware in front. Or, use that old shoe rack to keep plants.
Make your flowers talk
Nothing makes a porch more welcoming than pops of colors through flowers. Grow plants with fragrant blooms. Apart from making your porch look nice, they will give your visitors an extra-sensory treat every time they step on your property.
You could choose sweet-smelling plants such as star jasmine, clematis, pansies, and petunias in hanging baskets or large pots.
Create your very own quaint space
Dreaming of living in a cottage straight out of a fairytale? Well, you can create such a lush green space easily. Make your windows and door frame mossy with planting climbers. These will add a dramatic impact to your entrance.
You can grow wisteria, jasmine, or pittosporum. A garden designer can help you train these by setting up a network of taut wires on your porch wall. As the plants grow, these wires will be hidden in due course.
Paint your front door
If you have a bright front door, the battle is already half-won. A deep red, green, or navy blue door will make your porch look stylish and different. However, if you're looking for hues that withstand the test of time, you can opt for neutral colors such as brown, white, or gray. Changing your door color is perhaps one of the cheapest ways to give your porch a makeover.
Give your porch a new wall color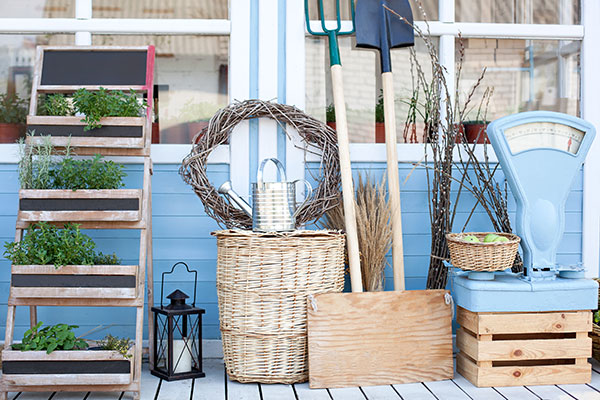 Before you give your outdoor porch a brand new wall color, do consult your decorator regarding the building material used on your house's facade.
For a brick wall, you can use bright red, green, or white. Keep in mind that darker colors are often perceived as modern, while lighter hues are considered traditional. Once you choose the color scheme, you'll get a good idea of how to decorate front porch the way you want.
Extend your house
Who says the outdoor space is only for a specific occasion or time of the day? If you're someone who likes to spend time outdoors, you can make your porch as comfortable and decorative as the inside. Decorate the space with lamps, a couch, a coffee table, and even a dresser. Let it be your second living room.
Or, a mini outdoor kitchen with a dedicated BBQ area. Your porch, your ideas!
Read more: Outdoor kitchen designs
Invest in good seating
If you have a large porch, you can utilize the space for summer gatherings and evening entertainment with friends. Buy the best outdoor furniture, garden umbrellas, rugs, cushions, and a porch swing. You can even create a cozy corner with curtains.
If you already have a garden sitting area, you can match the pattern, color, and texture of the furnishing in both areas.
Have a built-in garden
A built-in garden bed can be the perfect border for your porch. You can create a wall of succulents or pothos – ideal for a modern home exterior. And if you do not have a green thumb, consider placing artificial outdoor plants in shallow pots. These plants will enhance your privacy without totally blocking the view from inside the house.
Decorate the steps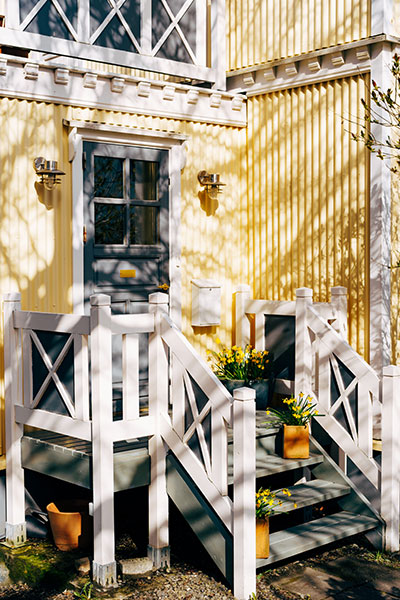 Let your porch steps stand out – with small knick-knacks, candles, decor items, or lights. You can even consider painting or tiling the treads of your steps for a great effect.
Get new door hardware
The unique brassware on your front door or windows can be the focal point of your porch – setting the tone and overall look of the area. You can match your house number or any other signs you have outside your home for a cohesive look.
Last thoughts
Your porch has a lot of potential for making your home stand out. Just re-imagine the space and get to work. Or, you can consult your interior designer regarding front porch design options.
Learn how to decorate the front porch in a way that the area shows off your interesting personality to the neighbors. We hope these front porch decorating ideas will help you create the perfect outdoor area.
Useful ideas and tips on how to decorate your front porch
was last modified:
June 19th, 2023
by
Recommended