Kukun Cost Estimator: Making home renovation a wonderful experience
Home remodeling can be exciting but it can also come with a bit of anxiety. Because of the nature of the many decisions required, and the difficulty determining the scope of the project and the budget, projects often cost more than what most homeowners anticipate. The end result? Stress for the homeowner as well as for the contractor. A lot of back-and-forths and a project that lasts longer, and is more expensive than it should be!
Wouldn't it be great if you could actually get an accurate figure before you begin the construction work? Well, that's why you need Kukun's home renovation Cost Estimator to make things easy for you. Using the Cost Estimator, by selecting very specific finish levels and clearly defining the work to be done, you'll know exactly what The cost will be on your home improvement project. Plus, the Cost Estimator also shows you how much this project will increase your home's value – and when the project increases your home's value more than the cost of the project, that is shown as profit! How much profit can you make by doing the remodels that make your home your dream home?
Have you tried the new Kukun's Cost Estimator?
The Kukun home renovation Cost Estimator is a great solution to make your home renovation easy, convenient, and seamless. You get the most reliable and realistic estimate for your home renovation – helping determine the exact materials and preparing you financially as well as mentally for what lies ahead.
The free Cost Estimator accomplishes a number of things:
It calculates the cost of various combinations and permutations of materials, finishes, and designs for each project.
It lets you select multiple projects at once on the main page, and you can add as many projects you want after you get your first estimate.
Remember, you can always change the parameters and get a new cost estimate – instantly.
You see your project return on investment.
You get to choose the changes you want. Where and how you want them. What's more, once you have your plan, you can use the Find a Contractor feature to hire licensed professionals to guide you along the way. And not just any professionals, but only the ones that are highly rated for reliability and quality with Kukun's contractor ratings.
Which home projects can the estimators help you with?
The Cost Estimator will help you with just about every home project – even allowing you to combine multiple projects at a time. That way, you will know exactly the kind of investment you'll require for your home renovation. And, you can organize the work better – effectively managing your budget, milestones, and timelines. Additionally, you can plan your finance options too in advance.
Here are some of the most popular projects that homeowners are interested in:
How to use the home renovation cost estimator?
Using the cost estimator is easy as well as interactive. Most importantly, it gives you cost estimates instantly! Simply follow a few steps and get your custom, personalized renovation cost in minutes!
1. Select a specific project or choose multiple projects in one go on the home renovation cost estimator page 

2. Mention the type of renovation or addition you plan to make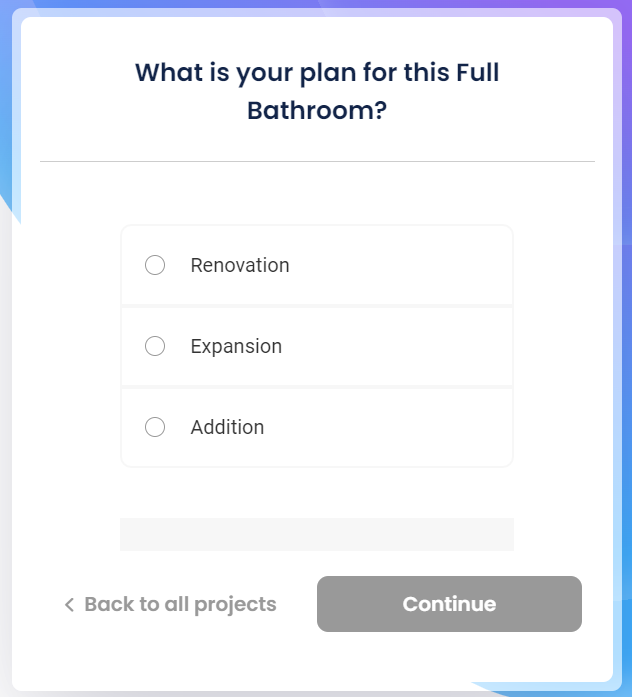 3. Answer the specific questions regarding your project (Like fixtures and appliances you are planning to add)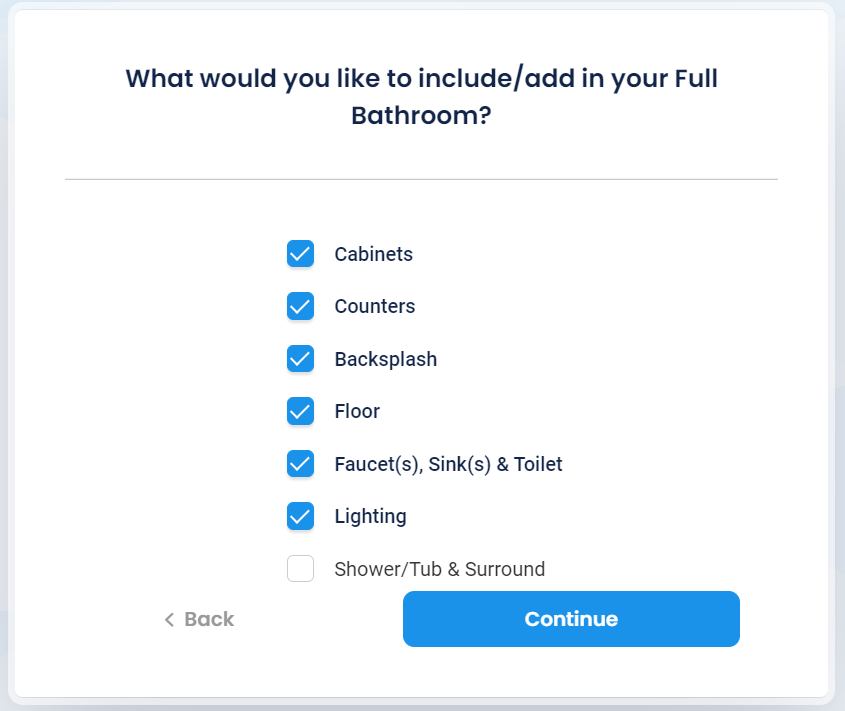 4. Provide your house address and zip code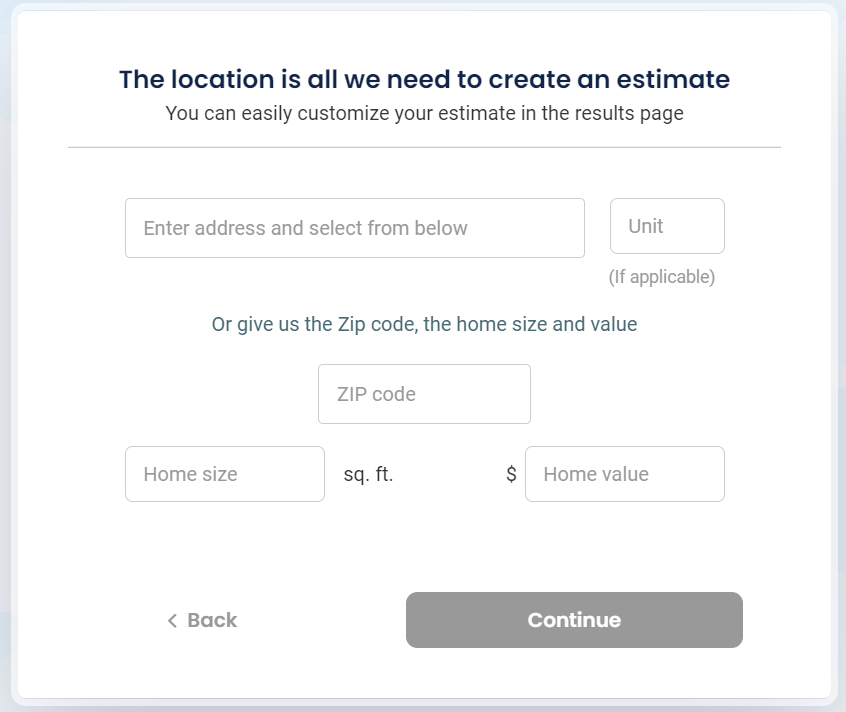 (Your location helps us give you a better cost estimate as we can keep a track of the labor and material prices, permit history, and similar renovations in your neighborhood.)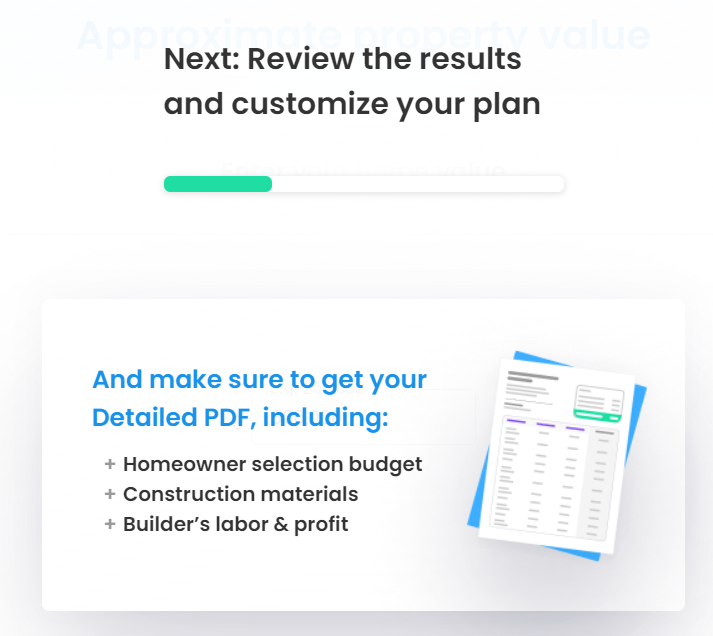 5. Get your personalized project cost estimate within minutes
Remember that after getting to the last section and seeing your results, you can customize your project easily, adding new projects to estimate and changing the finish level.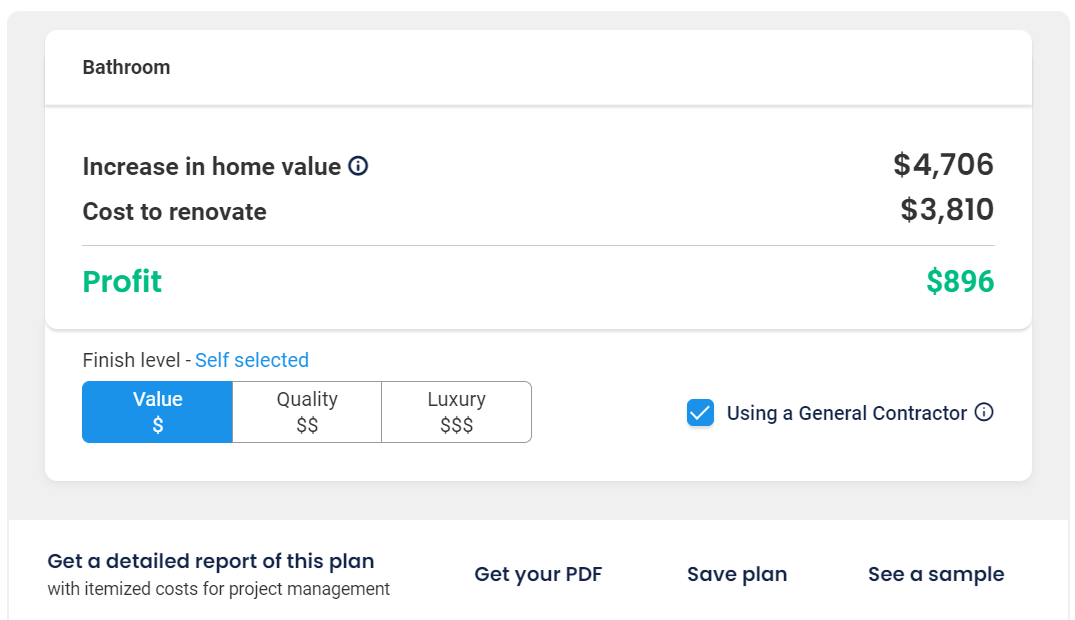 And of course, remember that you will not only get the estimated cost of your project but also how that remodel will affect the total value of your home.
Always consider ROI when remodeling your home
Whether you are remodeling to improve your home or are looking to sell it in the near future, understanding ROI is essential. Remember that according to where you live or the project you choose, you can get a good or a bad ROI. The Cost Estimator tailors the price of the materials and labor so that you should always target a full recoup on your investment, and very often see a profit.
Also, remember that bathroom and kitchen projects can give you one of the highest return on investment — From 80% to 125% of what you spend. According to the National Builders Association, a half bathroom addition can boost the value of an average house by 10.5% while a full bathroom addition can boost the house value by 20%. In terms of exterior remodeling, replacing old siding can get you up to 85% ROI while a new roof can add as much as 109% ROI.
So, when using the Cost Estimator, pay attention to the "Profit" section, where you'll find the ROI that your project (Or group of projects) will give you.
And don't forget to get your personalized detailed report with even more information and save your plan so you can go back whenever you want and keep customizing your project.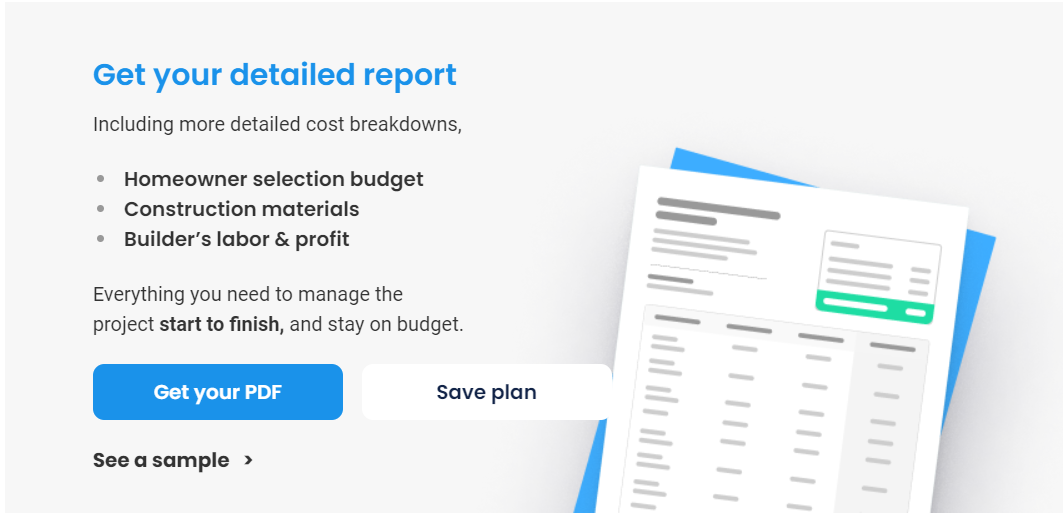 How to make your home renovation an experience to remember?
Renovating a property is not an easy task. In the excitement of adding your favorite features, it's easy to forget about budgeting and sticking to it. However, every home renovation project necessitates a budget. Whether you're painting a room, remodeling a kitchen, or remodeling a bathroom – you'll need an exact estimate of the project's cost so that you can assess your present financial situation and ensure that you have enough funds to cover everything.
The key to properly managing a home remodel is planning the process from start to finish.
The Kukun cost estimator will help you do just that — making the entire journey a positive and memorable experience. It will give you complete control over home projects – your most expensive financial investment. When it comes to investing, home investments with positive profit are often the most responsible financial move you can make. So go ahead, make your home your dream home!
Kukun Cost Estimator: Making home renovation a wonderful experience
was last modified:
March 2nd, 2022
by
Recommended