Prehung vs slab door: Features, costs, pros and cons
Installing new interior doors can upgrade the look of your home. When you're planning such a home renovation project, you'll probably be faced with a dilemma of choosing between a prehung vs slab door.
So, which one should you opt for? Prehung or slab doors? Well, that's exactly what we'll help you decide by exploring the features and advantages of both types of doors. You can then select the best fit for your home.
Keep in mind that your choice of prehung vs slab door is determined by your home improvement project size, the door replacement budget, your personal preference, the labor cost in your area, and the ease of installation. Sometimes, it all boils down to whether you're looking for a unique door that might require additional time and craftsmanship, or you want a simple door that's convenient and easy to install.
You may choose to hire a professional door installer or undertake the work as a DIY project. If you're an experienced DIYer, installing a prehung door can be done in less than an hour. Installing a door slab, on the other hand, could take you anywhere from three to six hours.
What is a prehung door?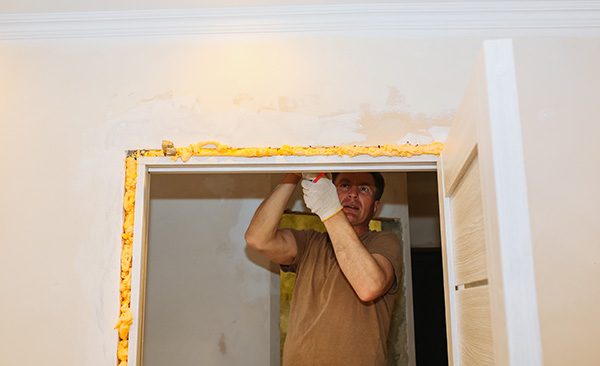 A prehung door includes a slab that's already hung in a door frame. Moreover, it's usually pre-cut for the doorknob and the strike plate. All you have to do is properly fit it into a door opening. And after being fitted, it may need to be painted or stained and outfitted with knobs. Also, the space around a prehung door needs to be finished, often with drywall, trim, and paint.
What is a slab door?
A slab door is a basic, stripped-down type of door without a frame or hinges. However, it usually has a hole pre-cut for the doorknob. Once you attach the door to an existing frame or build an entirely new door frame, you will need to paint or stain it if required. And of course, outfit it with a knob.
You can buy a new door slab, get it handbuilt by a carpenter, or salvage a vintage one from an antique store near you.
Prehung vs slab door: cost differences
Because slab doors do not include any hardware or framing, they are generally less expensive than prehung doors. Keep in mind that the exact door unit price depends on the door's features — including the door material, hardware, whether it's a solid vs hollow construction if it has a clear or frosted glass, and the intricacy of the door's design. Getting a new door frame will also impact your final cost.
A slab door costs anywhere between $150 and $1,780 on average while a prehung door costs around $270 to $2,400 to install.
Prehung door: Pros and cons
| Pros | Cons |
| --- | --- |
| Ready to install, weather-tight door | Expensive as compared to a slab door |
| Hassle-free door installation | Installation needs at least two people |
| There's no requirement to build a door frame from scratch | Heavy, bulky, and hard to move |
| Door hinges come pre-attached to the frame | The door may not swing properly if not installed correctly |
| No requirement for mortising of the hinges | Door frame is flimsy prior to installation |
| Hole for door knob and strike plate is pre-cut | May require adjustments to fit properly |
Slab door: Pros and cons
| Pros | Cons |
| --- | --- |
| Cheaper than prehung doors | Requires extensive carpentry work and more time to install |
| Provides greater size and design flexibility | Installation requires exact measurements |
| Lighter doors and easier to handle | Size variations may prevent a smooth swing and tight fit |
| | Requires cutting of mortises |
When to install prehung doors
When installing prehung doors, there's no need for any extra work such as building a door frame, mortising the hinges, or drilling a hole for the strike plate. These elements are provided by the door manufacturer. In fact, experts also recommend prehung doors for exterior doors because they are easier to fit and come weather-tight from the factory.
You must install a prehung door if:
It's a new construction or a remodel project where you need multiple doors but in less installation time. With prehung doors, you won't have to build the door frame from scratch.
You need to replace an exterior door with an energy-efficient door. 
Your existing door frame is rotted or damaged.
The door's rough opening is exposed. 
When to install slab doors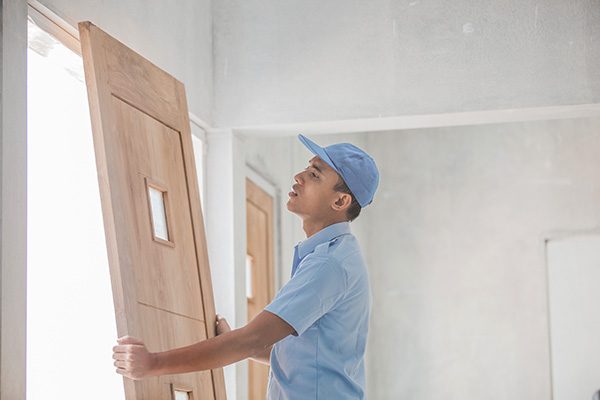 When you're replacing a door with an identical one in terms of size and configuration, whether a new door or a vintage door, a slab door is a good option for your renovation.
All you need to do is yank the old door and install a blank door slab in the existing jamb and leave the trim intact. That way, you'll spend less time on installation, and save money. 
You can even cut a solid slab door to size. Simply measure the amount you want to take off by drawing a straight line across the bottom of the door. Then, cut with a circular saw. If it's a hollow core slab door, the job becomes a bit trickier and is best left to professionals.
You must install a slab door if:
The existing door frame is in good condition and you're replacing the door with another one of the exact same sizes.
You want to repurpose a vintage door. 
Prehung vs slab door: Last thoughts
When shopping for doors, you will have a choice of installing either prehung doors or slab doors. Both prehung and slab doors can be excellent choices for interior doors depending on certain factors. For example, prehung doors are best if you're undertaking a complete remodel of your interior doorways while a slab door is a good choice if you already have door frames in good condition, and just need to install same-sized doors.
Whichever type of door you select over the other will also depend on your personal preference and the door cost.
Read more: Easy ways to finance front doors
Prehung vs slab door: Features, costs, pros and cons
was last modified:
November 15th, 2022
by
Recommended