Safe rooms for homes are not just for preppers or celebrities. Today, these panic rooms are much in demand — mainly due to the uncertain world we live in. Many homeowners are looking to build these safe havens either when they are building new homes or moving into an existing home.
And of course, there's no denying the charm and intrigue of safe rooms for homes. These are viewed as harboring hidden secrets — an impenetrable hideaway behind an innocent-looking façade.
Whether the room is hidden behind a bookcase or a living room fireplace — these intrusion-proof spaces are worth being a part of your home — just as in a Hollywood thriller!
What is a safe room?
A safe room is a fortified, secure space that provides a safe hiding place for the inhabitants of the house in the event of an emergency or a home invasion. Often, it's a small, windowless chamber that's specifically designed and constructed to meet Federal Emergency Management Association guidelines.
Such a structure provides protection for the house occupants during extreme windstorms or home attacks. That's why it's important that it meets the following guidelines:
It should be anchored to the home's foundation, and resist overturning, uplift, or any failure.
The walls, roof, doors, and windows should be able to resist perforation by windborne missiles.
The safe room's walls should be completely separate from the structure of the home so that even if parts of the home are destroyed during an untoward incident, the safe room walls remain standing.
Do I really need a safe room in my house?
A safe room is a vital part of a good home security system. It's a room that should exist in every household. Fortunately, safe rooms for homes are easy to create and can be a boon in regions that require extra security and safety.
Read more: How to improve your home security effectively
When designed well, a safe room provides an impenetrable defense against natural calamities or aggressors who somehow make it past your existing detection and alarm systems.
Why are safe rooms used?
There could be several reasons why safe rooms are in demand in residences. These include:
Protection against natural disasters such as windstorms, tornadoes, and hurricanes. That's why storm shelters and underground tornado bunkers are common in most of the United State's tornado-prone regions.
Protection against a nuclear attack or radioactive fallout.
Providing social distancing in case of a serious disease outbreak, such as Covid-19.
Hiding from burglars, potential kidnappers, or an abusive spouse. It can get you some extra time to contact the police.
Where should I put a safe room in my house?
The first step is to establish which room you would like to put the panic room in. The ideal location for a safe room is underground — in a basement. Especially, if you're concerned about tornadoes or high-wind storms. That way, the secure room is away from any exterior walls.
You may even install a panic room on a concrete slab-on-grade foundation, a garage floor, or an interior room on the first floor of your home.
Just make sure, the room meets some basic requirements. Look for a place that has one doorway and an escape area. Reaching it should be quick and easily accessible from all areas of the house. The size of the safe room should be big enough to fit in your entire family. And, make sure it has a sturdy safe room door (made with solid core metal or wood) and no glass windows. Most importantly, the room should get cellular reception and have some basic provisions.
Next, you need to select good locks, such as a deadbolt, chain lock, or side lock, that are strong and secure.
How much does a safe room cost?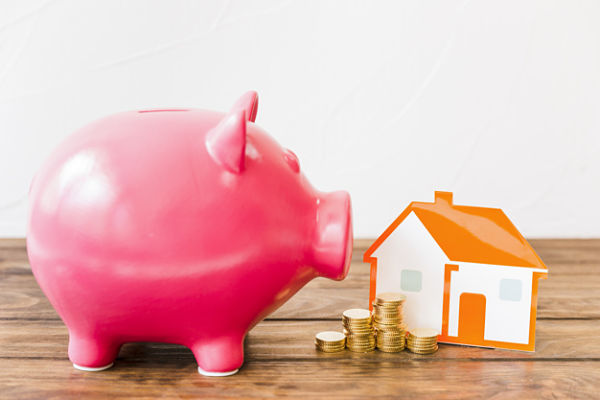 The cost of a safe room for homes depends on the type of foundation the house is built on, and on its size as well as location. If you're on a tight renovation budget, you could begin by making small changes to an existing room. It will be a cost-effective way to add a safe room. However, always check with your local emergency management office before retrofitting your safe room.
Read more: Before a home renovation
How do you build a safe room in your house?
You need to determine if the panic room will be built above or below ground level. The best way to go about it is to hire a professional such as an interior design expert, an architect, or an engineer who's familiar with the current FEMA criteria regarding safe rooms.
Steps for building a safe room for homes
Choose the best room for a safe room, designed according to its purpose.
Make sure you have your safe room constructed as per the government guidelines.
Install a solid core metal door or a wooden door with at least two locks.
Add a first aid kit, provisions with long shelf lives, medical supplies, etc.
Consider adding a self-defense tool.
Install shatter-resistant windows if you must add windows.
Add an anti-theft window film.
Ensure adequate ventilation.
Install a reliable security system.
Which building materials are ideal for a safe room?
Typically, safe room walls and ceilings are made of concrete, steel, plywood, or fiberglass. The panic room doors are typically high-gauge steel that is specifically designed to resist high wind forces and perforation by windborne debris. In fact, steel safe rooms meet and exceed FEMA standards.
If you're looking to save money, you may also want to consider prefabricated manufactured shelters or safe rooms. Just make sure they meet FEMA's recommendations.
What to put in a safe room
When it's time to prepare your secret room for a long-term stay for an emergency, tornado, or hurricane, make sure the following things are available to you for survival:
Food and water
Medical supplies
Cell phone or radio equipment
Battery charger for cell phone
Warm clothes, shoes, and blankets
Filter masks
Raincoats and gloves
Flashlight with extra batteries
Knife and a rope
Last thoughts
Approved safe rooms are built to withstand natural disasters as well as intruders. Apart from the sense of intrigue they offer, safe rooms can be extremely practical.
The impenetrable, intrusion-proof hidden room with its bullet-resistant windows, can make a huge difference in dealing with any kind of threat.
A guide on building safe rooms for homes
was last modified:
November 2nd, 2022
by
Recommended