Understanding the cost and workings of a stair chair lift
Installing a stair chair lift is an easy way to live a safe, convenient, and independent life in your own house. If you too are thinking of getting it installed in your home, this guide is for you. It'll help you understand the mechanism, the cost, and the benefits of such a lift. Remember that apart from carrying a person from floor to floor, it can also be used for transporting items.
What's a stair chair lift?
A stair chair lift is an extremely useful tool to help individuals go up and down the stairs safely. It's a motorized seat that's attached to a fixed track close to your stair's inner rail. Basically, it's mounted directly to your staircase with an electrical motor that's battery-charged.
This motor helps to lift the specially designed chair up and down the stairs. And, you get to control the chair movements with a joystick, a remote control, or a power button.
Since the stairlifts are attached to the stair railing and not the wall, they are more sturdy and compatible with nearly any type of stairs.
You can install straight stairlifts, curved stairlifts, custom curved stairlifts, and even outdoor stairlifts according to your house design and the steepness of the staircase.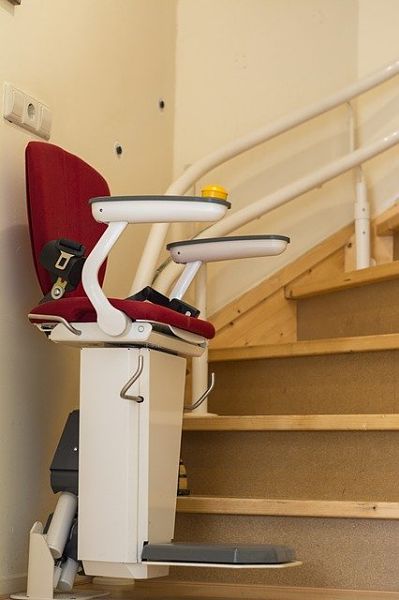 How do they work?
You will need to plug in the stairlift to a standard wall outlet. Generally, the wiring is done within 6 feet of either the top or the bottom of the staircase. The exact stairlift installation of that particular model can be carried out according to its user manual.
The motorized seat, attached to a fixed track along the stair, is usually equipped with a backup battery. This feature is extremely important for those who live in areas that are prone to power outages. Make sure your stair chair lift model too has this feature.
You will need to charge the battery when it's not in use. With battery backup, a fully charged stairlift can make 40 to 60 round trips in case of a power outage.
Read more: Home generator costs and related expenses
Stairlift size requirement
Most stairlifts can fit any kind of staircase. That said, a staircase should be at least 32″ wide. Also, the track, mounted on the stair treads, extends about 6 to 9 inches from the wall.
You can choose a stairlift where the seat, its arms, and footrest fold up when not in use. A folded stairlift generally extends between 11 and 16 inches from the wall.
Also keep in mind that in most cases, the track extends beyond the bottom of the staircase. If you have limited square footage, you can choose a manual or electric folding rail that allows the track to fold up when the lift is not in use.
Stairlift costs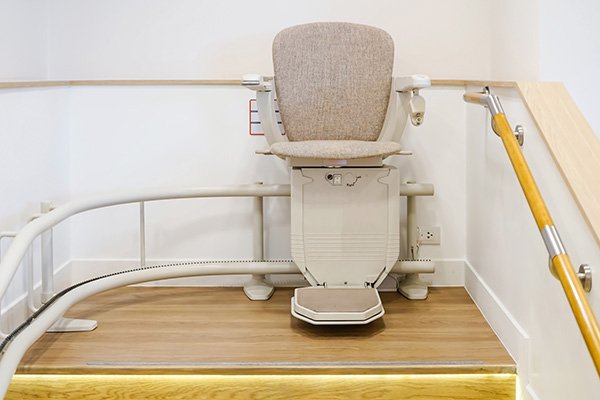 The cost of a stair chair lift depends on various factors, including the type of home lift it is, its weight capacity, the number of steps your staircase has, whether it's a straight or curved one, and your location.
For a straight staircase with 12 to 14 steps, you can expect to pay anywhere between $2,000 and $5,000 to professional installers. This price range generally includes installation as well as a one-year service warranty.
Let's explore the stairlift costing a bit more. Basically, there are two main types of stairlifts: straight rail and custom curved rail. As the name suggests, a straight stairlift is used when there are no turns, curves, or landings in your staircase. Since it doesn't require any customization, the installation is cheaper and quicker (within a few days).
Custom curved stairlifts, on the other hand, are suitable for a split-level house or one that has a curved staircase. The installation is more complex with a lift specialist coming to your home and taking photographs of the installation site using a special 3-D camera. The lift manufacturer then fabricates your custom railing. Such stair chair lifts cost between $10,000 and $15,000. The installation process also takes longer, about three to four weeks. 
Read more: What is a split level house?
Is there an alternative to a stairlift?
You can use a mobility stair climber instead of a stairlift on different kinds of staircases, be it spiral stairs, winding stairs, or straight stairs.
It's a good alternative when you need to travel up and down the stairs in the comfort of your wheelchair. The installation of such a wheelchair lift also requires a wheelchair ramp.
Read more: Replacing stair spindles
Are chair lifts covered by insurance or medicare?
Insurance and Medicare do not pay for stairlifts. Having said that, many states in the United States do offer waivers and financial aid to qualifying individuals. For example, in many states, veterans are provided either partial or complete funding for the cost of any necessary home improvements related to accessibility.
Moreover, many states allow lift sellers to waive sales tax on stairlifts when they are prescribed by a doctor. This ends up saving you hundreds to thousands of dollars.
Is there a difference between a stairlift and a chair lift?
A stairlift has a single seat on which an individual can sit to ride up and down the stairs. Such a home lift is ideal for those who use walkers or other collapsible assistive walking devices. A chair lift, on the other hand, is designed to carry both the person and their wheelchair at the same time.
Are stair chair lifts worth it?
Despite the fact that high-quality stairlifts are relatively expensive and need proper installation, they are a good accessibility solution for people with limited mobility. Stair chair lifts help people, especially aging-in-place elderly members, to live an independent, safe, and happy life.
Read more: Aging in place 101: Updates for seniors' homes
Understanding the cost and workings of a stair chair lift
was last modified:
June 12th, 2023
by
Recommended