Clever tiny home storage ideas for better organization
If you live in a tiny house, you must take advantage of every square inch of your home for your storage needs. The key is to have good tiny home storage ideas and organize your living in the best possible way. This blog shares 16 clever storage ideas for tiny houses that will help you make your own home orderly and clutter-free.
While a tiny house design is environmentally friendly and cost-effective, keeping such a small living space organized is no cakewalk. After all, you do need to store your clothes, utensils, and other day-to-day essentials — without them making your house look like a cubbyhole.
So, how do you maximize your tiny house storage? By using interesting, practical ideas. From transforming the space under the stairs into a closet to adding storage drawers in the most unthinkable places — there are lots of ways to utilize tiny home storage ideas. Let's check out some of these interesting storage options and tips!
1. Utilize the space under the stairs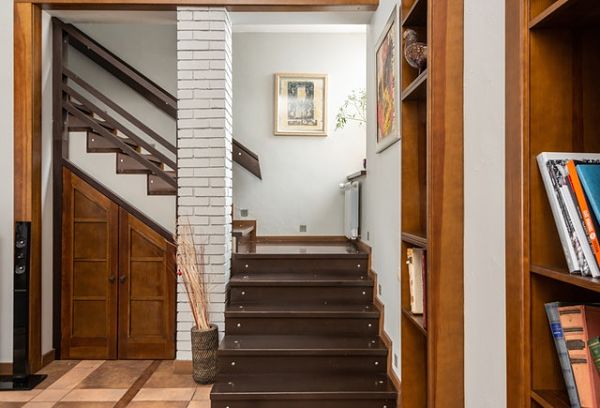 If you have stairs in your small home, turning them into storage drawers will give you ample space for your belongings. You can create room for your seasonal clothes, shoes, outdoor gear, or even a kitchen pantry.
2. Get a Murphy bed or a pull-out bed
A Murphy or a pull-out bed is a good storage option for tiny apartments. You can fold or stash away the bed during the day and use the space as a living room, a home office, a guest room, a craft room, a home theater, or a tiny dining room, complete with a height-adjustable coffee table. Also, a pullout bed instead of a full-fledged bedroom will free up valuable square feet — providing you with a lot of space for storage.
3. Keep your storage solutions hidden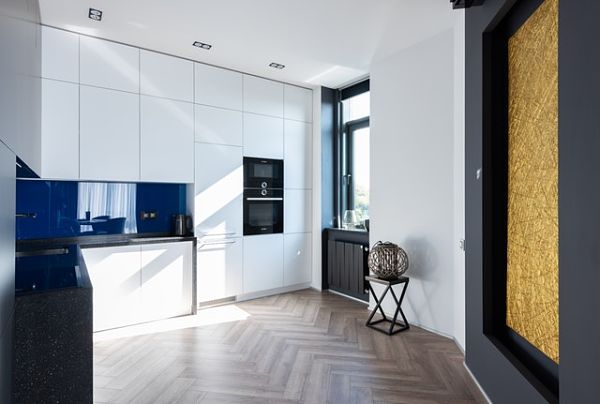 The best tiny home storage solution is when it's hidden! The last thing you'd want is for your storage to add to the clutter. Think about installing a pullout spice rack, a rack on wheels, a floor-to-ceiling closed kitchen cabinet instead of the conventional open shelves.
4. Buy multifunctional space-saving furniture
Invest in good space-saving furniture pieces that take up less floor space, are comfortable and multifunctional. The furniture should help you transform any area into an adaptable space that serves almost all your needs. Think sofa beds, nesting tables, and beds with storage boxes underneath.
Read more: Multifunctional spaces guide
5. Use every inch of your shelves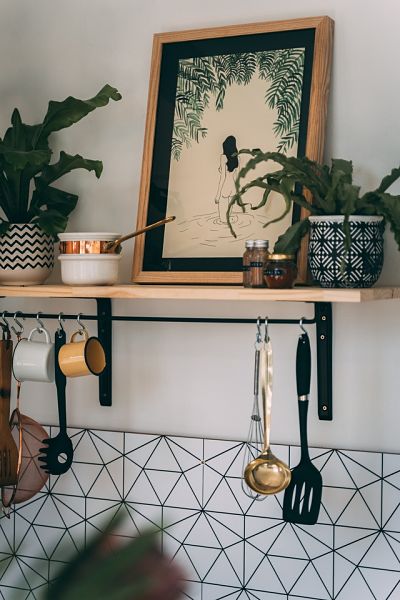 Interestingly, apart from the things you can keep on a wall-mounted shelf, you could use really clever tiny house storage ideas to fit some of your utility items even under it! As part of a DIY project, you can screw the lids of your bottles and jars to the bottom side of the plank of wood and keep your dry condiments there! Now that's really maximizing your kitchen storage space, isn't it?
Read more: Tiny home kitchen ideas
6. Fill up vacant spaces above the doors and windows
For some extra storage space, utilize those precious inches between the top frame of your windows and doors. Hang up some storage racks there and keep your tableware, books, or any other knick-knacks.
Read more: 7 Smart small bedroom furniture arrangement hacks
7. Get storage under your bed
A bed with built-in storage is a practical way to give your tiny house some additional storage space. You can stash away your linen, sweaters, extra blankets, or even books in there. And, they stay hidden from prying eyes.
8. Creatively use the support beams
You can use the architectural elements of your tiny home for storage purposes. Take your house's support beams for instance. All you have to do is add drywall or some wood paneling to create shelving. You can use the beams to store your everyday household items or decorative pieces.
9. Hang your kitchen pots and pans from the ceiling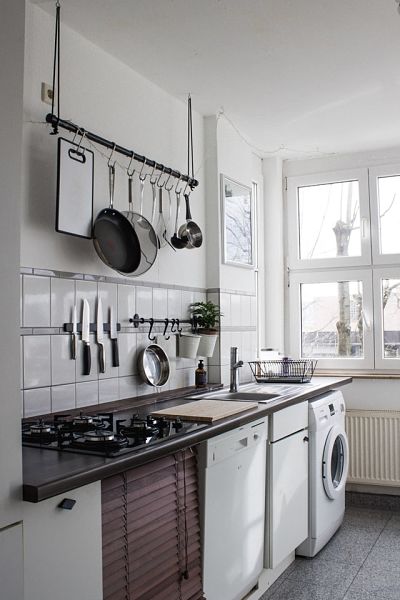 Using your ceiling for hanging your pots and pans is a great way to keep your kitchen countertops clean. And, you get to use your shelves for other things. So, fasten some strong hooks to your kitchen ceiling or a support beam and hang your utensils up above.
Read more: 15 Clever dining room designs for small spaces
10. Utilize each corner in your bathroom
When it comes to a small bathroom, less storage can make your bathing space look disorganized and cluttered due to the clothes, linen, or paper towels. If you're looking for bathroom storage solutions, do not hesitate to use every centimeter of the space. Even the corners.
You can install movable corner shelves or pull-out racks to store your toiletries, perfumes, toilet rolls, and medicines. And, don't forget to put a rack above the toilet. It's a handy place to keep your towels and bath linen.
11. Build storage walls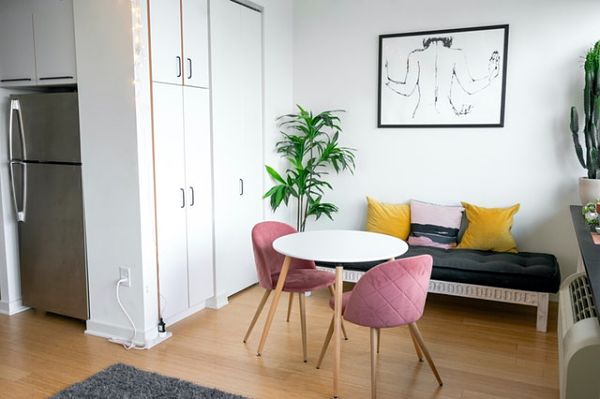 Just because you live in a tiny home, shouldn't keep you from owning the things you like. The best way to go about their storage is to install a storage wall — complete with drawers and cabinets. The designated wall, in lieu of open shelves, will make your small living space multi-functional and tidy. From storing your camping gear to craft supplies, the deep wall will offer you extra cabinet space and reduce visible clutter.
12. Hang tiered hangers in your wardrobe
If you're really desperate for some extra closet space in your tiny house, you can make use of tiered hangers. That way, you can hang multiple clothes and accessories on a single hanger. Another way to create closet-like space in your living room or bedroom is by installing storage cubbies or a hanging rack. You can get these easily at your local departmental store.
13. Buy some practical cabinet organizers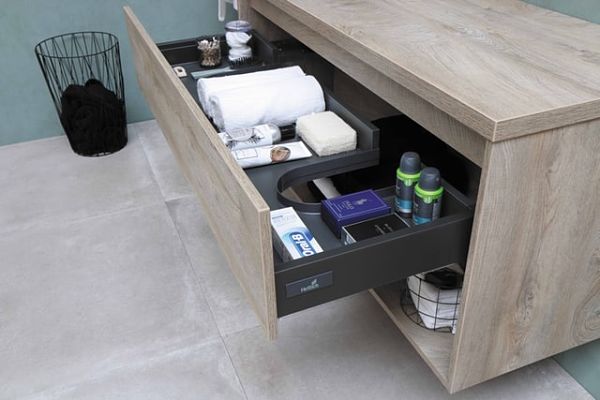 There's nothing like a good bathroom or kitchen organizer to maximize your cabinet space. Think drawer organizers, foldable pot racks, or stackable storage shelves to place your utensils and cleaning supplies systematically.
14. Utilize your seating area for some hidden storage
Under-the-seat storage is a clever tiny home storage idea. You can buy chairs, ottomans, and benches that have built-in drawers or cubbies. It's an easy way to keep your living space neat while keeping the items you need close by.
15. Load the space above the cabinets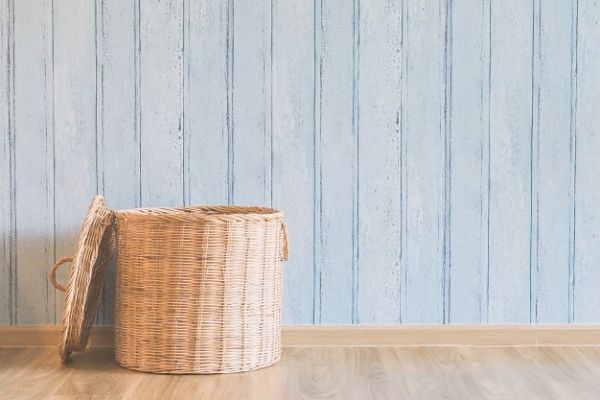 Do not ignore the space above the kitchen and bathroom cabinets. You can place decorative storage cubes or wicker baskets atop the cabinets and store items that you do not regularly need but come in handy once in a while.
16. Install a pegboard
A good way to organize your Knick knacks is by hanging a sheet of pegboard above your stovetop or behind a door. Remember that a pegboard needn't be meant only for your tool room. The board will provide you with a slew of storage for hanging utility items such as measuring cups and kitchen towels.
Read more: DIY installing pegboard walls
Key takeaways
A tiny house design can still allow you to fit in a lot of essential items — provided you utilize clever storage tips. If you live in a small house and are perennially short on good storage space, we hope you'll benefit from these tiny home storage ideas and strategies. These measures will help you live well without your limited square footage.
Read more: How much does a tiny home cost?
Clever tiny home storage ideas for better organization
was last modified:
October 11th, 2022
by
Recommended