Sinks are an indispensable part of every bathroom. Besides being functional, a sink can immediately spruce up an outdated bathroom. The good news is that there are more than 10 different bathroom sink types to choose from. To help you with this task, we will walk you through the different types of sinks, so you can make the best decision while shopping for a new bathroom sink.
A sparkling, premium sink may effortlessly become the focal point of your bathroom, add elegance and sophistication, and also serve multiple purposes. It should be utilitarian, must fit the budget of your bathroom renovation cost, and complement your available space.
Therefore, homeowners focus on the aesthetics of a sink — which can range from an ornate, traditional to a sleek, modern bathroom vanity top. Be it a small bathroom layout or a large one, the type of bathroom sink you choose — in terms of sink material, design, color, and style — must meet your requirements, functionality, and of course, budget.
Types of Bathroom Sinks
1. Pedestal Sinks
This extremely versatile sink is also termed a free-standing sink. It can be installed within a very little area, takes up minimal floor space, and looks trendy and neat. You can opt for a pedestal sink from the several designs available on the market — to go with almost any type of bathroom layout or theme.
It's supported with the help of a column beneath the sink and doesn't require any additional square footage. However, they do not come incorporated with a vanity unit.
Want further info on pedestal sinks? take a look at our full guide on how to choose the right one for your bathroom
2. Wall-Mounted Sinks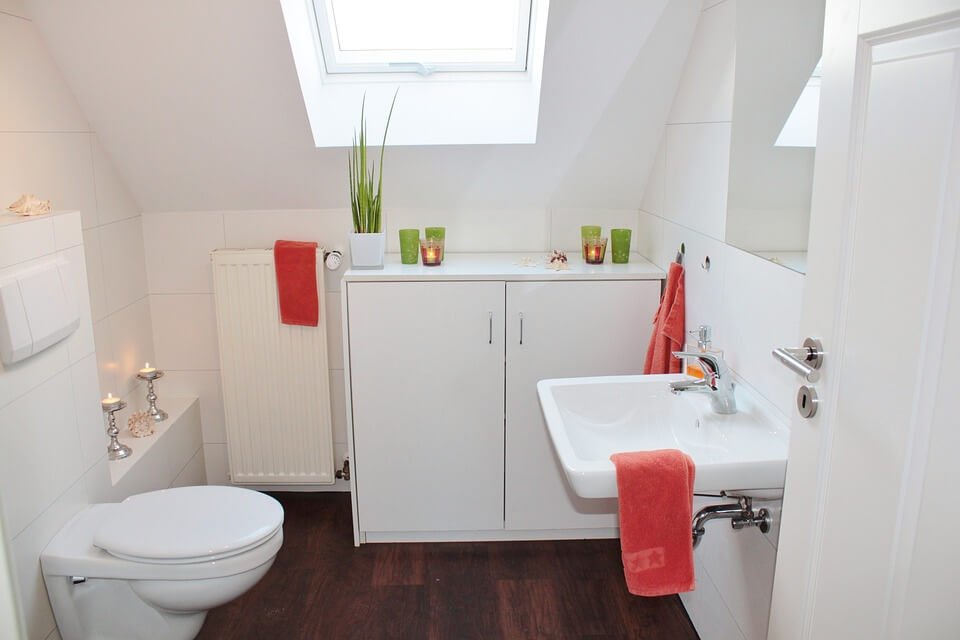 Pixabay
True to its name, a wall-mounted sink falls under the category of types of bathroom sinks which have a sturdy body. It is installed directly on the wall next to it and hence, occupies minimum space. You are able to clearly see the plumbing fixtures — which when done properly can give a distinct look to your bathroom design. Wall-hung sinks do not come with a vanity cabinet and help in conserving floor area — to be utilized as storage space.
Know The Different Types Of Bathroom Vanities With Tops.
3. Self-Rimming Sinks
Pixabay
Also called top-mount or drop-in sinks, self-rimming sinks are installed in a cavity on your vanity unit or counter-top. These types of bathroom sinks come with a rolled and finished rim to keep the basin in place. This is one of the easiest sinks to be placed in a bathroom.
It's even easy to clean, can be fixed over any material, and is quite simple to replace — because you don't have to change your counter-top or vanity unit during the process.
Instantly estimate the cost of your remodel...
...or take your time to personalize dozens of choices to transform your house into your dream home.
4. Undermount Sinks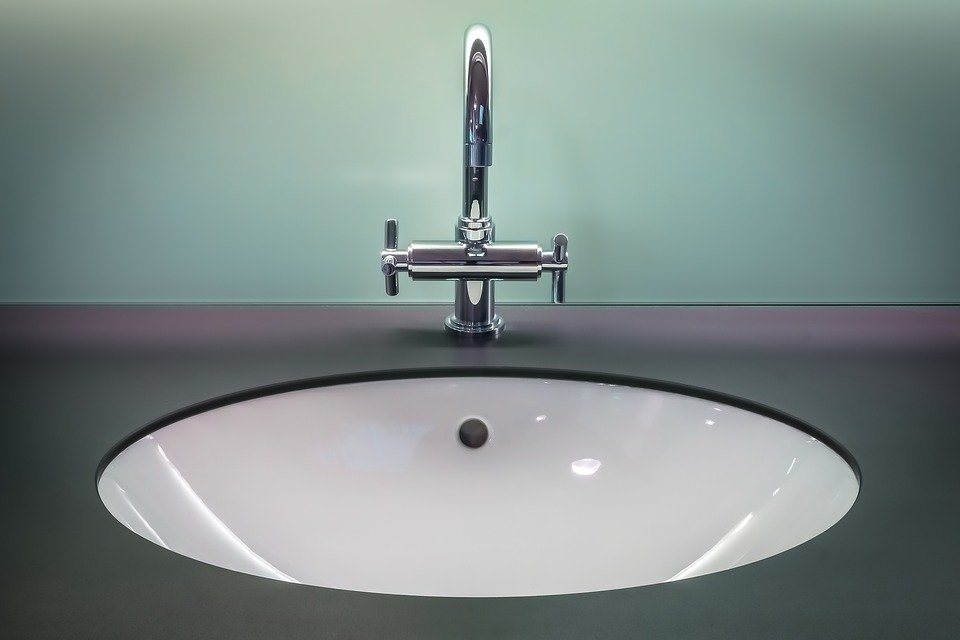 Pixabay
An undermount sink is mounted below a vanity unit or counter-top. Your counter-top material can be anything — such as granite, stone, stainless steel, or marble. The cavities where the sinks sit are customized according to the dimensions and shape of the basin. Therefore, it is a bit difficult to replace such types of bathroom sinks.
Read more: How To Pick Good Bathroom Sink Faucets?
5. Vessel Sinks
Vessel sinks usually arrive in the shape of a bowl. It is installed above your counter-top and sometimes, partially fixed in the counter area. However, in both cases, there is enough space available on the top of the surface. They are available in a wide range of materials such as vitreous china, cast iron, ceramic, crystal, mosaic, and stone, or a glass sink.
6. Vanity Sinks
If you are on the lookout for luxurious types of bathroom sinks, then you can go for vanity sinks. They are ideal when you have a lot of space available at your disposal. Vanity sinks come with a table or vanity unit.
The spacious cabinet below can be used to store multiple accessories. It can come in the form of an undermount, self-rimming, or vessel sink.
7. Console Sinks
These are just another variant of wall-mounted sinks that are supported on two or four legs. You usually don't get any counter-top space. Even the plumbing fixtures are exposed — which when properly designed can go well with the rest of the bathroom. It is less bulky and is a good, space-saving option.
8. Semi-recessed Sinks
This type of sink sits in front of the countertop and vanity. If you have limited space in your bathroom, but still need storage space, this semi-recessed sink gives you the best of both worlds. A semi-recessed sink doesn't use much floor space.
The storage space underneath the sink is shallower compared to a traditional vanity. With no countertop surrounding the entire basin, there is a chance of more water spills on the floor.
9. Integral Sinks
Made from the same material as the countertop, it is called an 'integral sink' when the sink and vanity are one piece. Being a seamless one piece with the surrounding counter makes the integral sink one of the easiest to clean. A good option for very busy family bathrooms.
The sleek design is a great match with modern or contemporary style bathrooms. Besides having a higher price point, replacing it when damaged is harder and sometimes requires replacing the entire unit.
10. Washplane Sinks
Trending amongst the bathroom sink types is the slim and simple yet stylish washplane sink. Often found in high-end hotels and restaurant bathrooms, the washplane sink is being spotted more and more in households nowadays. A washplane sink consists of a single piece material and has a small trough catching the water.
Similar to a wall-mounted sink the washplane sink takes up no floor space. Having no plug and being extremely shallow they cannot hold much water. These are eye-catching and stylish and are perfect for powder rooms.
11.
Dual Faucet Sinks
Trending nowadays is a two-in-one sink, basically having two faucets installed to one wide basin. But do you need two faucets or would you rather install a double sink? Take into account the time schedule of your family members. If you all get ready around the same time in the mornings, then a double sink or two-in-one sink might be the better option.
Besides daily routines, the most important factor is space. Do you even have enough space in your bathroom for a double sink? And how much storage space do you need? By knowing your needs you can now easily weigh your options when you go sink shopping.
Now that you know about the different types of bathroom sinks, consider a few important factors before bringing one home. Check the amount of space you have in your bathroom, the extent of its traffic, and the level of maintenance the sink requires. Once you're sure about the above aspects, choose a bathroom sink that meets all your requirements.
Read more: Bathroom Sink Types To Know Before You Buy
11 Types of Bathroom Sinks for the Perfect Makeover
was last modified:
May 18th, 2022
by
Recommended