7 Tips to Make Your Laundry Room Design Efficient and Functional
Laundry room represents a very special place in every home. Since an average American family does 8 to 10 loads of laundry each week, it means this part of the house should be cozy and practical but also relatively small and discrete.
This is extremely important because most people cannot afford a big laundry room with enough space to fit every device in there. According to interior designers at Rushmyessay UK, it takes a lot of creativity and practical thinking to come up with the best laundry room design solution here, so you have to be patient and analytical.
Fortunately, there are a few options that proved to be convenient for the vast majority of homes. In this article, we will show you how to smartly design a laundry room to get the best experience from using it.
Best Solutions For a Functional Laundry Room
Americans make more than 660 million wash loads every week, so they prefer a comfortable laundry room design for this activity. If you want to make the whole process more convenient, we suggest you avoid basements or upper floors of your home because it takes too much time just to carry your clothes around.
You should stick to the solutions that proved to be more practical. We will present you the 7 most interesting ideas in that regard. Let's check them out!
Include a plenty of storage capacity
You are probably aware of the fact that laundry rooms go beyond their primary purpose – to make your clothes clean. On the contrary, these are also mini-warehouses with small piles of different things lying all around. For this reason, you should include a plenty of storage capacity.
You need baskets, clothing bars, and other storage units. Besides that, the most important thing is to put different laundry bins for black wardrobe, white stuff, and light-color outfit. This will save you a lot of time and make the laundry service more efficient.
Read more: Vertical bathroom storage ideas
Add a multi-purpose laundry room island
If you are really struggling to find enough space for each element in the laundry room, you should consider buying this item. A multi-purpose laundry room island may sound a little too promising but you will change your mind once you see it in action.
You can store a lot of garments in it, replacing a variety of other baskets or laundry bins. It can also serve as a folding table and, more importantly, as an ironing board. All this takes not more than half of cubic meter, making it an ideal asset for the laundry room.
Another way to save some space in your house or apartment is to make a laundry closet instead of the room. First of all, it can fit into a small corner of your home or under the stairs, which is a great way to occupy space that would otherwise stay useless.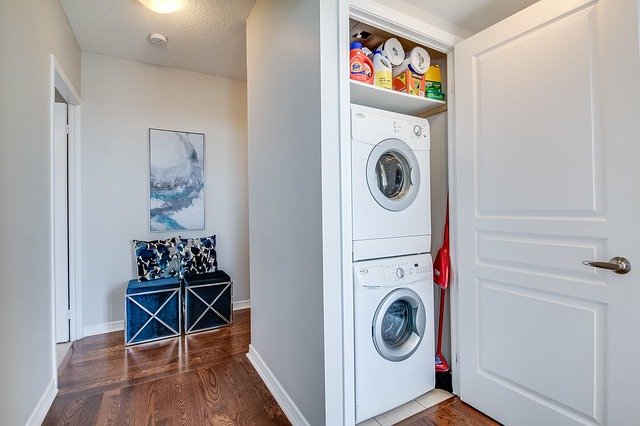 Pixabay
The second benefit is that you can hide it easily even though it remains within your reach. Thirdly, a laundry closet is discrete and looks more beautiful on the outside than any other solution. All these reasons should be enough to convince you to choose this option, especially if you own a small apartment.
Exploit the vertical axis
Space is 3-dimensional and you should take it into account when thinking about storage capacity. Unfortunately, walls and vertical lines are often neglected in that regard and you don't want to make the same mistake.
You can get all sorts of different door hangers and wall basket organizers. There are also vertical open shelves extending from the floor to the ceiling, adding extra room for the laundry. Besides being practical, such elements are also nice and colorful, adding even a little bit of artistic touch in case you arrange them properly.
Add components you can hide away
Dirty laundry and all of the corresponding requisites are barely ever clean and perfectly organized. You can hide most of the stuff using the so-called 'incognito' elements. Hideaway components include drop-down ironing boards, wall-mounted drying racks, and all other things that can remain unnoticed by your visitors. Of course, each one of these components has the primary purpose but you can choose their hideaway versions if you are really having a hard time finding space for the laundry purposes.
Laundry closet with sliding doors
You will rarely find a thing more practical than laundry closet with sliding doors. The door opening doesn't require any additional space, while its sheer size allows you to put so many pieces of clothes in it as well as the cleaning equipment. Of course, sliding doors closet will also hide your stuff and contribute to the overall beauty and simplicity of interior design.
Sometimes you just won't be able to find extra space for the laundry room. In this case, you can at least create the illusion of space by painting the room white. White reflects all light so it makes premises appear larger than they really are.
Besides that, white is the symbol of cleanness and purity, which is exactly what a laundry room should be. If you have a nice window to let the sunshine in, white will produce an even better effect. But if you can't afford a window, we suggest you improve lighting to make the laundry room brighter and bigger.
Conclusion
It's almost impossible to build a home without a laundry room but it's also hard to find enough space to fit everything you need in there. For this reason, you have to be very careful while designing this part of your house. There are all sorts of elements and devices to consider, so you have to use every inch of free space.
In this article, we showed you 7 tips to make your laundry room design efficient. Use our suggestions to make a functional and cozy place to do the laundry and don't hesitate to leave us a comment if you have other ideas to share with our readers.
7 Tips to Make Your Laundry Room Design Efficient and Functional
was last modified:
May 17th, 2022
by
Recommended