The safest and the best neighborhoods in Chattanooga
Everyone wants a beautiful house in a good neighborhood they can call home. A place that's safe, family-friendly, and has all the amenities of big cities and then some more. If you're moving to Chattanooga, Tennessee, with family, this blog will help you find your dream home in the best neighborhoods in Chattanooga.
Chattanooga is located in the southeastern part of Tennessee. The historic city is set along the Tennessee River – in the foothills of the Appalachian Mountains. It's a laid-back city that's perfect for those who want to settle down in one place with their family.
The city exudes a relaxed vibe – thanks to the Southern lifestyle of its residents, the natural surroundings, the slower pace of life, housing affordability, and lesser overall cost of living.
According to real estate agents in the area, the median home value in Chattanooga is about $200,000 and the overall living costs are 8% below the national average of the United States.
Despite its low-key presence, Chattanooga has a number of bustling neighborhoods with a lot of options for comfortable living, shopping, dining, and outdoor recreation. And, there's so much to see – the iconic Walnut Street Bridge, Frazier Avenue, the old train station Chattanooga Choo Choo, the Tennessee Aquarium, and Coolidge Park to name a few.
We've tried to list some of the best neighborhoods in Chattanooga, TN, for you. Each one comes with its own charm and local amenities.
Signal Mountain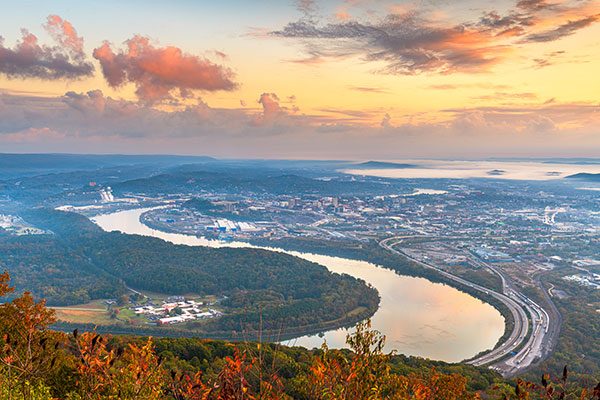 This mountain town, overlooking the Tennessee River, is surrounded by natural beauty and has a distinctly peaceful vibe – despite being just 10 miles from Downtown Chattanooga. The neighborhood is home to shops, restaurants, cafes, grocery stores, walking as well as hiking trails, streams, lakes, a country club, and a golf course. Most importantly, it has good amenities such as health care services, banks, and service stations. The place is not just comfortable to live in but also convenient.
If you decide to live in this part of Chattanooga, you'll be less than a 14-minute drive from Downtown Chattanooga.
Signal Mountain has some highly rated schools – including elementary schools, middle schools, and high schools.
In terms of housing, you can find varying real estate prices – depending on the size and type of house. You can choose from smaller single-family homes priced at about $225K to huge bungalows with lush landscaping upward of $1 million.
Lookout Mountain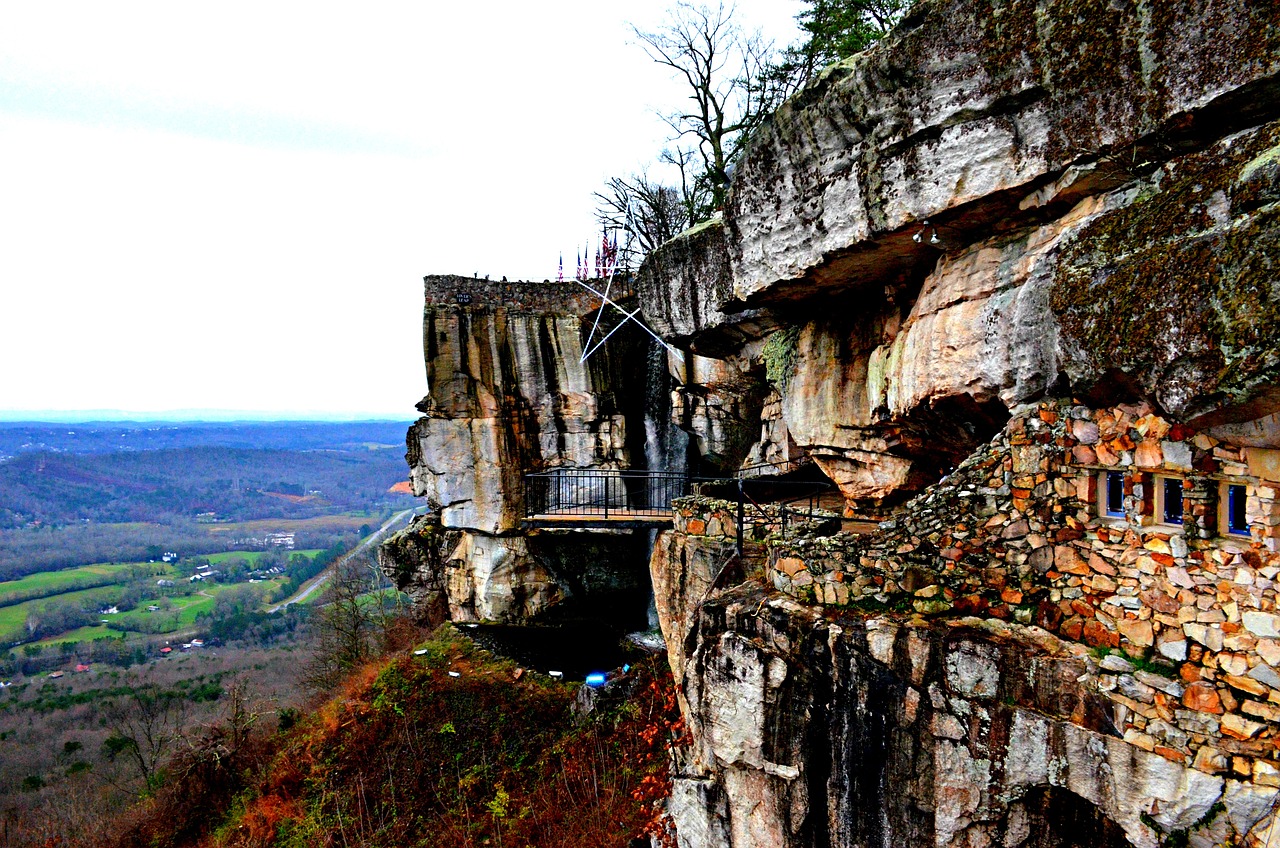 As the name suggests, Lookout Mountain is above sea level and overlooks the city of Chattanooga. Yet, it's just a few minutes away from the downtown area – making for an easy commute to the workspace, shops, cafes, and restaurants. This family-friendly neighborhood is also one of the most scenic neighborhoods in Chattanooga with amazing valley views.
It's home to the famous Ruby Falls, USA's tallest and deepest underground waterfall, and the Incline Railway – the world's steepest passenger railway.
There are some great school options – including elementary, middle, and high schools.
The houses here are what dreams are made of. They are stunning homes or cottages with brick exteriors, old-world Tudor design, beautiful views, landscaping, and lots of hardwood trees.
North Shore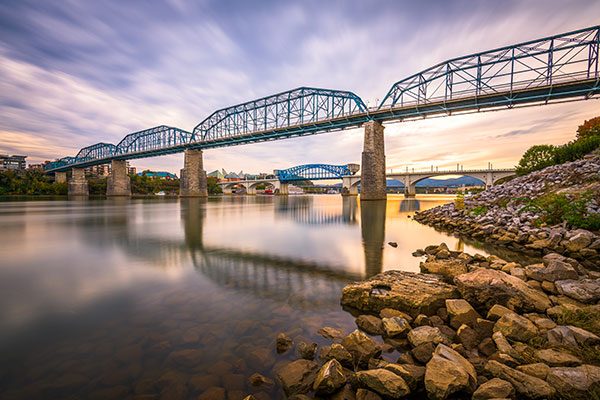 North Shore, set on the northern shoreline of the Tennessee River, has a unique charm of its own. It has a lovely blend of the hip and the old. The neighborhood is home to many families and young professionals. With old historical homes, single-family homes, new apartment buildings, and condos, the waterside skyline is a sight for sore eyes.
The place has several parks, green spaces, cafes, and restaurants to delight its residents. And, there are some great schools that are perfect for young families.
Hixson
For those who prefer a more fast-paced life, Hixson offers a good mix of urban and suburban living. Located just 15 minutes from Downtown Chattanooga, this neighborhood provides easy access to the workplace. Yet, it's away from the hustle and bustle of the city and has some beautiful, luxurious homes.
Besides, the residents can enjoy shopping in malls, the Northtowne Center, the North Chickamauga Creek Conservancy, and the Chickamauga Dam.
Furthermore, there are good public schools here to cater to the needs of young families.
The home prices are slightly on the higher side. The average home value is around $149,700. Based on your budget and preference, you can either buy a home or rent one.
Riverview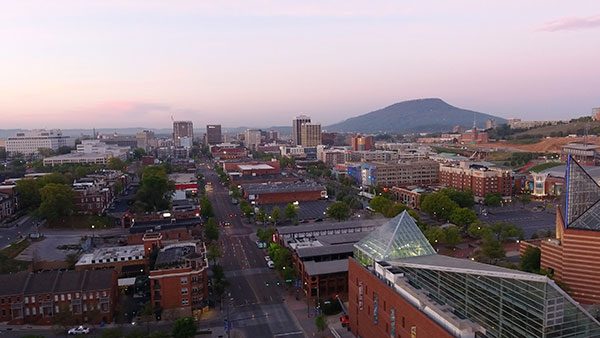 This is a prestigious, safe neighborhood that offers comfortable housing to professionals and families. There is everything one might need to live happily – charming refurbished homes, easy access to the main city, lovely streets, and well-maintained parks.
This residential area has a sprawling waterfront golf and country club, playgrounds, picnic spots, restaurants, boutiques, gourmet bakeries, and markets.
Riverview has some of Chattanooga's best schools, including the popular Chattanooga School for the Arts & Sciences and Ridgedale School of Fine Arts.
You can expect home prices to range from $225,000 to $2.5 million – depending on whether you're choosing a smaller home or a charming historic home with large pillars, yard landscaping, a huge front porch, or even a swimming pool.
St. Elmo
What was once an affordable living area for college graduates is one of the most popular residential neighborhoods for families today. You can attribute the change to growing property prices, beautiful views of the mountain, historic architecture, and some fantastic schools.
The best thing about this area is that it's just a 10-minute drive away from Downtown Chattanooga. And, there are good walking and biking path to make the commute even easier.
Burritos, tacos, BBQ, pizzas, and ice creams – this place has everything for every palate. It's a foodies' paradise.
St, Elmo is full of early 20th-century historic homes with decorative brick or wood siding exteriors and huge front porches.
Read more: Safest large cities in America
Last thoughts
Chattanooga, TN, sitting across the Tennessee River and wedged within the hilltops of the Cumberland Plateau, is one of the prettiest cities in the United States. Besides being a favorite of families, the place also attracts young entrepreneurs. It's a tech hub that supports startups and has many software companies and venture capital firms.
If you and your family love the outdoors, scenic mountain views, and charming residences away from the hustle and bustle of big-city life, you'll love Chattanooga. You can choose any of the best neighborhoods in Chattanooga for happy, comfortable, and safe living.
The safest and the best neighborhoods in Chattanooga
was last modified:
June 19th, 2023
by
Recommended