Barndominiums: Urban Chic Meets Country Living
Old House, New Style: Converting Old Barns for Modern Living:
As a rising trend in home style choices, barndominiums offer several benefits. For homeowners looking for the eco-friendly option of converting an existing structure into quality livable space, barns country-wide offer a broad array of design potential. For urbanites looking for a change in lifestyle by moving to a more rural setting—yet wanting to keep the contemporary, minimalist lifestyle that is a staple of their metro roots—barndominiums may be the ideal solution.
A barn offers expansive space both in terms of floor space and height. And this idea can go both ways—a kit style barndominium can be built in a metro area, so the urbanite can satisfy their desire for a little country living by bringing the country to them with a new structure catered to their personal tastes.
That's also part of the beauty of a barndominium—being able to mix traditional and contemporary design and structural elements seamlessly.
Open Floor Plans
One structural element often found in bardominiums is lofts. Existing barns typically come with hay lofts perfect for converting into an additional floor of livable or other usable space. A loft style home setup usually means an open-floor/air, minimalist style perfect for urban dwellers who love that feel in their home.
A loft also means an opportunity for adding to or creating a theme as any loft with usable space also means stairs. Install an all-wood staircase to heighten the existing atmosphere of rustic charm in your barndominium (assuming it's a classic timber frame barn or even an old stone barn). The wood of the stair will likely mesh well with the wood in the exposed rafters of the barn's high, vaulted ceiling.
Take matching the existing structure further by installing a wood stair with forged iron elements. The rusticated and worn look and feel of the iron on the stair will likely be a great complement to any existing metal hardware around the barn you want to keep and refinish.
Read more: 12 types of staircase popular new home
Rustic and Industrial Styles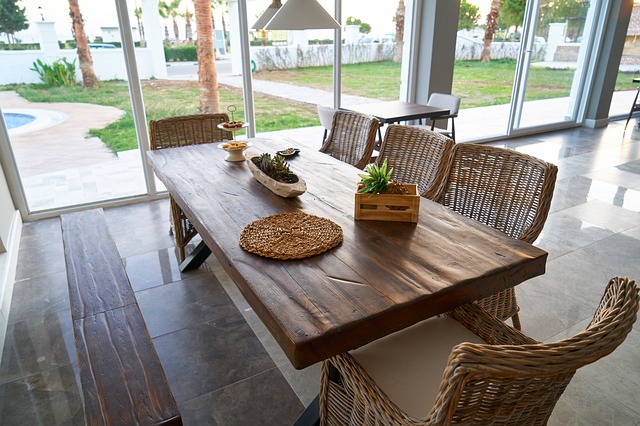 In addition to the more traditional, rustic wood surface barns out there primed for repurposing into barndominiums that have a feel of country charm, there's also the occasional industrial style barn. This type of barn, likely with more metal structural elements such as metal siding and large wagon doors, offers the perfect opportunity for creating a home with a hyper-contemporary feel.
The addition of a metal stringer, floating stair brings such a barn to a new level of modern style. Just imagine the impression you could leave on any visitor to your home if they enter through large wagon doors to see a grand floating staircase with stark metallic elements sweeping up toward a vaulted ceiling.
Whatever the style of the existing structure you choose to repurpose, or the new structure you have built, another inherent advantage in the structure of most barns is that of large windows. These large windows offer a great amount of natural lighting and help keep your interior looking bright, open, and airy—all of which are desirable characteristics for a contemporary look.
Kit/modular style barndominium homes can have all of the advantage of a converted barn in addition to being customized to your personal aesthetics and floorplan needs. A modular style barndominium, as with any modular home, offers the advantage of efficiency in space use and mobility of lifestyle. One way to help emphasize a modular bardominiums space efficiency is to install modular stairs, or kit stairs.This type of stair can help you maintain your space efficiency. Plus, most styles of modular stairs or kit stairs can be customized to suit your tastes and match the overall look of your barndominium kit.
Practical Considerations with High-Functioning Appeal:
An added appeal to barndominiums for those coming from a more fast-paced lifestyle is that of low-maintenance. A barndominium home requires minimal upkeep thanks to its simplistic design and the fact that fewer materials are involved in its structure. This means less time any urbanite has to dedicate to upkeep on their home rather than simply enjoying their home. A simple spiral stair installation suits this theme of high functionality and low maintenance well as a quality spiral stair kit can be installed with minimal time commitment and requires zero upkeep once up.
Read more: Spiral staircase outdoor decks
Besides the simple maintenance, a barndominium, because of its expansive rooms, lends itself nicely to multifunctionality between living and working. If you run a business out of your home that involves a shop of any kind, then the wide open space and rugged structure of a barndominium may be one of your better options. It would be a simple matter to convert or dedicate a large portion of floor space in a barn to shop work that involved a daily mess such as a wood shop, metal shop, pottery, glassblowing, fabricating props and stage sets for theater productions, or anything that involved manual labor and a mess. Plus your home could function as an exhibition are for your work to potential clients without you having to travel.
Shop settings such as those mentioned above could also benefit from large wagon doors; moving tools and equipment in and out of your home would be much easier with such a large opening. And a barndominium's loft space would provide excellent storage for any materials required for the operation of such a home shop. An industrial style stair would also make an excellent addition so such a home shop area in a barndominium both in terms of rugged aesthetics and durability.
With eco-friendliness on the rise and more homeowners wanting the best of metropolitan and rural living, barndominiums provide an excellent solution for better living.
Barndominiums: Urban Chic Meets Country Living
was last modified:
September 22nd, 2022
by
Recommended