DON'T be that person who overlooks the importance of a good closet lighting while planning a home remodel. The truth is, once you install lights in your closet, you're going to love the convenience they offer!
Moreover, apart from providing the most flattering illumination for your cupboard and its content, a correctly installed closet lighting is safe, useful, and an effective way to organize your storage space.
Planning a home remodeling? Use our free home renovation estimator to have a fair idea of the total expenditure of your project.
What is closet lighting?
Closet lighting is a lovely way to illuminate and manage your storage space. Adding good lighting to your closet can transform a dark and gloomy cupboard into a design feature that's beautiful and functional.
So, whether your closet is a small one or a large dreamy walk-in closet next to your master bedroom, the right lighting will impact the overall functionality and illumination of the closet space — making it even dreamier. Such a thoughtful lighting design will make your storage space appear cheerful and luxurious. Your beautiful collection of clothes, bags, and shoes will become showpieces instead of being hidden away!
So, if you are building a new closet from scratch, or simply updating an existing one, ensure that you install proper closet lighting. Want help? We have eight useful tips that will help take the stress out of lighting your closets.
1. Always follow safety codes
The first most important point to keep in mind is that you MUST check your building codes. They closely regulate lighting in closets with essential minimum standards. So, if you're living in an older home, make sure that your house does not fail to meet these standards. Always consult a licensed electrician who's well-informed about closet lighting code and electrical safety requirements.
Here are some safety measures that you MUST follow:
Don't opt for exposed incandescent light bulbs. They're usually screwed into a surface-mounted fixture and you can operate them with a pull-chain. The situation can be really dangerous. Since cupboards store clothing and other flammable materials in them, these incandescent bulbs (including halogen lights) can get very hot and cause fire hazards.

Ensure that the hot lights do not get too close to your delicate clothes.

Note that according to the National Electrical Code (NEC), surface-mounted light fixtures may be installed only on the closet ceiling or on the wall above the closet door.

Make sure that all types of surface-mounted fixtures, including LED bulbs, are at least 12 inches away from storage spaces.

All recessed fixtures with CFL must be at least 6 inches from all closet storage areas.

Avoid the excess heat of halogen bulbs or standard incandescent bulbs. Use compact fluorescent lights (CFL) or LED closet lights. These give off less heat while providing you with a good amount of light. And, they help save energy too.

Ensure that all the recessed and surface-mounted incandescent light fixtures are completely enclosed within a fixture housing with a cover.
2. AVOID halogen bulbs at all costs
Taking cues from the above safety measures, it's important to understand the seriousness behind avoiding halogen bulbs inside closets. This type of incandescent lighting includes halogen gas. The gas allows the tiny halogen bulbs or fixtures to produce a lot of light.
However, because of the increased light output, the bulbs get extremely hot, making them unsuitable for small, enclosed spaces. Especially where they may come in contact with other materials.
So even if your interior designer insists on using halogen lights (because of their decorative looks), go for energy-efficient options such as LED lights instead.
3. Place your cabinet lights strategically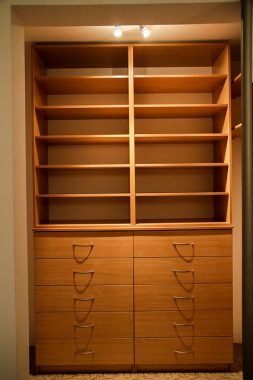 The strategic placement of lights is very important. Recessed puck lights on the shelves, ribbon lights along the edges, or bright bulbs at a cabinet's base can create a pleasant ambiance while showcasing the contents of your wardrobe in a beautiful way.
Whether your closet is big enough to walk inside and change clothes in, or small enough to store just your clothing items, well-placed closet lighting make the drabbest interiors look chic and modern.
4. Select the ideal color temperature for your closet light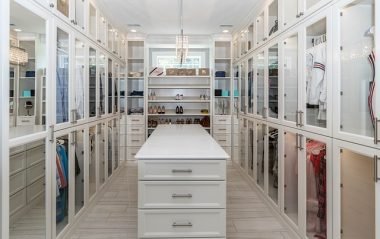 When selecting closet lighting, keep in mind the color temperature of your fixture. This will provide your storage space the most flattering light. FYI: warm is better than cool.
A color temperature between 3000K and 3500K gives off a clean, white light — ideal for closets.
A temperature warmer than that will look yellow. Anything cooler than this temperature range will produce a harsh, unflattering light.
The correct lighting will make it easy for you to be able to see the color of your clothes more clearly.
5. Opt for LED lights or CFLs
The technology of LED has revolutionized lighting — be it battery-powered or running on electricity. The energy-saving option offers bright illumination. For those who aren't comfortable upgrading or replacing the electrical panel in their home, convenient battery-operated LED light fixtures are easily available on the market including, peel-and-stick, drill, or wall-mounted ones.
You can also go for cool, longer-lasting, and efficient fluorescent lights aka CFL. The best part about these is that if you want to switch to fluorescent lighting, there's no need for you to change the fixtures. Just replace the incandescent bulb with a CFL bulb and your lighting is ready.
Do you want to have all your facts straight for your upcoming renovation process? Take a look at our ultimate guide on home remodeling.
6. Use track lighting for larger closets
If you have a walk-in closet, it's a good idea to use large track lighting on both sides instead of painstakingly installing small lights within cubicles. This will highlight your collection like works of art. The aim is to mimic natural light in a space that doesn't get it through windows and doors.
Opt for ones with adjustable heads on the fixtures — making it easy for you to direct the light to a particularly dark corner of your closet. Want to make the most of your track lighting? Choose a high-watt LED or CFL bulb. These will give off a clean white glow while keeping the heat output in check.
7. Bring in battery-powered lights for the most convenience
As mentioned above, battery-powered light fixtures are convenient, hassle-free, easy to install, and inexpensive. You just need to screw or stick them in place. While some models can be turned on and off by touching the light cover, others utilize a switch or cord. You can also find motion sensor closet lights.
Though battery-powered closet lights don't produce much light, they work great in small closets. You may even get lights that automatically turn themselves off after a short period of time — saving your batteries from running out of life.
8. Illuminate dark areas and corners with under cabinet lighting
If your closet has cabinets and shelves (which it would), going for under cabinet lighting will help illuminate those dark, small spaces. You can choose from light bars and light sticks that come in different sizes, stylish flush/semi-flush mount, or LED tape lights.
You can even have running recessed ribbon lighting above your clothes or along the length of the closet rod. It will brighten up your closet from all ends.
All of these can easily fit in the spaces of your closet. The tape lights are the most flexible, visibly thin, and easy to install — giving you endless lighting possibilities.
Conclusion
Whether you have a generous walk-in storage or a cupboard in a corner, closet lighting is of utmost importance. Armed with the correct one, there'll be no more fumbling in the dark on early mornings to find your matching socks!
Once you choose the right light for your closet cabinet, with the right placement, it will flatter not just your storage but what's in it as well. Every day will feel like an elite shopping experience.
8 Important Tips to Ensure Great Closet Lighting
was last modified:
May 30th, 2022
by
Recommended