A fireplace not only adds beauty and warmth to your home but it also enhances the ambiance and overall appeal of your interiors. However, before deciding to get the perfect model, you must consider some important factors such as costs and heat efficiency — as is the case with any home improvement project. So, in order to help you, we have compiled this comprehensive guide — which describes the various attributes that influence the final fireplace installation cost.
After reading this manual, we are sure that you will be able to make an informed decision and purchase the right unit for your home.
How much does it cost to install a fireplace?
Usually, the total cost to install a fireplace varies from $800 to $3500, with the average fireplace installation cost being $2100 approximately. However, the final price may vary, depending on a number of factors, such as type of fireplace, gas line routing, masonry work, labor charges, and addition of ventilation or walls. A low-end fireplace may cost you around $150 – $200, whereas, for a high-end model, you might end up spending $6000 or more.
Major factors that influence fireplace installation cost
Of course, one of the major factors that influence the price is material costs. However, you must also consider your labor costs, which can widely vary according to the complications involved in the task. For example, a gas fireplace with no vents can cost you only around $400. But if you need to build a full-fledged propane tank connection, your bill can rise up to $1000.
Cost for installing a gas line: $500 – $2,000
Assembly and customization costs: $600 – $1000
Ventilation costs: $200 – $3,000
Wiring costs: $150 – $300
Below, we have listed the things to consider while installing a fireplace.
Read more: How To Choose Fireplace Doors That Suit Your Home Perfectly
1. Assembly and customization costs
Any fireplace installation shall include some assembly work. For example, suppose you get a stand-alone unit at $500, you might have to hire a fireplace contractor to assemble the components. And he shall charge you a few hundred dollars to get the job done. On the other hand, if the unit needs to be customized according to your specifications, expect to pay some extra dollars for the required materials and add-on features.
How about some fireplace decor ideas? Take a look at our guide.
2. Ventilation costs
The total ventilation prices depend on the local ventilation regulations in your neighborhood and the location of the vent system. For instance, a regular installation may cost around $200. But if the complexities of the associated tasks increase, the price for installing a vent system shall also multiply. Even a basic wood-burning fireplace that needs an elaborate ventilation network, can cost you $3000 or more.
3. Wiring costs
Fireplaces, especially the electric models, will require you to add extra wiring. This task can generally cost you around $150 – $300. However, if the electrical outlet or junction box is located further away from the fireplace, the electrician can add more dollars to your final bill.
Have you considered an electric fireplace for your home? if so, try our guide on reasons to buy an electric fireplace for your home
4. Installing a gas line (only applicable for gas fireplaces)
When you already have an existing gas line, you might need to install another connection that is linked to your gas fireplace. This cost will depend on the length of the line and your location — which can be around $200 or more. An additional $100 will be added if you need to install a propane tank. Again, if you have to connect it to the main supply, you may have to spend anywhere between $200 to $2000.
Types of fireplaces & their average costs
Your fireplace installation cost can vary greatly, depending on the type of model you choose. Suppose you want to own a stone or brick fireplace, which involves elaborate masonry work. In such cases, you will have to pay for the extra tasks as well for the actual fireplace installation. You may want a sophisticated gas or electric fireplace, that can lend a more contemporary appeal. In this scenario, you shall again have to pay more as compared to installing a traditional wood-burning fireplace.
Below, we have listed down the three major fireplace types (based on fuel) and their average prices.
Read more: Different types of heating systems
1. Wood-burning fireplace
When you install a wood-burning fireplace, you will drastically lower your utility bills. The only cost you shall incur is while buying logs, since they serve as its main fuel source. You shall cut down costs further by doing away with a gas line or wiring connections. However, note that purchasing wood on a regular basis is a costly affair. Moreover, you must maintain a regular routine of cleaning the fireplace and chimney in order to clear soot and debris.
The average cost to install a wood-burning fireplace varies from $3000 – $5000. High-end models can cost up to $10000 (especially when you hire a professional contractor).
2. Gas fireplace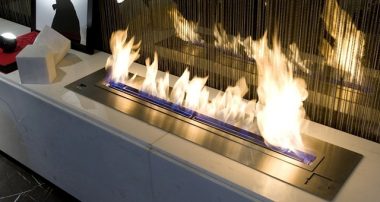 If you install a gas fireplace, you will need to place a gas line and propane tank — which can increase your monthly utility bills. You shall also require to install a vented unit which can be operated by merely pushing a button. Moreover, you don't have to adhere to strict maintenance or cleaning routines. You also get high-end gas fireplaces that come with ceramic logs which lend the appeal and charm of classic wood-burning units.
The average cost to install a gas fireplace varies from $2500 – $3000
Always be prepared regarding to fire. Take a look at our guide on what to do during a fire damage restoration process.
3. Electric fireplace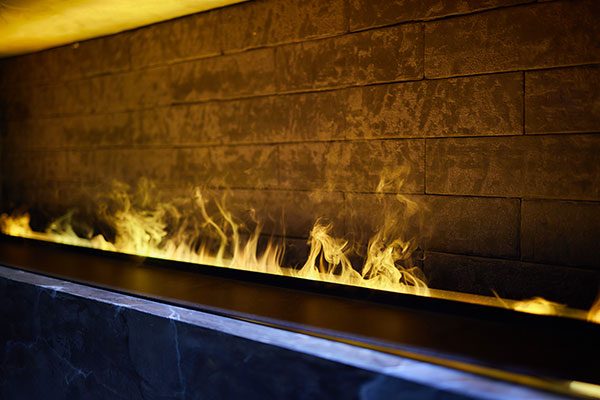 An electric fireplace operates on electricity, is easy to use, and is simple to handle and maintain. The only downside is that it arrives with additional wiring installation costs and increased monthly electric bills.
The average cost to install an electric fireplace varies from $500 – $1000
Read more: Everything You Need to Know about an Electric Fireplace
Outdoor fireplace installation cost
Outdoor fireplaces are steadily gaining popularity in the market for home appliances. This is because they are affordable. You can install them in your patio or in the yard and connect it via a chimney or piping. They can arrive in wood, natural gas, propane, and electricity models. It is a feasible option for families who wish to make the maximum use of their backyards, especially during the colder months of the year.
Outdoor fireplace installations can be priced between $2,000 to $20,000 (approximately). You can also get pre-made kits and unfinished contractor models, that can again cost you anywhere between $1,500 to $9,000. However, if you plan to customize the project, you may have to spend around $8,000 to $20,000, depending on the complexity of the process. At times, high-end installations can cost up to $50,000.
Read more: 13 Cool Outdoor Fire Pit Ideas For Your Home
Conclusion
Whenever you decide to install a fireplace, ensure that you check with your local HOA, fire department and regional building code office. You need to make sure that you are allowed to execute this project. Sometimes, in certain areas, new wood-burning fireplace constructions are not allowed. You can only get permission to remodel your existing fireplace.
Additionally, also check if you need fireplace permits. It is always better to do your research in the beginning, rather than paying fines and penalties in the long run.
Read more: Check If You Need Fireplace Permits
Installing the perfect fireplace in your home can help you in cutting down on energy costs, enhancing your home's resale value, and making sure that your indoors is comfortable and warm. After reading this guide, we hope you shall now be able to take your first step in the right direction. Estimate your fireplace installation cost, make a budget, and then make an informed decision.
Read more: Chimney Removal 101: What Every Homeowner Should Know
Fireplace Installation Cost: A Complete Guide
was last modified:
September 28th, 2022
by
Recommended