Flood sensor: One of the best tools for home protection
If there's one event that scares a homeowner the most, it's house flooding. Just imagine your basement or kitchen submerged in water, or a growing puddle seeping from your toilet! That's why, you need a flood sensor to lessen the impact of the flooding by alerting you the moment excess water is detected in your house. Needless to say, this technological tool is a boon to every homeowner.
Flooding in your home – whether from a leaky pipe or any other plumbing problem – is enough to ruin your day, your personal belongings, your home furniture, and your home maintenance budget.
It's important to choose a reliable water leak sensor that immediately detects any changes in the water level, humidity level, temperature, and water leaks. A quick-acting water leak detector, with good battery life, will not only help protect your home from water damage but also prevent mold and frozen pipes.
What is a flood sensor?
As the name suggests, a flood sensor detects any water leak in your house – protecting your property from water damage and potential flooding – whether from your home's interior or exterior sources. The tool is designed to give out immediate sensor alerts that can help prevent costly property damage.
If you buy a smart home device, you may be able to integrate the sensor with related smart technologies in your home, such as temperature sensors, stove and grill guards, home security, and other home automation features.
How does a flood sensor work?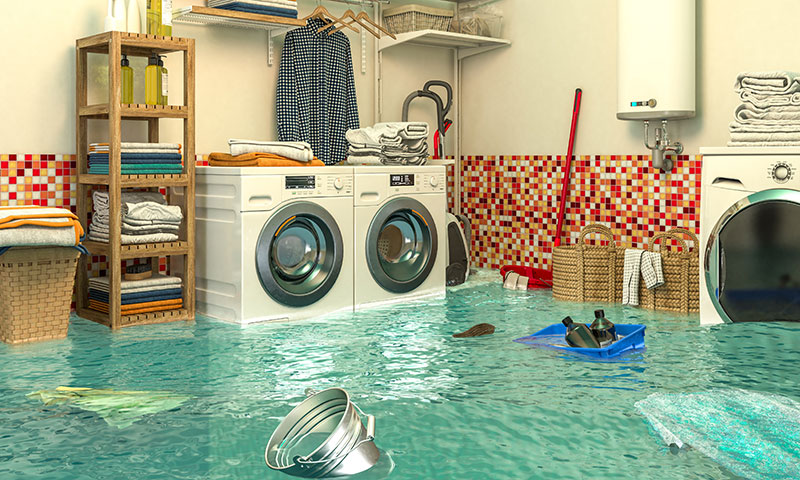 Although flood sensors come in a variety of models and brands, all of them work on the same principle: when water comes into contact with two exposed metal probes, the gadget detects increased conductivity between the probes and sounds an audible alarm. It's a simple concept but can save you tens of thousands of dollars.
Many flood sensor companies add their creative design to manufacture their specific model. For example, some detectors may have water-sensing probes attached to the bodies, while others may have cables with twisted probes in them for long sensing range.
Temperature sensors, when combined with smart technology, can detect rapid and significant changes in temperature, which could lead to weather-related flooding.
This extra layer is critical for secondary or seasonal homes where the owner may not be able to stay on-site as water levels rise.
Is buying a flood sensor worth it?
A flood sensor is a super handy tool that lets you know the moment there's a considerable water leak in your home. It's especially a blessing if you travel a lot, have renters living on your property, or are planning to go away from your residence for an extended amount of time. Investing in a water leak sensor will add to your home security system and will be definitely worth it.
Keep in mind that water damage can be an expensive nightmare for homeowners. In fact, according to the Insurance Information Institute, it's one of the most common causes of an insurance claim. The source of the unwanted water could be an old roof, a leaky water heater, a faulty sump pump, an old toilet valve, a malfunctioning washing machine, or a decrepit fish tank.
That's why the extent of damage is also different. Your floor may warp, the furniture may stain, your personal belongings may be ruined, and/or you may have mold and mildew. The aftermath of water damage can be expensive. Just the cleanup costs can range from $3.75 to $7 per square foot, depending on the type of water leakage, the extent of the damage, and your location.
If you're worried about small leaks turning into big ones, and do not want to bear the stress and loss of a ruined house, buying a flood sensor is always a good decision.
How does water damage impact homeowners?
Excess moisture can enter your home through faulty plumbing, leaky pipes, or broken household appliances. The exterior sources include severe weather conditions, groundwater flooding, and foundation or wall cracks.
Flood sensors help you detect leaks – averting significant damages to your property, home, valuables, and household items. Timely detection can save your house from structural problems, such as buckling floors and ceilings, foundation cracks, and electrical issues.
Most importantly, it can save you from life-threatening health issues and toxic black mold.
What are the different types of flood sensors?
Flood and temperature sensors detect moisture in areas that should otherwise be dry and alert the homeowners of potential flooding or water leak. You can choose between non-smart and smart water-leak sensors. The only issue with a non-smart flood sensor is that the water detection siren may go unheard if you're away from your home, in a bathroom, or watching a movie in the basement.
A smart flood sensor, on the other hand, sends alerts through some strategically placed sensor points right to your smartphone or computer no matter where you are. The sensor points are placed near or underneath a water source. While some sensors may operate on battery power, others need an electric outlet. Keep in mind that sensors are just an alarm system. They cannot protect your home from water damage on their own. If you're really serious about your home safety, you can invest in the more expensive models that can automatically turn off your water line in case a leak is detected.
Where should you install the sensor points?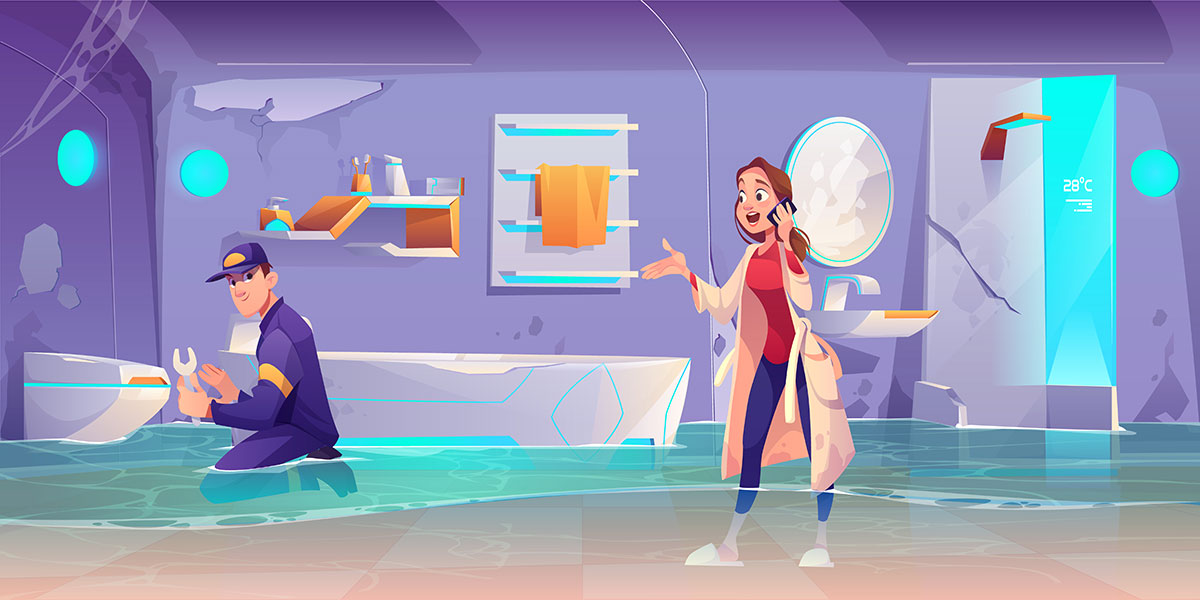 The idea is to place multiple sensors throughout your home to cover probable places where water leaks might occur. Consider the following locations for your flood sensors.
Bathrooms: Sensors placed near toilets and tubs, or under sinks, detect leaks from faucets and pipes, as well as obstructions and overflows, quickly.
Kitchen and laundry room: These sensors can detect leaks from dishwashers, refrigerators, and freezers, as well as washing machines, basins, and sinks. To reduce damage to floors, cabinets, and countertops, consider putting sensors beneath or underneath kitchen appliances or under kitchen sinks

.

Basements: Basements are typically the first areas to experience water damage. Since the sub-level location houses many water sources such as pipes, hot water heaters, and HVAC systems, you cannot afford to neglect this area.
Garage and attic: You can install flood sensors in foundation and wall cracks, as well as doors and roofs, to detect leaks and moisture build-up. 
How to buy a safe and reliable flood sensor?
It's easy to be overwhelmed with all the flood sensor choices available. The price range is also vast. A flood sensor can cost anywhere between $50 to over $500 depending on the type of sensor and technology it is. When buying a flood sensor, it's always a good idea to work with reputable and experienced companies.
Which are the top picks this year?
Here are great choices for flood sensors:
Flo by Moen Smart Water Detector: This device responds quickly to both water and connectivity issues. Since it's wireless, you can place the gadget anywhere you want. Most importantly, it includes temperature sensors. That is to say, you will be able to detect when pipes are freezing. This can prevent some serious damage due to pipe bursting. The only drawback is that the sensor doesn't integrate with common smart-home platforms such as Amazon Alexa, Apple HomeKit, or Google Assistant. However, it works well with Flo's water shutoff system where the water valve turns off your home's water service on leak detection.
D-Link DCH-S161: This device has a loud, 80-decibel (dB) alarm that pierces long distances. So, even if you're in the attic, you'll be able to hear the very audible alert. It's compatible with Google Assistant and IFTTT (If This Then That). That way, you can link the sensor to your smart devices at home – ensuring that you get all the alerts. You can even silence the alarms directly on the device as well as in the app. The only drawback is that it doesn't have a built-in temperature sensor.
Proteus Aquo Wi-Fi Water Sensor: You can customize this device. That is, you can program the alarm times, schedule power notifications, and integrate it with smart technology. The gadget is compatible with Amazon Alexa and IFTTT. And yes, it has one of the loudest audible alarms at 85 dB. It can integrate up to five sensors simultaneously – even for a sump pump. The downside is that there's no dedicated smartphone app and the device needs to be plugged into a wall.
Last thoughts
You can save money and a lot of stress by detecting leaks early. This will not only keep your home free of flooding, it will also give you peace of mind. Fortunately, the best sensors will immediately alert you of any leakage and may even shut off the water supply to your home. A flood sensor is a not-so-silent savior that works tirelessly to protect your entire home and everything that's dear to you.
Flood sensor: One of the best tools for home protection
was last modified:
November 11th, 2022
by
Recommended