Everything You Need to Know About Furnace Inspection
As temperatures drop with the onset of winters, you look forward to a cozy, warm home that welcomes you after a long day at work. Just then, your HVAC system conks out — leaving you cold and dry, quite literally! Fortunately, you can avoid this HVAC catastrophe by scheduling a timely furnace inspection.
The right time for a furnace inspection
It's best if you plan your furnace before the cold weather sets in. HVAC experts recommend hiring a professional to service your furnace at least once a year. This would ensure that your furnace stays in good condition while efficiently giving you warmth.
An annual inspection will also prolong your heating system's life, help save you money as well as energy, and decrease health risks for your family members. Also, prevent costly emergency repairs.
Home Renovation Cost Estimator
Sorry, we currently don't have that project at our disposal.
---
You can take a look at our most popular ones:
Water Heater Installation
Exterior Door Replacement
Install Recessed Lighting
Exterior Door Installation
Interior Door Installation
Interior Door Replacement
Benefits of a furnace inspection
Here are some important advantages of a furnace inspection in detail.
You can not afford to neglect to maintain your furnace. A small problem, if left undetected, will lead to expensive repairs in the future. It's best to repair any damage or replace parts in a timely manner lest your furnace stops working altogether. What's more, emergency repairs tend to cost more too.
Want further info in your furnace installation? Take a look at our Complete Guide on Furnace Replacement and Its Cost Factors!
Maintain efficiency and long life
A licensed HVAC technician will inspect all the internal moving parts of your furnace — and maintain its efficiency. He will lubricate, clean, or replace any faulty part. A dirty air filter, for instance, can affect your indoor air quality. In fact, apart from the annual furnace inspection, you can do your bit in checking your air filters from time to time.
According to Energy Star guidelines, you must change your air filters every three months. This way, your heating system will last longer and never give you unexpected shocks.
Read more: New furnace financing for good & bad credit
A well-maintained furnace will run more efficiently, and thus reduce your heating bills. Another energy-saving expert advice is to use a furnace with a programmable thermostat. It can save you up to 10% on energy bills if you dial it down seven or eight degrees from your normal temperature.
Take a look at our guide To Know Everything About Furnace Filters
Prevent carbon monoxide leaks
A cracked heat exchanger in your furnace will allow gases such as carbon monoxide to escape into your house. This colorless, odorless gas is potentially deadly. According to the Centers for Disease Control and Prevention, about 400 Americans die each year due to unintentional carbon monoxide poisoning!
For your family's safety, it's important to prevent a disaster by keeping vigilance on your furnace. Install a carbon monoxide detector to be absolutely safe.
Prevent rust and dirt build-up
A furnace inspector checks for rust and dirt accumulation on the burners in your furnace. If there's a build-up, it can trap gas and cause hot spots on your furnace's heat exchanger. This needs to be cleaned at the earliest.
Get a timeline for your furnace
During a furnace inspection, the professional can update you on how long to expect your heating system to last. This allows you to be prepared financially for a potential replacement in the near future.
Sometimes, furnace warranties require homeowners to regularly maintain their heating system. In case your furnace breaks down during the warranty period, the manufacturer would want to see your maintenance records. The absence of which will mean that you will have to pay for the repairs from your pocket.
Hiring the right HVAC technician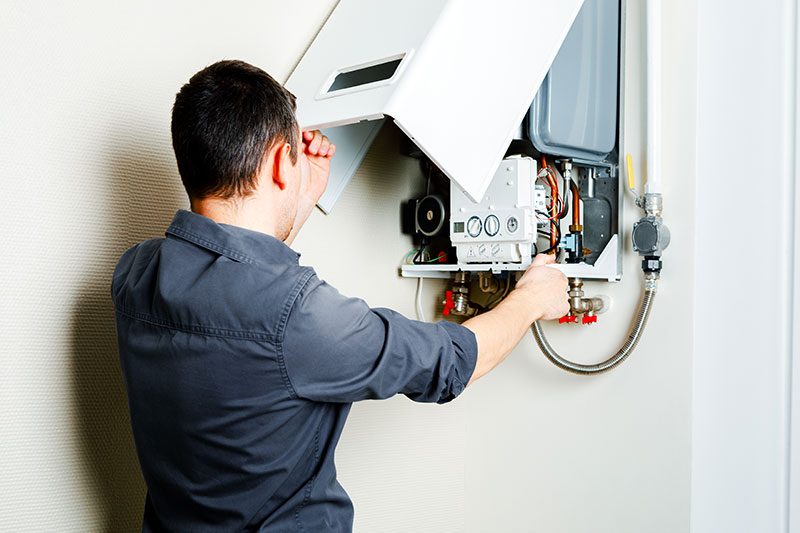 It's crucial that you hire a licensed HVAC expert. Since such systems are complex, you can not take a chance. Check with your local licensing agency and make sure that the professional you hire is an expert and insured.
What's involved in a furnace inspection?
Regular maintenance of your furnace helps prevent minor heating problems from becoming huge and costing big bucks down the line. A proper furnace inspection typically entails the following steps:
Checking the vent system for blockage and/or leakages.

Analyzing the combustion gases vis-à-vis unit specifications.

Checking the blower access door to ensure it makes a tight seal at the furnace.

Inspecting the fresh air intake grills, louvers, filters, and heat exchanger for blockages, rust, or corrosion.

Ensuring that the burners have proper ignition and flame.

Checking the drainage system as well as blower wheel for blockage and/or leakage.

Conducting an amp-draw test on the blower motor.

Checking the wiring for corrosion and damage.

Conduct static air pressure, gas pressure, and temperature rise checks.

Examining the thermocouple to eliminate the risk of an explosion (in case of gas or oil furnaces).

Checking the fuel lines for leaks that could pose a fire hazard or allow harmful gases to escape (in oil or gas furnaces).
Read more: Why is my electric furnace short cycling
How much does a furnace inspection cost?
If your inspection includes a furnace tune-up, sometimes known as a furnace cleaning, it will cost you $115 to $200 — averaging at $140. The exact amount is based on the complexity of the work and the services included.
Takeaway
An annual furnace inspection is a must if you want your heating system to be well-maintained, efficient, reduce fuel as well as energy waste, and lessen your annual heating costs. A timely tune-up by a qualified technician can help extend the life of your heating equipment and prevent serious damage.
Get the required repairs or replacements done as soon as possible. Check for problems and correct them before they turn into a nightmare. Let your furnace work harder and longer for you. Be alert, be safe!
Everything You Need to Know About Furnace Inspection
was last modified:
July 11th, 2022
by
Recommended