How to check smoke detector routinely for your safety
A smoke detector is one of the most essential gadgets to help protect you, your loved ones, and your property from getting into a dangerous situation. Therefore, it's important to learn how to check smoke detector properly, keep it functioning well, ensure that the batteries are working, and continue to maintain it routinely. The last thing you want is for the machine to give up on you when you need it the most.
Whether you're a homeowner or a renter, fire safety is crucial. Did you know, seven people die every day, on average, in the United States due to house fires?
Fortunately, the widespread installation of fire and smoke detectors has lowered the number of house fire-related deaths and injuries to a large extent.
Why do you need to check your smoke detector frequently?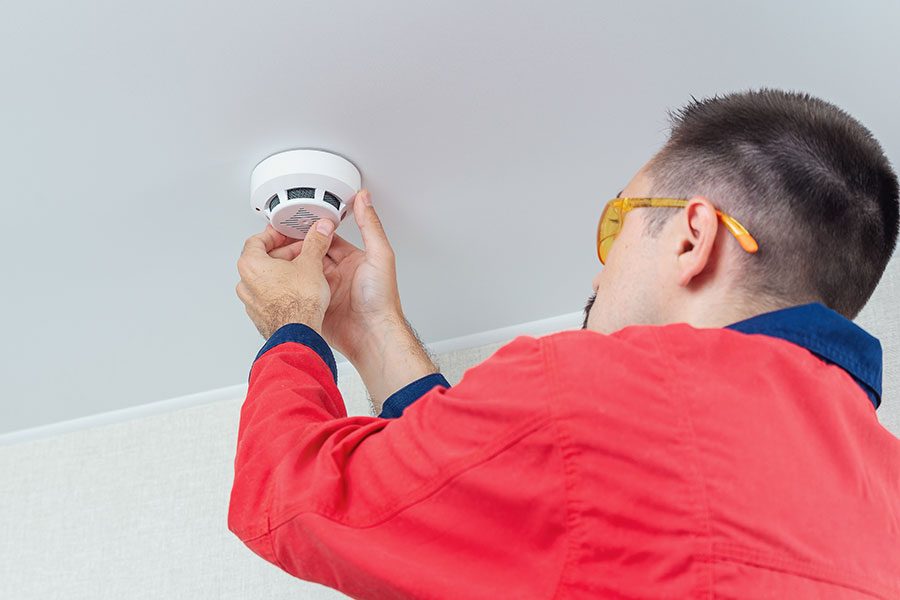 While electric and electronic devices provide us with a lot of convenience in our daily lives, they are not infallible. Parts of the machine may need repair, the batteries may die, or the appliance/device could wear out over time. Testing your smoke detector regularly and replacing the old batteries ensure that the gadget is working fine and that your family gets a timely warning sign in the event of a fire at home.
How often should you test your smoke alarm?
The experts at the U.S. Fire Administration (USFA) advise that home smoke detectors should be checked once a month. The batteries will need replacing once or twice a year. However, if you notice that the device gives false alarms often, emits short beeps, or the kitchen smoke activates it from time to time, the battery may wear out faster and will need frequent changing. A good way to mark your home maintenance calendar for changing the batteries is to time it with the changing of your clocks for daylight saving time.
The frequency to test the gadget also depends on the type of smoke detector it is.
Battery-powered smoke detectors are more susceptible to defective or worn-out batteries and will need monthly testing. Hardwired smoke detectors, with a steady green light to indicate AC power, are powered by your home's electrical system. They usually have backup batteries – enabling the device to remain operational even in a power outage. However, they too require monthly testing to ensure that all the machine parts are functioning properly.
How to check a smoke detector?
Whichever model you have, always go through your smoke detector's user manual for the proper method of testing. That said, according to the USFA, most smoke detectors (battery-powered as well as hardwired) can be tested in the following way:
Keep your family members in the loop before beginning the testing to prepare them for the high-pitched alarm sound.
Let a family member stand at the furthest point from the alarm to ensure that the alarm can be heard everywhere in your home.
Push the test button on the machine. And, hold it. You should hear the loud, ear-piercing siren of your alarm while the button is pressed. If it's a weak or muffled sound, you'll need to replace your batteries immediately.
If you haven't replaced the batteries in the last six months, you'll need to change them regardless of the test result.
Test the new batteries to ensure the device is functioning and the siren is loud and clear.
When is the right time to replace the smoke detector?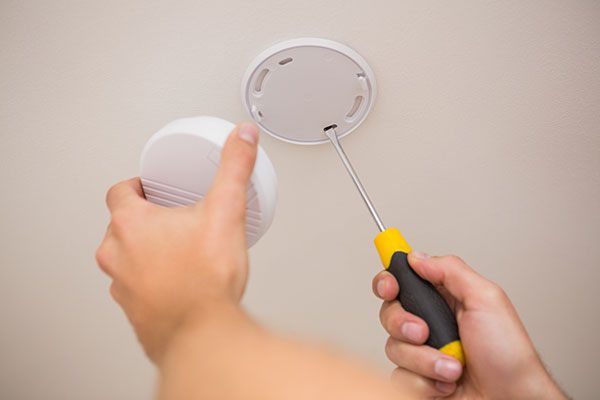 Typically, smoke detectors have a life span of 10 years. Even with regular, good maintenance, you should replace the detector after it has crossed the 10-year mark. It's never a good idea to compromise the quality and functioning of your home security systems.
Don't miss this home maintenance app!
How to maintain your smoke alarm?
It's important to clean and maintain your alarms properly. Dust or grime can block the gadget's grates – preventing it from working even if the batteries are new. Regular maintenance also ensures that real smoke (CO) reaches the alarm's sensing chamber without any interference.
Here's how you can maintain your electronic device:
Test the alarm monthly.
Clean the smoke detector every month.
Replace the backup battery once every year.
Change the alarm system every 10 years.
Do not put old batteries into your smoke detectors and fire alarms.
Since excess moisture can damage your device, you should never use water, cleaners, solvents, or air compressor machines for cleaning purposes.
Gently brush or vacuum the alarm to keep the dirt away.
Last thoughts
A well-installed smoke alarm in your house or office is a crucial safety device. It can save your life by alerting you with a siren in case a fire breaks out. According to the National Fire Protection Association, the majority of deaths caused by fire and smoke inhalation occur in houses that don't have smoke detectors. And, the rate of fatality in home fires is cut by working smoke alarms.
But just installing a smoke detector is not enough. You need to know how to check smoke detector and maintain it to ensure it's properly functioning. Only then will your device give you timely warnings and enough time to safely evacuate the place.
How to check smoke detector routinely for your safety
was last modified:
January 10th, 2023
by
Recommended