Outdoor planters and window boxes are an affordable and elegant way to spruce up the outside décor of your home. Even better, they are very easy to fill and maintain. With a little planning, your flower window box project can be accomplished in a snap. Planting in window flower boxes is a great activity for the whole family to enjoy, and here is a step-by-step guide to make the process easier.
Step One – Selecting the Right Material
Assuming that you will be placing your flower boxes outside, material construction is an important consideration. Choosing the wrong material for your boxes will result in frequent repairs, rot and a whole host of other issues. Remember this old adage: Well begun is half done. Starting with the right material is the foundation of your project.
PVC, by far, offers the most advantages for garden flower boxes. PVC window boxes look like wood but offer more durability. These solid boxes are not susceptible to rot, and anyone who has tried to plant window box flowers in a wooden enclosure will tell you how easily those boxes will deteriorate. Your PVC window box will last season after season with very little maintenance. PVC also doesn't warp in extreme heat or crack in cold weather, making it a perfect choice for all climates.
Using PVC for planting flower boxes is also economical. These boxes are inexpensive, and you can order any length you need. The boxes come assembled. All you need to do is attach them to your home. You can even paint them to match your décor. The bottom line is that you will save both time and money when you choose PVC. When you factor in a lifetime guarantee, there really isn't any other material to consider.
Read more: Advantages of UPVC sash windows
Step Two – Selecting the Right Flowers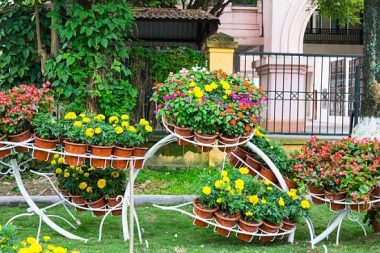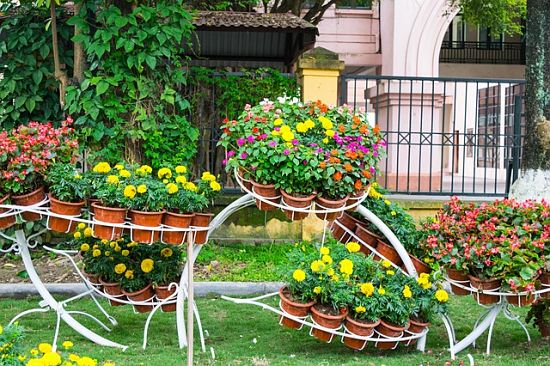 Great! You've ordered your PVC flower window boxes and are waiting for them to arrive. Now it's time to choose some flowers. This is a critical stage in the process and one that many gardeners get wrong.
The first thing you need to consider is how much sun/shade your window box will receive each day. Some plants need a lot of sun to thrive, while others require very little. You need to observe the sun as it falls on your window and note how much time the box will spend in full sunlight.
Your window installations are important. Get the best estimate with us.
Also, consider the blooming cycle of your flowers. Are you happy with plants that only bloom for a brief period, or do you want plants that stay in bloom year round? The key is finding something you will be happy with. After all, a window box isn't much fun if you don't enjoy looking at it.
The most attractive window boxes will typically include a mix of plants. You want to have some plants that will trail or run, a few small varieties and some larger plants. Don't forget the foliage. Foliage serves an important purpose: It gives the eyes something different to land on when appreciating a window box. By including different types of foliage, you will create a beautiful contrast that will make your flowers pop.
Both perennials and annuals will work well in window boxes, although most people seem to prefer annuals. It's really a matter of personal taste.
One final word. Always go with young, new plants for your flower box. Transplanting is not usually effective. Starting with new plants will allow those plants to conform to the size of the box as they grow.
Read more: Interior decorating with plants
Step Three – Planting
Planting a window box is no different from other types of planting. You need to do some research to see what scenarios are best for the plants you have chosen. As a general rule, you will want to focus on three key elements.
First, choose a great potting mix for your plants. The point of using a potting mix instead of soil or dirt is that mixes weigh a lot less by volume. Using heavy soil will place strain on your window boxes, causing them to become dislodged or require maintenance. You can expect to require at least four cubic feet of potting mix for a standard window box that is about 3 to 4′ long.
Fertilizer is also a must when it comes to container plants. You want something that offers a gradual release of nutrients. Overfertilizing is a sure way to harm your beautiful flowers.
Lastly, you want to take care of how you space plants in your flower window box. There is always the temptation to pack boxes with multiple varieties. The truth is, you'll get better growth and appeal when you use a smaller number of plants combined with foliage. And remember, you're probably going to have more than one window box on your home. There will still be ample opportunities to include a large variety of plants.
Plan your window installation right. Try our estimator tool today.
These basic tips are all you need to get started on creating window flower boxes. Container gardening is one of the easiest methods of keeping plants. Be warned, though. Once you complete your first window box, you'll probably want to do one for every window of your home.
Read more: How Flower Decor Can Change The Look Of Your Home
How to Plant in Window Flower Boxes : A Step-by-Step Guide
was last modified:
November 11th, 2022
by
Recommended