Tips for improving efficiency in your woodworking shop
If you're looking for tips on how to take your home woodworking shop to the next level of efficiency, then you've come to the right place. This blog post will provide some helpful advice and resources to help turn a busy and disorganized workspace into an organized, efficient space where you can quickly complete crafty projects. We will discuss ways to organize tools, materials, and ideas better to make the most of the time spent building items. In addition, we'll focus on techniques that make ordering supplies simple and cost-effective so work can be completed with pinpoint accuracy while keeping expenses low.
1. Know how much moisture is in your wood
Wood with too much moisture can be a problem in the woodworking shop. Wood that is not dried or stored improperly can warp, twist, and split while being worked on. Investing in a moisture meter will help you determine the correct moisture content of your wood so you can avoid costly mistakes due to incorrect drying times.
The moisture content of wood will vary depending on the type and species, so be sure to research the moisture requirements for each type of wood before purchasing. Staining wood with high moisture content can also cause problems, so be prepared to allow extra drying time or use a different type of wood for your projects.
2. Keep your tools properly stored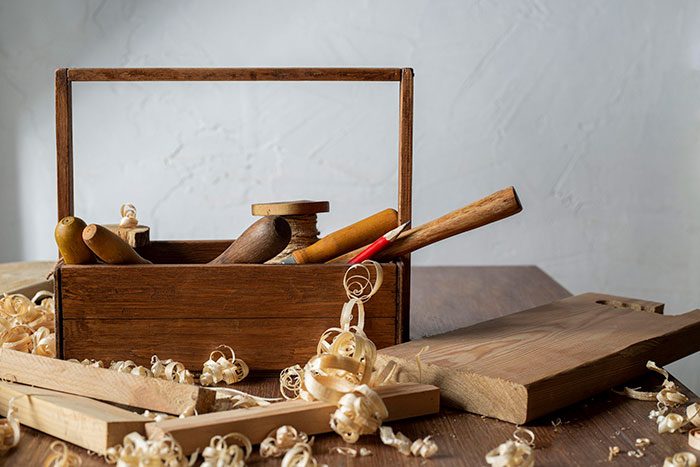 Cluttered workbenches can cause a lot of unnecessary stress and frustration, especially when looking for the tool needed to finish the project. Investing in a mobile tool cart or pegboard organization system can help keep your tools and materials organized and easily accessible.
As for power tools, be sure they are all correctly stored in an enclosed space with a door to keep out dirt and dust, this will help them last longer and retain their original luster. You should also keep a fire extinguisher within reach in case of accidents. The right tools can make all the difference when working with wood, so choose wisely and keep them organized.
3. Utilize quality materials
Using quality materials is vital when it comes to making sure your projects turn out to look their best. Investing in more expensive tools and materials built to last can save money in the long run since they will require less maintenance.
Having the proper hardware and fasteners for a project can also make all the difference in terms of its longevity. Select quality screws, bolts, hinges, and other parts that will hold up over time.
Also, consider investing in a professional quality finish like polyurethane or lacquer to protect your projects and ensure they look good for years to come.
4. Know how to work around inconveniences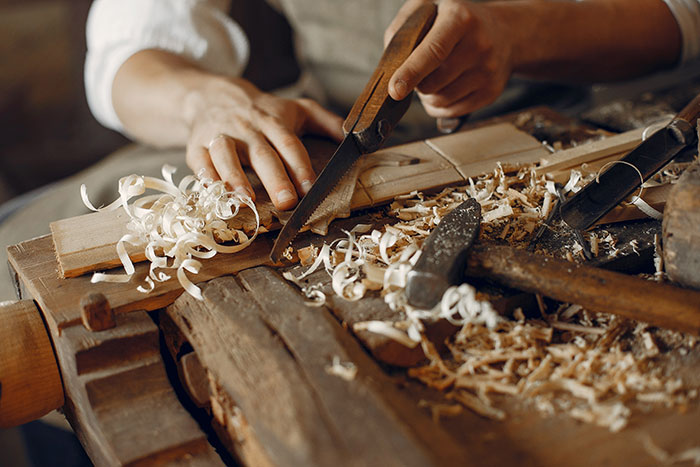 Working with wood comes with a lot of inconveniences and unexpected problems. Knowing how to work around these issues can save you time and stress. For instance, when dealing with stubborn materials like glue or paint, try using a heat gun or chemical stripper to help get the job done faster. When cutting difficult angles, consider investing in an angle grinder or jigsaw. Knowing ways to keep wood from splitting or cracking can also save time and hassle. The key is to be prepared and know your alternatives in case of unexpected problems.
5. Take advantage of technology
Technology can be a powerful tool when it comes to home woodworking. Investing in a CNC router or laser cutter can significantly improve the efficiency and accuracy of projects by allowing for automated cutting and drilling.
The ability to design your parts using computer-aided drafting programs like AutoCAD or Inventor is also an added bonus. This can save time and money when ordering custom parts or pieces. Finally, remember the internet. Utilizing online resources such as forums, blogs, and video tutorials can be a great way to learn new techniques or get advice from experienced woodworkers.
Improving the production in your woodworking shop can be manageable. With the right tools, materials, and knowledge, you can ensure your projects look their best. Don't forget to take advantage of technology and online resources, it can make all the difference in improving production in your shop. You can quickly become an experienced woodworker with a little effort and dedication.
Read more: Saving money on home maintenance
Tips for improving efficiency in your woodworking shop
was last modified:
February 27th, 2023
by
Recommended