Pendant lighting is a great way to give a room a new facelift. If you are looking to upgrade your interior look and feel without having to renovate the entire house, this lighting can do wonders for you.
What is pendant lighting?
Pendant lighting is practically any light that is hung from the ceiling like a pendant. You will find a wide variety of this lighting type, ranging from the simple mini pendant light to the fashionable chandelier with a glass shade. Each type is meant for a specific purpose and you will need to pick the right ones accordingly.
What is industrial pendant lighting?
A hanging pendant light that gives a rustic industrial feel is known as industrial pendant lighting. The industrial feel is primarily dependent on the material of the fixture, which is usually either wood, or metal or steel.
What is so special about industrial lighting?
Industrial lighting can bring a special feel to any home in more ways than one. Apart from the rustic feel of traditional wire cages and Edison-style light bulbs, this unique lightings also comes in a wide range of modern designs. As a matter of fact, industrial lighting has the perfect blend of retro look and modern feel.
Where to use pendant lighting?
Kitchen is the place where industrial pendant lighting works best. You can also use this lighting to highlight artwork and collectibles such as photos, sculptures and paintings. This will help to enhance the look and feel of your drawing room, study and hall. However, make sure the general decor and color scheme of the room in question suits this type of lighting.
Some industrial pendant lighting to choose from
Choosing industrial pendant lighting can be difficult, if you do not assess your requirement correctly. Check out the following nine options to pinpoint the one that suits you best.
1. The kitchen delight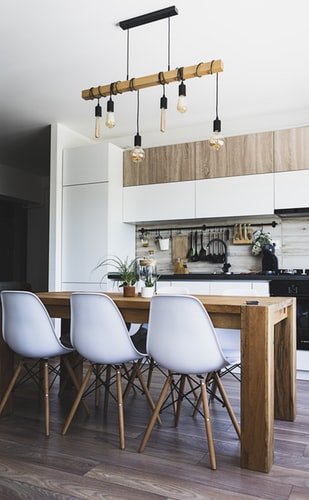 Photo by Ionut Vlad on Unsplash CC0
This special lighting can give your kitchen a fresh breath of air. This industrial lighting has a wood base with different types of bulbs attached to it with wires. With a simple look and feel, this kitchen pendant lighting will give you enough light to work in your kitchen.
2. The retro dining
This special pendant lighting design is right out of a classic movie scene. The sheer elegance and style of this caged metallic fixture will make your guests go wow. This lighting goes best with wood furniture and can be used as a part of most color schemes. If you have a soft spot for traditional decor, this one's for you.
3. The pulley lighting
This light fixture is for art lovers. The pulley lighting has a wood fixture with a strong aesthetic look and feel. Use this in your study or drawing room for the best effect. If you have a study with a lot of wooden cabinets, this lighting can be the perfect choice for decorating it. Couple this with a classy table lamp and floor lamps to amplify the effect.
4. The tug of war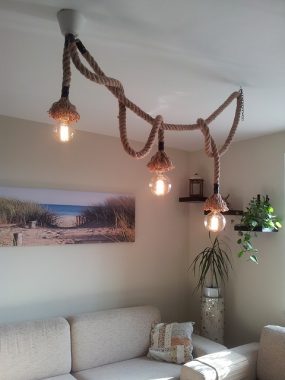 Are you looking for some great living room lighting ideas? Look no further! This unique lighting has a rope as the base. The wires are concealed within the rope in such a way that the bulbs seem to be drawing power directly from the rope. This is a perfect decor for your drawing room. Remember to keep the general look of your drawing room simple to best enjoy the soothing feel of this lighting.
Planning to remodel? Check out our free living room remodel estimator tool to see how much the cost would be!
5. The parallel lines
This one is also popular among art lovers. Three wires connected to three bulbs are placed parallelly to create a beautiful effect that can add value to any interior. This is a great choice of lighting for your study and drawing-room.
6. The soft giant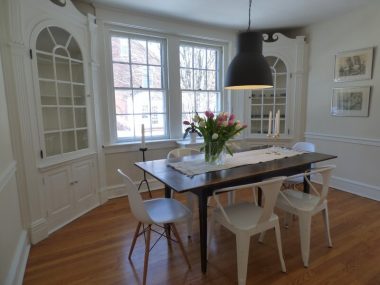 Photo by Pxhere CC0
A perfect addition to the dining room, this sober single pendant lighting option is sure to fly with most homeowners. The blue metallic fixture and the soft, yellow light has a contrasting effect and can help create an extremely soothing experience.
7. The bowl lighting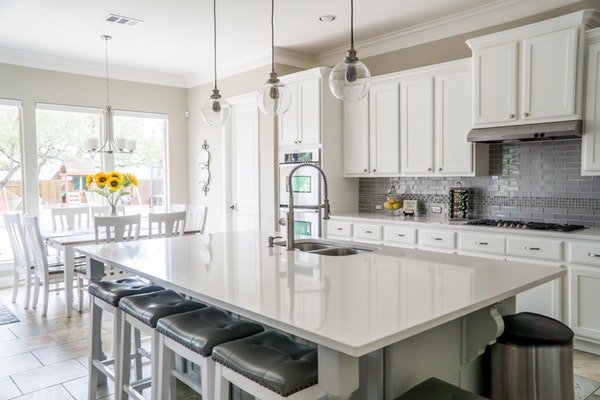 This fascinating kitchen light will make you want to stay in your kitchen for longer. The simple, yet elegant design of this special type makes it a very popular choice among modern homeowners. The 360-degree emission of light will add a breathtaking effect, while keeping the entire room bright.
8. The geometric lighting
The metallic frame with glass cover accounts for the smart look of this traditional lighting. You can use it in your kitchen, dining room and study for the best effect. Depending on the size of the room in question you need to select the number of lights.
9. The factory lighting
A popular form of lighting in factories, this can be a perfect addition to your kitchen. The strong focussed white light will keep things bright in every sense.
How to choose the right one?
Now that you have some of the best industrial pendant lighting examples, it is for you to pick the one that suits you best. However, it is important that you consider the following factors before making the final choice.
Size of the room

Purpose

Budget

Personal taste

Color scheme of the room

Interior decoration of the room

Type of lights used in the remaining house
So, what are you waiting for? Get your preferred pendant lighting today and enjoy the admiration in the eyes of your guests forever. Click to check some inspiring family room lighting ideas.
Read more: 7 must haves of modern luxury homes
How to Get That Industrial Touch With Pendant Lighting
was last modified:
May 27th, 2022
by
Recommended