If we reimagined our homes as human bodies, our kitchen would probably be the heart of the home. The one place that enables the magic of bonding over a meal or a hot cup of cocoa to happen. The part of the home synonymous with warmth and enticing aromas. This makes it only justifiable that a lot of homeowners painstakingly design their kitchens in a way that reflects comfort, style and family values. With kitchen ceilings being an integral part of that grand scheme, here are some simple yet exquisite kitchen ceiling design ideas to help you take your kitchen decor from the mundane to the extraordinary.
In the course of discussing ceiling design elements, we will also explore some popular kitchen ceiling materials.
1. False Ceilings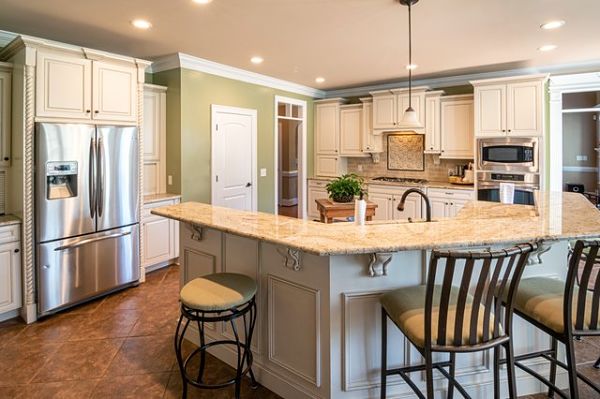 While a classic white false ceiling may seem commonplace, it doesn't have to be boring. White ceilings look fantastic with recessed lighting to add a modern touch to the kitchen and pendant lights or even a chandelier, depending on how high your ceiling is, to add a contemporary design element to your kitchen ceiling.
Modern kitchen designs are all about keeping things minimalistic, and a basic false ceiling is like the perfect canvas for such themes. A monochromatic look featuring black, ceiling lights, a black granite kitchen island with a plain white wall and ceiling for contrast is the perfect austere modern kitchen. Add a little warmth to the design by incorporating streamlined wooden cabinetry.
A drop ceiling is a wonderful way to use a false ceiling to add a little contrast to your kitchen ceiling design. Drop the ceiling just above your kitchen island or breakfast table, and use elegant pendant lights to illuminate that area alone.
Another design twist on false ceilings is tray ceilings. Tray ceilings are a wonderful method of framing a kitchen area. Use wooden trim on the outer area of the tray to add a feeling of warmth, while using canned lighting to give the design a contemporary edge. Alternatively, an elegant chandelier wouldn't be out of place with a tray ceiling either.
Home Renovation Cost Estimator
Sorry, we currently don't have that project at our disposal.
---
You can take a look at our most popular ones:
Water Heater Installation
Exterior Door Replacement
Install Recessed Lighting
Exterior Door Installation
Interior Door Installation
Interior Door Replacement
2. Wood Ceilings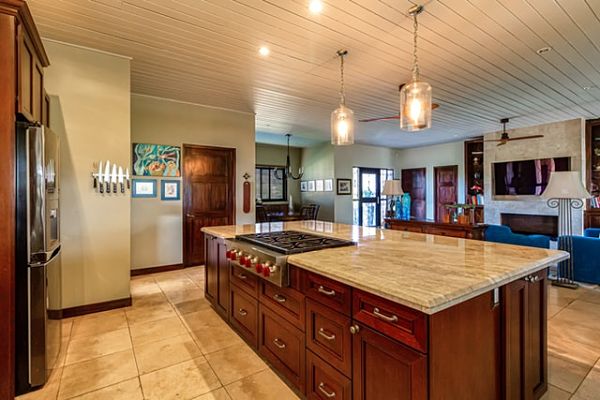 Wood as a medium never fails to add a touch of class to any aspect of interior design, and it is no different when it comes to kitchen design.
Beadboard, or ceiling planks, are a great choice for kitchen ceilings, considering they can be easily installed on your existing kitchen ceiling.
White beadboard ceilings are a popular choice, and that color works brilliantly in kitchens. A white beadboard ceiling will look warm and inviting when paired with white cabinets, a quartz countertop, and a dark hardwood floor.
Alternately, a white beadboard ceiling will also look luscious when paired with dark wood kitchen cabinets and a floor of natural stone tiles. If a rustic, earthy feel is the aim of your kitchen remodel project, consider a natural wood finish beadboard ceiling, especially if you already have a hard wood floor. Somber colors are what you want on your walls to complete the look.
In keeping with the rustic kitchen theme, vaulted ceilings with wooden exposed beams are another timeless design, harking back to the look and feel of log cabins. Lanterns hung from the beams, a stone kitchen island and log chairs will add to the old school charm of this design.
3. Ceiling Tiles
Another affordable way to add character to your kitchen ceiling without breaking the bank is to use decorative ceiling tiles. Ceiling tiles come in a variety of designs and sizes. You can get ceiling tiles that mimic 19th century Victorian tin ceilings, stainless steel, or even copper patina. Smaller tiles with intricate designs and a wide range of colors are also a rage. Everything from wood finish to matte black is achievable using ceiling tiles, making them one of the most versatile options for your kitchen ceiling.
While ceiling tiles themselves take a bit of work to install and may need the expertise of a handyman, you now get ceiling wallpapers with adhesives that mimic ceiling tiles, making installation a breeze.
4. Glass Ceilings
A glass skylight ceiling in your kitchen is not only a style statement, it is also a great way to allow natural light into your cooking space.
Modern designs often feature a glass kitchen ceiling over a part of the kitchen area, retaining a minimalistic, straight-line theme over the rest of the kitchen.
However, glass ceilings may not always be the best answer when it comes to energy efficiency, so do a bit of research before you make up your mind.
5. Coffered Ceilings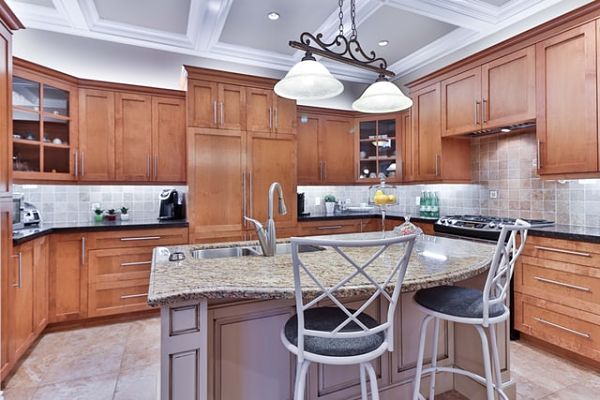 For those of you that want dynamic design to be a part of your kitchen ceiling ideas, consider coffered ceilings. However, coffered ceilings need a ceiling height of at least 8 feet or more for the design elements to work harmoniously.
The advantage of coffered ceilings is that while they look stunning visually, they also offer you a variety of choices when it comes to what lighting choices you want to use for the room and where you want those lights on your ceiling.
Want an estimate on your kitchen remodeling project? Click here.
Simple Yet Exquisite Kitchen Ceiling Design Ideas
was last modified:
May 30th, 2022
by
Recommended