Adding a kitchen island is a great way to increase counter as well as storage space while giving your cooking space a lovely vibe. However, you need to install the right one for your kitchen lest the space looks cluttered and unorganized. Here are some kitchen island size guidelines that you must consider before deciding to get one.
The average size of a kitchen island
The average size of a kitchen island is 80 x 40 inches with 36 to 42 inches of clearance all the way around. The standard height of your island should be 36 inches — raisable up to 42 inches if you are using the island for dining purposes. If you're thinking of just a breakfast bar — make sure that the barstools have at least two feet of clearance.
Of course, the exact measurement depends on the size and shape of your kitchen. Always check your building codes and kitchen design standards set by the National Kitchen and Bath Association.
Instantly estimate the cost of your remodel...
...or take your time to personalize dozens of choices to transform your house into your dream home.
Island for a small kitchen
In a small kitchen, a huge island will look odd. It will be unsafe, cramped, and awkward. The minimum recommended dimension is about 40 x 40 inches. Such an island though small will give you enough space for your integrated kitchen appliances as well as counter space.
You can install clever accessories such as overhead pendant lights with an extractor — saving you a lot of space while enhancing the look of your kitchen.
Note that if your kitchen is less than 13 feet wide, it's better to not have a built-in island at all! You can opt for a peninsula instead. Here, you don't have to have extra clearance space on the fourth side.
What about butcher blocks, moving islands, and trolleys? These alternatives are not only striking and inexpensive than a fixed island but also offer functionality. Some features include extra storage, workspaces, and mobility.
Read more: Kitchen remodel financing & loan options
Kitchen island size for a galley layout
Many homeowners also opt for a galley kitchen layout because of their comfort levels and ease of use. When this design is well-executed, you can install the island in such a manner so that you have quick, effortless access to all work surfaces, cupboards, and appliances.
Now, if the clearance measures more than 4 feet deep, you might have to travel quite a lot between the island's workspaces and other areas. This, in turn, shall make your tasks tedious and difficult.
Read more: One wall kitchen layout tips from an expert architect
Right clearance for safety and functionality
When you install an island, the space between the two working areas is termed as the clearance zone. The perfect width of this clearance zone should be approximately 3 feet. Only then, you will be able to move safely and freely within the kitchen.
The right amount of clearance also determines your levels of safety. You need to check if you can open all the doors, drawers, and ovens easily without any obstruction. If there's not enough space and the doors are open, you may trip, fall, and hurt yourself.
Note: The minimum allowable distance between two fully extended drawers is 3 feet.
Kitchen island size guidelines and countertop material
Your island size also depends on your worktop material. As most homeowners prefer to create the island top out of a single clean slab of material, this could be a limitation.
Stone worktops such as quartz or granite countertops come in slabs of 3m x 1.4m to 3.2m x 1.5m. If you're planning an island bigger than 3m, you should be prepared to have joint lines on the worktop. Be aware that this could spoil the look of your island — and your kitchen.
Adequate space between an island and a counter
There should be a gap of at least 40 inches or one meter between the countertop/cabinets and the run. This distance ensures easy movement around the island. Moreover, it allows two people to pass each other on the island comfortably. And most importantly, it ensures that all the drawers and cabinets can open easily.
On the other hand, you don't want too much space between an island and the counter. Such a kitchen will start to look uncoordinated.
It's also not a practical kitchen layout, in terms of work triangle and efficiency. A kitchen needs to have a fine balance between the island and the walking space.
Overhang for kitchen island seating
An overhanging countertop on your kitchen island serves as a makeshift table for informal meals and get-togethers. Here too, you need the correct dimensions.
Keep in mind that the minimum overhang for this kind of seating is 20 cm (8 inches) and the maximum is 30 cm (12 inches). The standard measure is about 25 cm or 10 inches. Your island will need legs or L-shaped brackets as supports in case you opt for a deep overhang.
Relationship between worktop and overhang
Your worktop's thickness proportionally determines the overhang limit. The thicker the countertop, the larger can be the unsupported overhang. Here's a quick guide for you:
12mm thick worktop accommodates 200mm overhang

20mm thick worktop accommodates 250mm overhang

30mm thick worktop accommodates 300mm overhang
It's best to hire a professional kitchen designer or consult your worktop supplier for the ideal measurements.
Space per person for seating at a kitchen island
When you want to calculate the space for bar stool seating at a kitchen island, a good rule of thumb is allocating 60cm or 24 inches of space per person. This allows enough elbow room to sit comfortably. If your kids are the only people to sit at the island, you may go a little less at 50cm.
Total space required for a kitchen island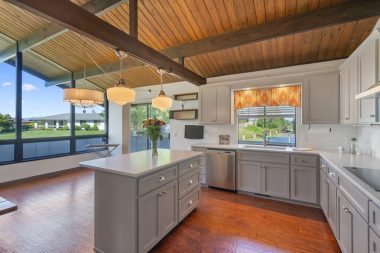 When it comes to deciding on the total space for your island — the mantra is quite simple: measure, document, and calculate. Add together all the dimensions we have discussed so far and you will get a good idea on how much space you need to fit an island.
Let's take an example. Suppose you keep 650mm for your kitchen cabinet depth, 1000mm for walkway space, 900mm for the island (cabinet + overhang), and 1000mm for walkway — it will add up to 3550mm.
This means that you need 3550mm of free space for an island with one run of cabinets in your kitchen. The measure increases to 4200mm approximately for two runs of cabinets.
If in doubt, check with your kitchen contractor. And, don't be afraid to ask questions.
Final thoughts
If you wish to install a kitchen island, it should be well-planned so as to lend maximum functionality and comfort to your cooking space. Not only should the island enable proper traffic flow, but it should also offer proper workspace for dining, food prep, and storage.
An unplanned, improperly sized, and disproportionate island can be frustrating and uncomfortable. You must consider the above kitchen island size guidelines and ensure that you have enough space to go for great kitchen layouts.
What Are the Most Important Kitchen Island Size Guidelines?
was last modified:
May 18th, 2022
by
Recommended