Adding a sunroom to your home or redesigning your old one is a great way to boost comfort in your home and even raise its price on the market. So, no matter if you're remodeling or starting from scratch, here are some great sunroom design ideas for a perfect sunroom.
Reimagine the floors
Often neglected, the floors are actually one of the most important parts of your sunroom. However, choosing the right type isn't super easy. Your best bet is to consider your sunroom's purpose. Will it be used for afternoon and evening relaxation with a glass of wine and a good book, or will you primarily use it for entertainment and parties? The first purpose definitely needs some soft and warm carpets, but the second one will benefit from some sturdy and easy to clean materials like tiles and laminates.
Consider your furniture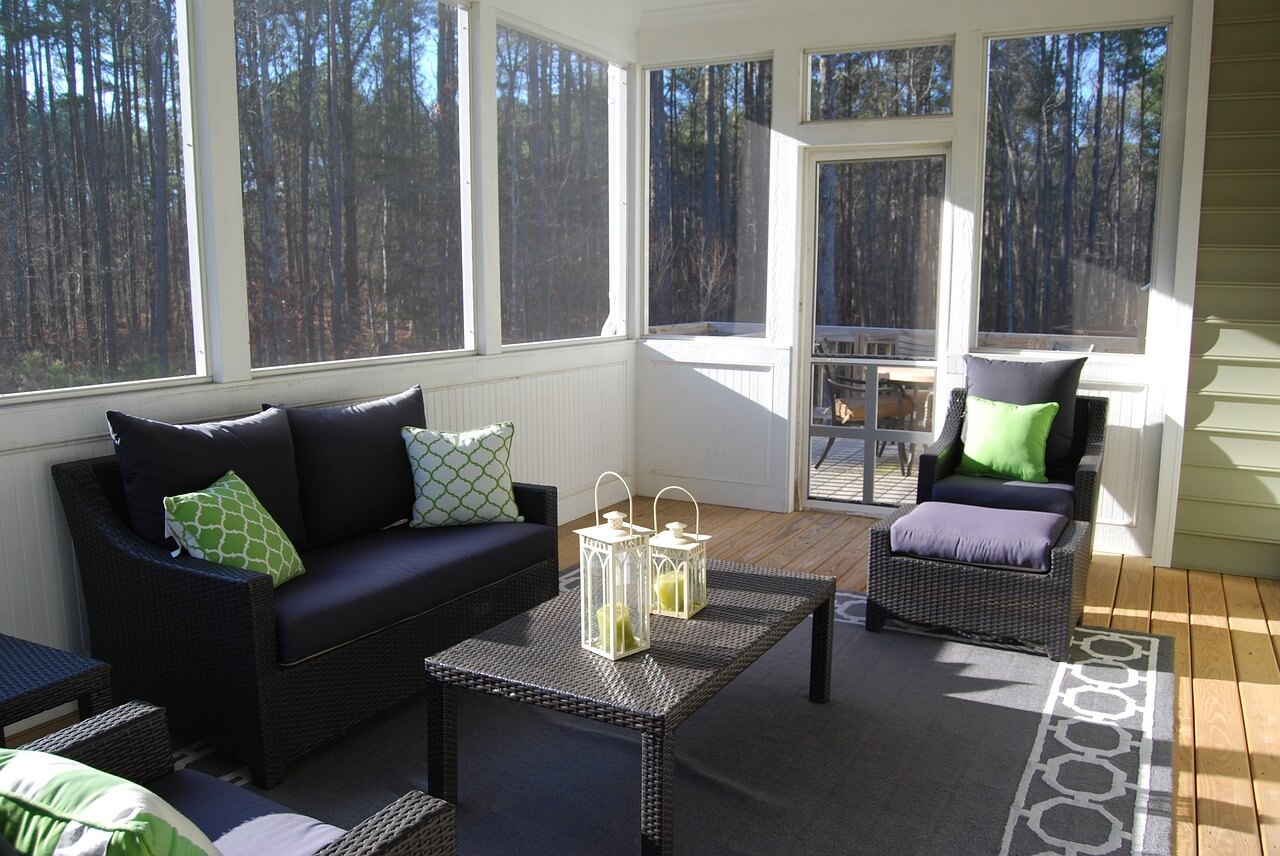 If you want to make your sunroom comfortable and functional, you need some cozy seating and other furniture. Again, depending on your sunroom's purpose, you can choose from spacious sofas and armchairs, or tall bar tables and practical windows seats. The first will give you comfort for afternoon naps and evening chats with family, and the second one will free up plenty of space for mingling and dancing! Adding a dinner table that can be easily removed is a great way to quickly transform your space from a sun-filled dining room into a fun, party space!
Read more: Sunroom financing options
Add some shade
Since there are no real walls in the sunroom, you're going to need plenty of shades. They are perfect for adding privacy and keeping some of the summer heat outside making your sunroom more comfortable and cozy. Shades come in all materials, patterns, and prints and they are a great addition to your space. If you're aiming for a more contemporary space, opt for automated blinds, but if you love a relaxed, beach house look, better choose bamboo blinds or airy curtains.
Read more: Benefits of blockout blinds
Update your doors and ceiling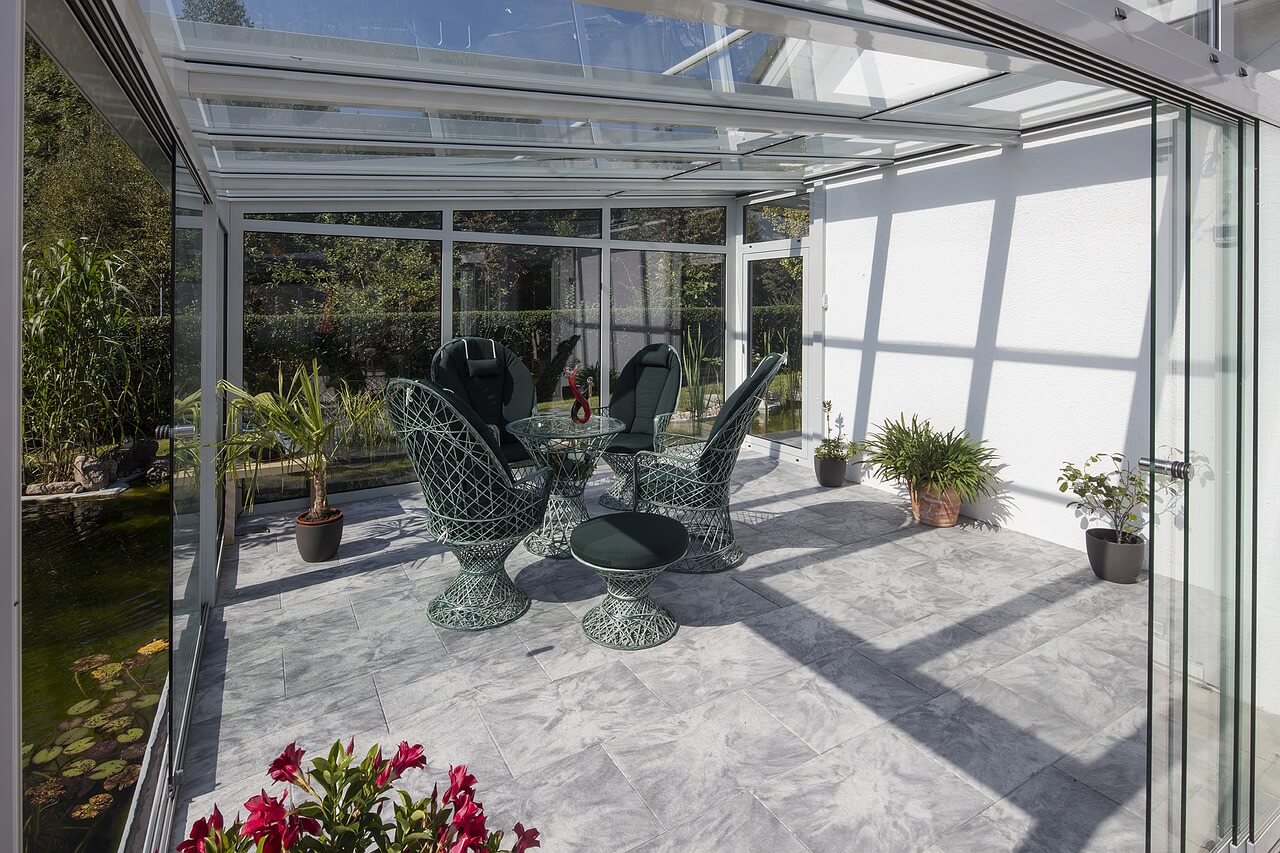 If you want to let even more sun into your sunroom and make it super functional, you must invest in some good doors. Your best choice is definitely quality sliding doors that are very practical and look absolutely amazing! They also save space (they don't open inwards or outwards) and provide your sunroom with good ventilation and natural light. Best models come with insect screens, so you can keep your doors open without letting all the nasty pests inside!
If you want to try something unconventional, try to make use of natural bamboos on the ceiling and the surrounds to add character and style.
Read more: A Complete Cost Guide For Your 4 Season Sunroom Installation
Regulate your temperature
Sunrooms are known to get really hot in the summer and very cold in the winter, so if you want to use your sunroom all year round, you must regulate its temperature. However, you can install stylish ceiling fans to keep your sunroom fresh in the summer, especially if you combine them with an AC. Patio heaters, on the other hand, are a perfect addition to your sunroom during the winter. They look very attractive and give you some precious heat when it's cold outside.
Read more: Why my patio heater won't stay lit
Add some greenery
Sunrooms are a perfect way to marry your outdoor and indoor space, so make sure to add some greenery to your interior design. Traditionally, plants grow very well in sunrooms because of the warm temperatures and plenty of sunlight, so even if your thumb is far away from being green, your plants will thrive. Think large hibiscus plants or passion flowers or add some visual interest with hanging plants like Boston fern or spider plants.
These amazing design tricks will help you create a perfect sunroom for your lazy afternoons, chill summer evenings or cool parties! Just make sure to take your sunroom's purpose into consideration during your design period, regulate your temperature, boost privacy and add a pop of color with greenery. You'll never even want to go back inside again!
Read more: Sunroom flooring ideas: What works best for your home
Perfect Sunroom Design Ideas For Your Home
was last modified:
February 1st, 2023
by
Recommended