Tired of dragging water pipes every week to your garden? How about installing a proper full circle sprinkler system instead? It is also an easy home renovation technique that doesn't involve a lot of investment. Also, check out this article on turf vs grass for your lawn.
How much does a sprinkler system cost?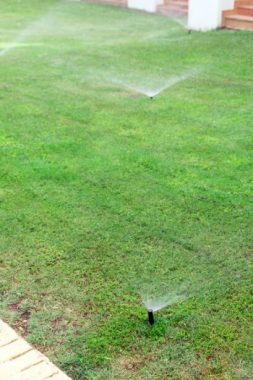 Photo by Freepik
The total sprinkler system to water your lawn cost will depend on the area of the garden in question. For a quarter-acre garden, the cost will be between $2500 and $3500. In case of a half-acre land, the cost will be between $3500 and $5500. For one acre gardens, the cost should be between $6000 and $8000. The most interesting thing is that you will most likely spend as much as $800 for inspections, permits, plans, and backflow preventer systems. While it is easy to assume that this is the area where you can save some money, it is strongly advised to avoid doing so. A local vendor without much credibility may quote you a lower amount for this step. However, getting this step wrong may jeopardize the actual project.
Important steps for in-ground sprinkler system installation
Once you have a plan and necessary permits in place, it is time to push the project live. The following are some of the most critical stages of a sprinkler installation project.
Take a look at our guide on 10 Environmental Problems That Affect The Plants In Your Garden
Step 1
Mark the sprinkler locations on the ground with a flag. This will also give you a first-hand feel of the correctness of the plan. You also need to use strings to mark the area where the pipes will be placed. Make sure to check there are no electric or water supply lines in the area you are planning to dig. A good thing to do in this regard is to get a professional investigate this for you.
Step 2
This is the stage where trenches need to be dug as per the plan. Usually, the trenches are 6" to 12" deep. The strings from step 1 will make this stage easy and simple for you.
Step 3
Get the water supply ready. You will need to check the water pressure of your main supply to ensure that the required parameters are met. The idea is to ensure that the sprinklers cover the entire 360 degrees of the lawn.
Step 4
Ready the water pipe valves. You may need to use the backflow preventer in this step.
Step 5
Set the pipes correctly in the trenches. You need to layout the correct sprinklers and connectors at the right positions. It is a good idea to go for PVC pipes and a professional installation.
Step 6
Assemble the entire sprinkler system. Please remember not to connect to the main water supply until the entire set up is complete.
Step 7
Flush the system with water to remove any dirt. This will help to keep the water flow intact.
Step 8
Now, turn on the system and test every section for the amount of water and spray patterns. You will need to ensure that the entire field is getting wet. A good trick to confirm this is to check if water from a sprinkler head is reaching all the other neighboring sprinkler heads.
Take a look at these Garden Maintenance Tips Every Gardener Must Know
Choosing the right vendor for sprinkler system installation
This may prove to be one of the more difficult steps in the entire process. If you check online, you will find dozens of sprinkler installation vendors claiming to be the best in the market. But, how do you compare them and pick the one that suits you best?
Check customer reviews
Customer reviews are a good way to understand and assess the credibility of any vendor. However, the catch is that you need to get hold of genuine customer feedback. How do you tell if an online review is a genuine one?
Recommendations from credible platforms
If a credible neutral platform is rating a vendor high, there is a high chance that the vendor is actually good. While you are it, if you want to check how much a remodel would cost, try our project cost estimator. 
Read more: How to set up sprinklers
Take multiple quotes
Getting quotes from multiple vendors will give you a fair idea about their reputation and credibility in the market. Any credible will handle negotiation professionally and in a structured manner. The way in which a company deals with you will tell you a lot about their experience and exposure.
Shortlist a few
It is strongly advised that you do not rush to close a deal with any vendor. Take your time. Shortlist the ones that you like and have multiple levels of conversations with them before picking one.
Read more: Maintenance of sprinkler systems
Check for discounts and offers
If you are planning to install the sprinkler system in winter, there is a good chance that you will get exciting discount offers. Do not shy away from asking if the vendor is willing to offer you any discount on the total project cost.
Now you know everything that you need to for sprinkler installation. So, what are you waiting for? Pick the vendor for your sprinkler system installation, know the right watering schedule and enjoy your very own garden water system today!
Read more: Winterize sprinkler system
A Perfect Sprinkler System Installation Guide for Your Garden
was last modified:
January 26th, 2023
by
Recommended