What do you do with an extra outdoor space and flowing creative juices? Design an outdoor kitchen! Sounds like a monumental endeavor, doesn't it? But for someone who has all the time (and money) in the world, designing a perfect outdoor kitchen can be a rewarding feat. But when you've decided to roll up your sleeves, put your thinking hat on, and sit on your spacious patio, you still end up riveted on your seat at sixes and sevens as to how and where to start. True enough, when starting something from scratch or building something from the ground up; you're left with gazillion questions that only you or an expert outdoor kitchen contractor can answer. But if the latter is out of the picture at this point, then most probably you're going to have to take matters into your own hands. In the meantime, let me be the 'outdoor kitchen contractor' you're not hoping to hire and help you with the top 7 tips for designing the perfect outdoor kitchen.
1. Plan According to Your Lifestyle
If you're peeking at your neighbors' outdoor kitchens for ideas, chances are, your neighbors most definitely have different styles and preferences, and so do you! Unless you're a major copycat, then you may scout for other ideas but designing an outdoor kitchen will start with how often you're going to use it, the kind of cooking you do, how many members of the family actually eat alfresco, if you're into hosting small and big parties, if there'll be mostly kids or adults, et al. So before you make an outdoor kitchen layout, ask yourself as many of these questions so you'll know what kind of functions your kitchen can offer.
2. Work Within Your Budget
Supposing budget was an issue, it's always better to check logistics first before impulse buying those kitchen appliances from an outdoor kitchen store. Plumbing, electricity, gas and water lines or hard-wiring appliances are some of the costly procedures you need to deal with, and simple things like putting the appliances near the wall exterior, or building the prep and cooking areas near the indoor kitchen can give you convenient access and more reduced expenses with regard to plumbing and electricity. Also, if you have a limited budget, opting for salvage kitchen cabinets, countertops, or even grills can still give you the same functions without breaking the bank.
Read more: How much to budget for home maintenance
3 Don't Underestimate Mother Nature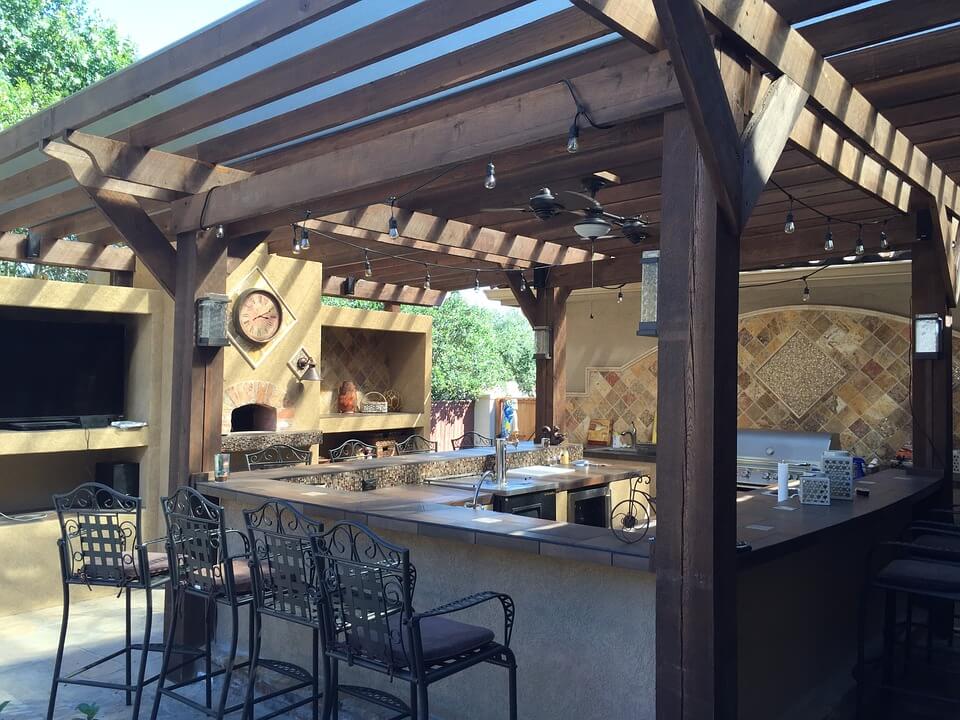 Pixabay
This step is one of the things that homeowners fail to oversee. An outdoor kitchen may be as functional as an indoor kitchen but an indoor kitchen will never be as susceptible to seasonal elements as an outdoor kitchen. So if you live in a country with four different seasons, make sure you weatherproof your appliances to avoid a quicker wear and tear. You'll have to make use of sturdier materials, and install a canopy that can either shade you from torrential rains or the scorching sun.
4. Greens, Greens, Greens
There are several reasons why people incorporate outdoor kitchens in their homes. For instance, connecting with nature and eating with a fresh open breeze are a few examples. I don't know about you but there's always something about nature that calms me. Try to integrate a couple of planting decorations in your outdoor kitchen. Green is such a soothing color to the eyes because it's the color of nature, and you want your guests to leave their anxieties behind the moment they set foot in your kitchen.
5. Go for Low-Maintenance Countertops and Cabinets
Since your outdoor kitchen is literally exposed, making it spic-and-span can sometimes be a drag, not to mention time-consuming. Choose materials that are easy to maintain like granite or stainless steel; these are not only aesthetically elegant-looking but are also very easy to wipe and clean. And they match with just about any design!
6. Lighting is Everything
Lighting can be of no essence until nighttime comes. You don't want to be chopping your fingers instead of the onions, do you? So prepare when the sun sets and the stars take its place because that's when the party usually fires up. But of course, install excellent lighting for aesthetics and functionality. Place outdoor task lighting above your grill or prep stations, or you can also use string lights on your pergola to give a more dramatic dining experience, or what about putting some lights along the pathways so your guests won't trip while moving around your outdoor kitchen. If they do trip with drinks in hand, you're going to have to clean the mess yourself!
Read more: Indirect lighting ideas make your home inviting stylish
7. The ambiance is Everything (Well, next to lighting)
You can have the most basic outdoor kitchen, but a good ambiance can make up for other missing equipment a fully-outfitted outdoor kitchen has. No budget for an outdoor fireplace? Get a portable fire pit! What about outdoing your neighbor's outdoor kitchen and building a brick pizza oven? You can even take it up a notch and create a mini tiki bar for the uber thirsty guests! The possibilities are endless when putting a touch of your personality in your outdoor kitchen, all you have to do is be innovative.
Apart from the usual plumbing and electrical installations which you need to consult an expert for; customizing an outdoor kitchen can be a gratifying task when you're fully committed in terms of effort and budget. So when you're all done, and already have an up-and-running beautiful outdoor kitchen, don't forget to give yourself a pat on the back…and also invite me for drinks!
Read more: Fitted kitchens
Top 7 Tips for Designing the Perfect Outdoor Kitchen
was last modified:
November 22nd, 2022
by
Recommended