Types Of Paint Finishes For Your Internal Walls
Just like the different kinds of paints, there are various types of paint finishes available for interior walls. While certain variants are easier to clean, others radiate more shine and some offer a dull, matte outlook. The latter is, of course, not preferred for areas that are used frequently and are subject to regular wear and tear. When you decide to purchase a paint finish for your interior walls, you must consider the coverage area, maintenance requirements, amount of sheen you need, durability and washability.
What Do You Mean By a Paint Finish?
Paint finish means the amount of shine or gleam displayed by a certain type of paint. As we already mentioned, the options are many. You can either go for a variant with no shine or a finish that is highly glossy. Your final decision depends on your personal specifications. Additionally, the finish level also defines your paint's durability. For instance, the more shiny types are usually easier to wash and they also last longer.
Read more: What You Need to Know About Wall Texture Paints
What Are the Types of Paint Finishes for Interior Walls?
Paint finishes for interior walls are available in five primary categories. Below, we have listed them, along with their recommended areas of application in your home.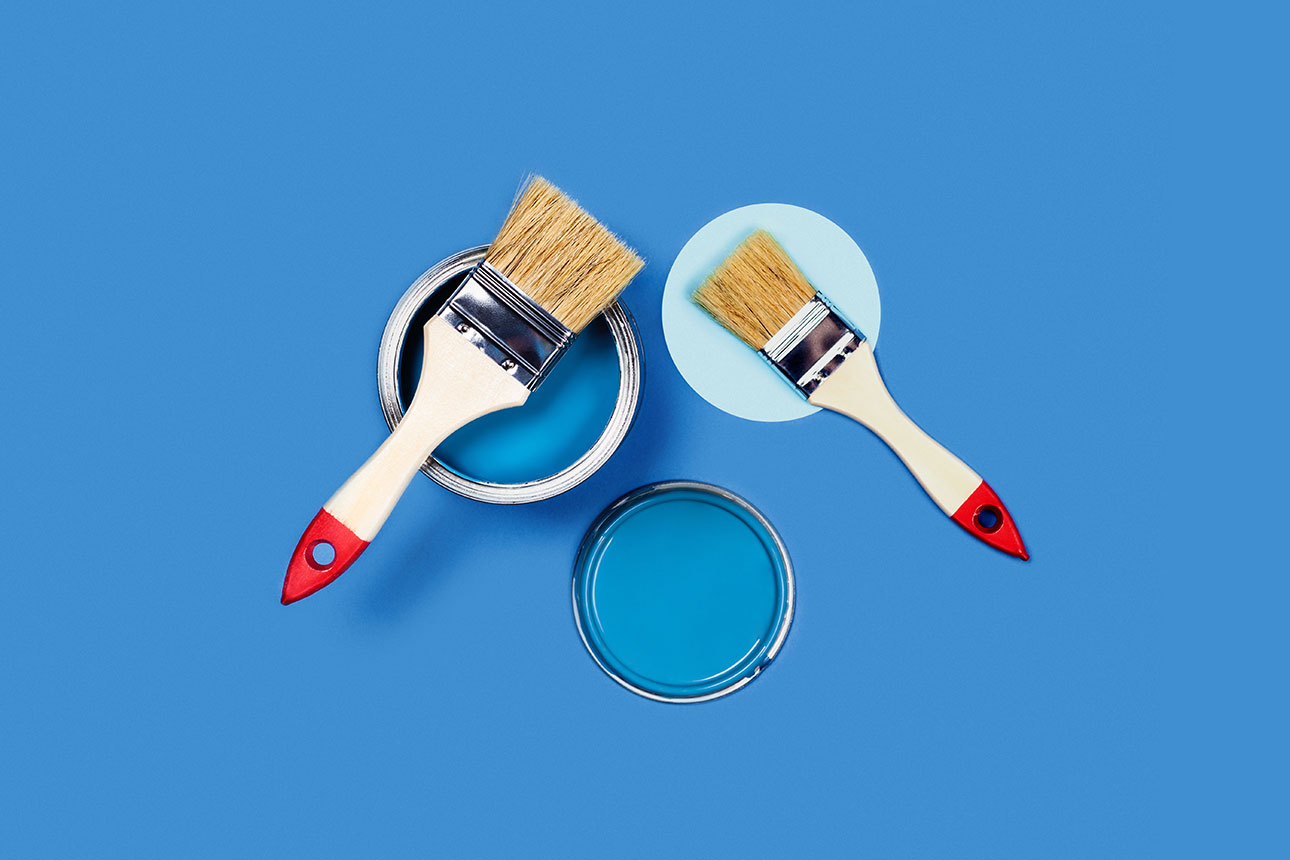 1. Matte Finish
Matte finish, also called flat finish, can easily conceal flaws or imperfections on your walls. You can apply it if your walls are pretty old and need a new layer of colored coating. Moreover, you can also use it when you don't want any distractions on the surface.
Again, when you wish your interiors to have some kind of distinctive character, you can go for matte paints. Since they are a tad difficult to clean, we would recommend you to apply them in rooms that are seldom used. Never use them on walls that you use regularly — such as those in the living room or kitchen.
Matte finishes are available in paint or enamel-based formula. Usually, designers advise applying flat enamel over the walls along stairways, dining rooms, family and living rooms, and master bedroom areas.
2. Eggshell Finish
The second types of paint finishes are the eggshell finishing. It is a more subtle counterpart of the glossier satin finish. As a homeowner, you may use it in rooms that see a moderate amount of traffic. Quite attractive, practical, durable, and easy to maintain, walls with eggshell finishing can be easily cleaned with a damp cloth.
Home designers normally recommend using eggshell finishing in bathrooms, kid's bedrooms, sunrooms, living spaces, and covered, closed porches.
Read more: 6 Kids' Room Colors That Are Super Fun And Amazing
3. Satin Finish
The third entry on our list is the satin finish. Much more glossy than eggshell variants, they are effortless to maintain and you can easily apply them on high-traffic areas. One of the best areas to apply a satin finish is on the interior walls of sunrooms, where the gleam of the wall color can help in minimizing extra glare from the sun.
Other rooms where you can apply satin paint finishes are family rooms, dining areas, bedrooms, playrooms, on the edges of stairways, kitchens, and bathrooms. You may also use it on your window sills, trims, and cabinets. In fact, it is versatile enough to be used in almost all areas of your home.
4. Semi-gloss Finish
The major USPs of semi-gloss paint finishes are durability and washability. Glossier than the satin finish and a tad less shiny than gloss finish, it displays a medium sheen level. You can use it on the walls of rooms that see moderate to high traffic.
Preferred areas for semi-gloss paint finishes are on woodwork and trims, walls of a children's bedrooms or playrooms, and kitchens and bathrooms.
You should note that semi-gloss paints are suitable for "high-moisture" areas, such as the bathroom. If you do use the paint in rooms with higher moisture content, make sure you look at paints that are formulated for mildew resistance as well.
5. Gloss Finish
These types of paint finishes are the ones that have the maximum durability and shine. Since they are so glossy, you can easily use them on smaller area surfaces which are older. For instance, apply a gloss paint finish so as to showcase the woodwork on trim, doors and smaller architectural elements. Since they are also easy to wash, you may use them over your cabinets and woodwork. It is also preferable on the interior walls of contemporary kitchens and baths.
Read more: Painted Vs Stained Cabinets: The Best Choice For Your Kitchen
What Should You Consider Before Choosing a Paint Finish?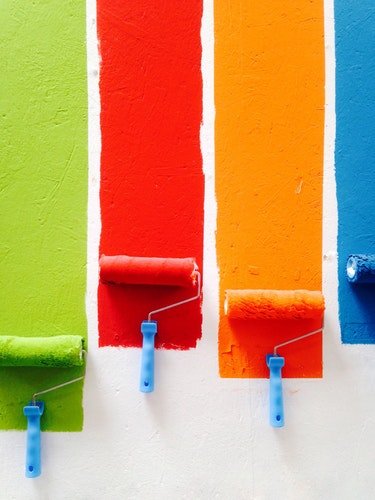 Now that you are clear about the different types of paint finishes for interior walls, the next question is: what factors should you consider before making a final decision? The three most important elements are the amount of traffic in the specified room, usability, and budget.
1. Traffic
For example, high-gloss paint is perfect for small surface areas, including the doors and trim of kitchens and bathrooms. For low-traffic areas such as living rooms and bedrooms, you may opt for a satin finish paint or eggshell finish. Again, for regions with minimal traffic, like the home office, choose matte paint finishes.
2. Usability
Another factor to take into account is who are the normal occupants of the room you wish to paint. Is it used more frequently by adults or kids? Of course, an area that sees a lot of activity from young children will demand more durable types of paint finishes. In such scenarios, you need to pick a paint with either satin finish or semi-gloss sheen.
3. Budget
Of course, the final factor is your budget. Here's the rule of thumb: the shinier the paint, the higher the price. Hence, when you pick a high-gloss paint, expect to pay a little bit extra as compared to paints with a flat or eggshell finish.
Always remember that the types of paint finishes you choose should match with and complement the room you are painting. Interior walls that offer more sheen will not require to be painted as frequently as those with matte finishes. And if you repaint more often, you also end up spending more in the long run!
MORE: 10 IMPORTANT QUESTIONS TO ASK A PAINTING CONTRACTOR BEFORE HIRING
Types Of Paint Finishes For Your Internal Walls
was last modified:
April 22nd, 2022
by
Recommended