Christmas is finally around the corner! Twinkling lights, beautiful wreaths, charming stockings, and fresh mistletoe — the happiness that each of these Christmas decorations brings, adds to your holiday cheer. 
Indeed, decorating your porch or yard during this festive season is as exciting as opening your presents in the morning. Creative touches on the outside of your home shall make your abode seem welcoming to your guests. So today, we bring you 12 of the most pretty outdoor Christmas decoration ideas that shall surely take your breath away!
1. Get a second tree, outdoor this time
Placing a twinkling Christmas tree as part of the indoor Christmas decorations is a norm, true. But what about a second one? If your house has the required layout, then keep one on the porch, yard, or stairway. Try to decorate it with weather-resistant ornaments and tree toppers so that it lasts all throughout the holiday season. And, of course, you can place beautiful gifts under the tree skirt. 
2. Hang some sparkling string lights
Hang some colorful string lights all the way down from the roof. Tiny white lights are pretty popular and they give the feel of chilly winters. But, you can also play around with colors for a more festive look. 
Another idea is to bathe your home in a golden glow with garlands surrounded with Christmas LED lights. If your house has many windows, a well-lit interior will radiate a warm gleam visible from the outdoors —  lending a welcoming ambiance from the front yard.
3. Get creative with your front door
Deck your front door with a magnolia leaf wreath and garland. You can also add striking ornaments in bright tones of red, silver, and gold to give pops of different shades. What about adding a faux white reindeer surrounded by green leaves and branches? Deck it with some bright red berries or colorful ribbons. And there you are!
Make Christmas Holiday Lights Stand out with 9 Expert Tips
4. Use some killer yard decorations ideas
You can extend your Christmas decorations from your porch to the yard as well.  Do you have some plywood handy? Then make few gingerbread men and place them outside. 
Utilize scrap pallets to construct a simple tree and decorate it with ornaments and LED Christmas lights. Or, make some glowing presents out of gift paper, ribbons, and lights to render a soft gleam to your yard.
You can even go for grapevine yard ornaments, which are simply woven balls filled with lights. It is even better if you have pine trees in your backyard. Decorate them with resistant, monochrome tree ornaments so that they don't wear down due to the weather.
5. Display shiny lanterns on the front porch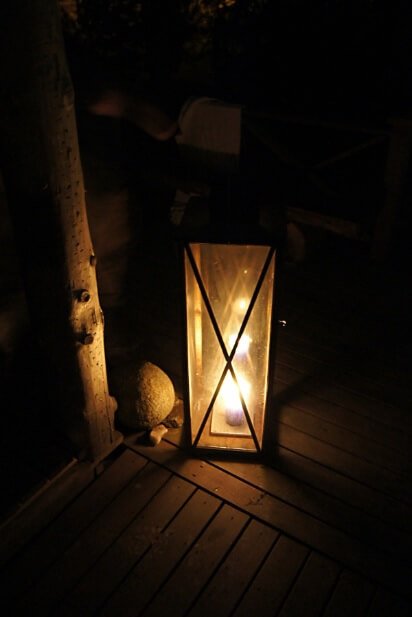 Photo by Pxhere CC0
Decorate your lanterns with gleaming trinkets and line them on your front porch.  You can even top the lanterns with ribbons and fraser firs. Do you have a glass vase at home? Simply layer it with faux snow and fake or real berries. Place a pillar candle and you are all set to go. Align them over your fir bundles along the walkway and get ready to win the admiration of your visitors.
6. Decorate the windows, pillars, and door frame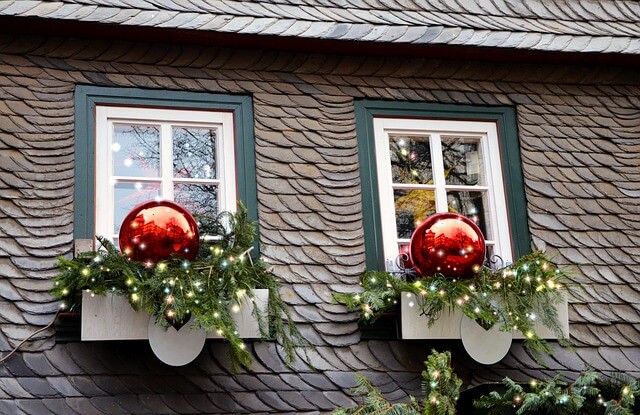 Photo by Pxhere CC0
One creative idea is to wrap your pillars in striking white lights. You can similarly outline the door as well. Decorate your windows with wreaths for added appeal. Consider adding seasonal greenery to your outdoor planters  as well. One idea is to fill a white planter with decorative candy canes for a unique holiday style.
7. Recreate the nativity-themed decor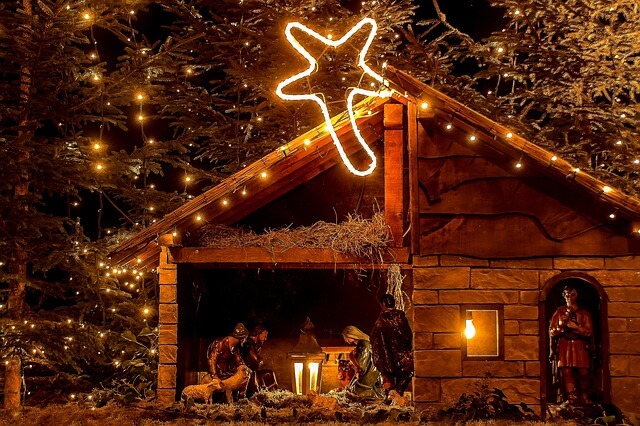 Photo by Pxhere CC0
The classic theme of the nativity scene is a decor idea that can also be extended to your front yard or porch. The holy family, wise men, shepherds, and animal figures can be surrounded with beautifully illuminated angels. You can even place these angels in every window of your home, to give an ethereal look to your home.
8. Play with symmetry
Try to keep your decor symmetrical for a more refined statement. Use your walkway as a guiding point, while moving outwards with matching wreaths and garlands. Christmas trees are traditional holiday symbols. 
Why not create a forest of different styled, pre-lit Christmas trees and place them strategically along your yard? Put lighted gifts under the trees for added cheer and fun. You can also put glowing mini trees in pots or urns on either side of your front walkway or porch.
9. Get creative with your porch
Christmas is one of the most beautiful times of the year. And, your Christmas decoration should be as lovely. When it comes to your outdoor decor, you can go crazy with fairy lights, wreaths on the porch door, bright red pops over a wooden railing, an impressive display of candles, birch branches, pinecones, and so much more. Your porch will look grand while exuding a welcoming warmth! 
10. Don't forget the humble mailbox
Give a hearty welcome to your guests by adding a cheerful touch to your mailbox. A few pine leaves over a wire, along with red accents and pinecones, is all that is required.
11. Showcase your nicely packed parcels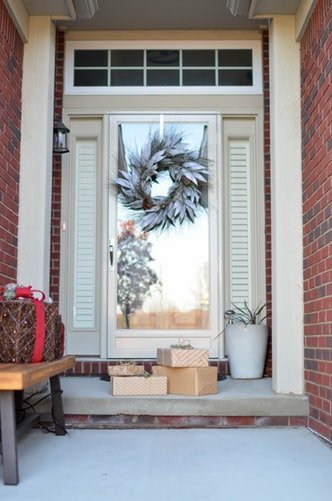 Photo by Element5 Digital on Unsplash CC0
Christmas is all about togetherness and joy. And, this happiness grows exponentially at the sight of beautifully packaged gifts. Well, you can keep the real ones inside the house and showcase some faux gifts on your porch for a picture-perfect finish. 
The bigger the boxes, the better will be your outdoor Christmas decorations. And, you won't even have to guard them 24X7! So, bring out your shiny wrapping papers, some differently sized cartons — and get to work. 
12. Create a cozy picture-perfect porch
We love how the Christmas decorations give the porch a beautiful look. The fairy lights, the wreath on the front door, and the red and white combination of candy canes. Don't forget the lit candy cane lamps on the windows. The soft glow from the lights will make your heart swoon. 
Read more: Have a cozy Christmas following these 7 tips
Last thoughts
Whether you go for minimalist decorations or take measures to decorate every inch of your outdoors, remember —  outdoor Christmas decorations shall reflect your taste. Therefore, think carefully and do the appropriate research to decide which theme matches your style and budget.
There are so many decor items available in the market. Bring home your selection of Christmas decorations and create beautiful, lasting memories. So, get together with your friends and family and decorate your porch and yard together. With so many ideas pouring in, you are bound to have the most beautiful home in the neighborhood.
Read more: Autumn Decor Tips
12 Outdoor Christmas Decorations to Make You Swoon
was last modified:
May 18th, 2022
by
Recommended