5 Unbelievable Tips for Revamping Your Home Entryway
Both the interior and exterior entryway of a home has the capacity to increase the value of a home. Focusing on the exterior space which may include a porch, landscaping, exterior furniture, lighting, and more, can also increase a home's curb appeal. However, you don't need to spend a lot of money or time to revamp a home entryway—often, something as simple as a fresh coat of paint can overhaul the space.
Whether or not a homeowner plans to sell in the near future, it's always a good idea to improve a home's entryway. Increasing the value of a home inherently increases the value of a neighborhood. Plus, entryway renovations can improve safety. Surprisingly, the majority of break-ins occur through the front door when a criminal feels safe enough to linger in a protected area (i.e., if the visibility is poor due to unkempt landscaping).
If you want to make the best improvements as quickly as possible, here are five tips for making over your home's entryway:
1. Invest in suitable patio furniture if space allows.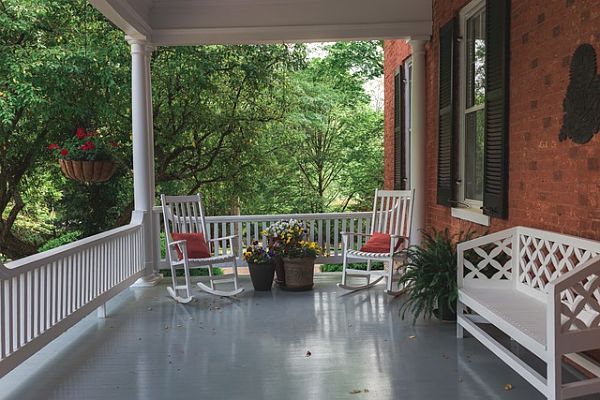 There's a fine line between cozy and crowded. If your front entryway provides enough space, then investing in some welcoming exterior furniture can instantly make a home more inviting. This might include classic Adirondack chairs, a porch swing, or an exterior mud bunch.
However, keep in mind that not all houses have the space for such furniture. They're better suited to generous porches where the furniture won't crowd the space or make it look too busy. If you do invest in furniture, make sure you match the measurements of the space to the furniture. The colors should complement, and in some cases, furniture can add a pop of color to an otherwise neutral home. Buy high-quality materials that were made for outdoor use and suitable for the environment. Consider any upkeep (such as wooden furniture that will need regular repainting) and choose materials according to your comfort and skill level.
Read more: Sunroom furniture ideas
2. Repaint the space.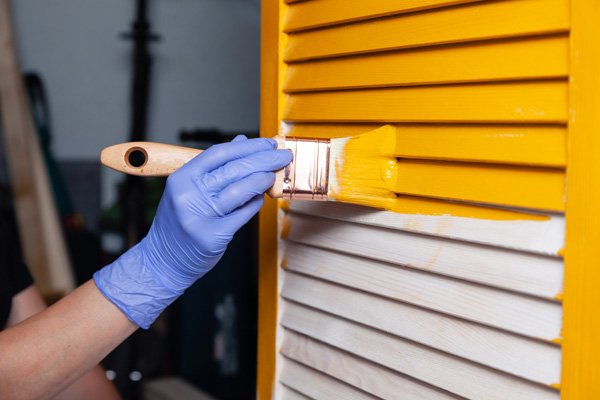 A fresh coat of paint can work wonders, especially if you're painting over an outdated or garish color. Both the patio/entryway area and the foyer can be a space where a new paint job can instantly offer a facelift. Another option and one that is even faster and more affordable is repainting the door.
Current trends say that bright colors, particularly yellow, can help give an otherwise neutral house a little personality. The color of the door is one place where you can get creative (as long as you only paint in one color). The entryway door is the second most common entrance/exit of a home (the first is the garage) which means it gets a lot of traffic. Doors can quickly start to look dingy or discolored, particularly if they are a lighter color.
Read more: How to estimate a paint job
3. Install an exterior fan on the porch.
If you tend to spend a lot of time relaxing on your front porch, an exterior fan can add an added touch of elegance and comfort. They are highly popular in the south where lounging on porches (often of the wrap-around variety) is common. Be certain to choose a fan designed for outdoor use and which complements the house. Matching the color of the fan to the houses hardware is a good idea.
It's always wise to consult with an electrician before making your fan purchase. The difficulty and cost of installation can vary greatly depending on a home's existing electrical system.
Read more: How install ceiling fan wiring
4. Install a chandelier in the foyer.
There's something magical about chandeliers, whether you prefer the traditional crystal or a more modern sleek look. However, there are few places in a home to display such a stunning accent. Foyers are the exception, particularly if yours is high and offers a frame for a chandelier.
Chandeliers come in all sizes, types, and price points. Bargain shopping for them can yield great results. However, again, you'll want to consult with an electrician before purchasing a chandelier.
5. Plant butterfly-friendly plants.
If you really want to up the wow factor on your home come spring, planting plants that attract butterflies will give any house a whimsical touch. At the same time, think about plants that are evergreen, or otherwise look beautiful in the winter months. You can give up some of your yard's "real estate" in other areas for seasonal blossoms. At the entryway, it's important to keep the landscaping looking trim and colorful year-round.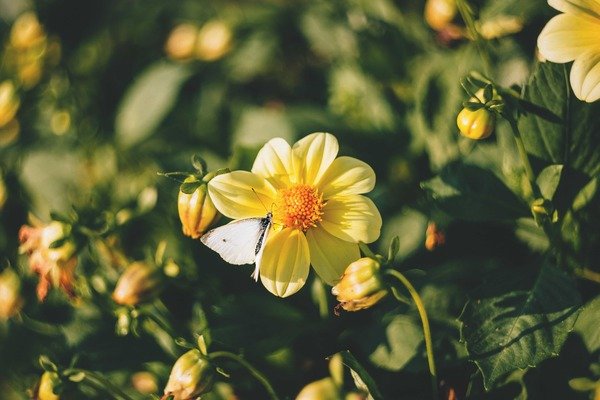 Increase the odds of butterflies by planning milkweed nearby (a plant that stays dormant in winter months). It's the primary feeding source of monarch butterflies, and you'll be treated to a cacophony of colors from their wings come summer.
Thinking about rejuvenating an entire home is overwhelming, and understandably so. However, focusing on just one area at a time makes the process more digestible. The entryway is a small yet fun space that can be packed full of glamour, personality, and comforts. From staining existing wood to installing new accent windows, there are countless ways to spiff up the place and make it yours.
Read more: Winter porch decor
5 Unbelievable Tips for Revamping Your Home Entryway
was last modified:
December 1st, 2022
by
Recommended