Snowy landscapes, the sweet smell of pine trees, curling up by the fire, or enjoying the bright sun, winter months are without a doubt the prettiest time of year. Why not show off your winter porch decor in style?
There are many winter porch decorating ideas to choose from – designs that will make your front porch look its best.
Adding interest to your winter porch doesn't just brighten up a cold winter day, it also adds a welcoming vibe – a boon for those who often entertain friends and family. Most importantly, it creates instant curb appeal to your property.
So, let's begin with some great winter front porch decor ideas to spruce up your porch for the winter months.
Create a winter arrangement
DIY winter arrangements are easy enough to make. Fill a terracotta pot with wintry items such as logs, pine boughs, red berry twigs, and pinecones. Or, you could have different-sized baskets filled with pinecones, dried flowers, sycamore balls, and evergreen branches. The rustic arrangement will add a lovely touch to your outdoor space.
Create a hygge corner
Hygge is the ultimate trend in interior decor. The idea is to achieve a peaceful and serene ambiance with cozy textures, warm lighting, and candles. Take a wooden bench and add accessories such as a faux fur-trimmed blanket, some throw pillows, and realistic LED candles or lanterns. You'll love to unwind here with a hot cuppa.
Light up your porch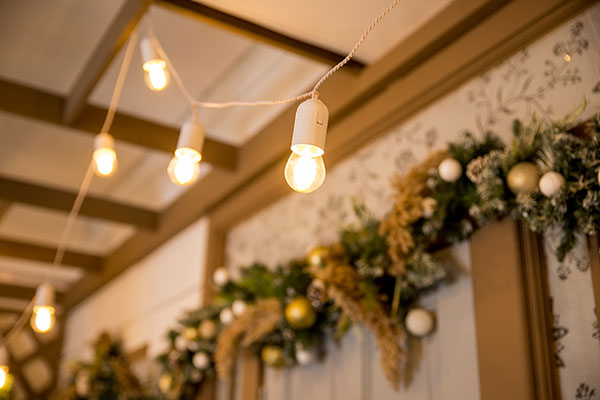 String lights are an affordable and lovely way to enhance the beauty of outdoor porches and patios. The best part is you can hang them anywhere easily. You can either create a curtain of fairy lights or wrap them around your porch pillars. On nights you don't want the harsh glare of the porch lights, these will provide the much-needed warm glow to your outdoor space.
Bring out the lanterns
Lanterns make for a great addition to winter porch decor. Place them in a corner and add candles. You may even consider buying convenient solar lanterns that do not require manual turning on or off. Just make sure to buy weather-resistant lanterns.
Add colorful accessories
A winter porch requires pops of color here and there. Otherwise, the gray mornings can be a downer for some. Decorate your porch with a new colorful rug, wall art, faux floral foam arrangement, some bright wall decor items, or patterned flags.
Decorate with wooden snowflakes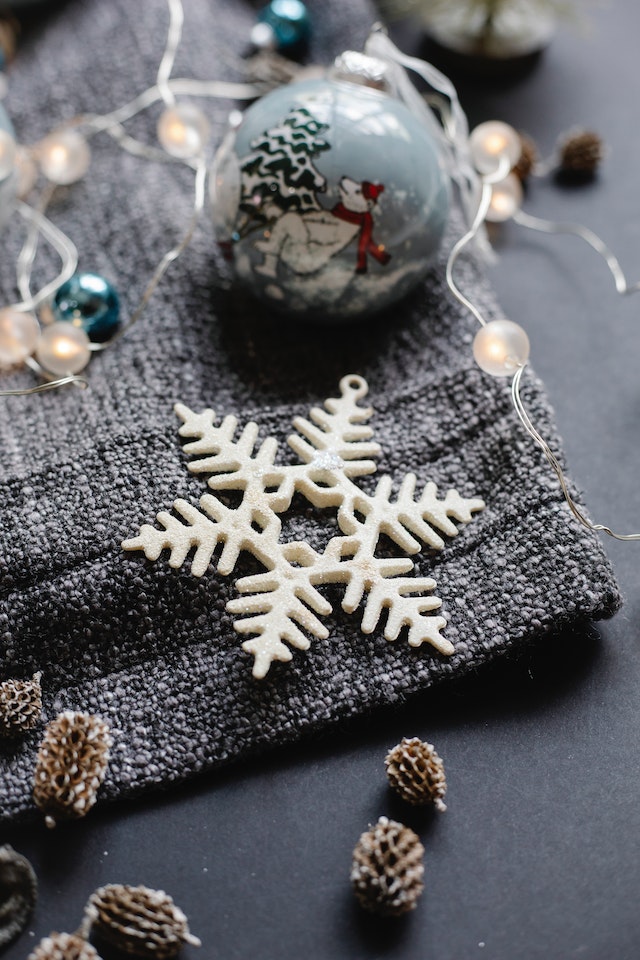 Placing snowflakes, albeit wooden ones, is the ultimate winter porch decor. You can create a corner with bright-hued snowflakes. Or, you can even contemplate hanging these from the shrubs, bushes, and trees in your front yard. It cannot get more wintry than this!
Bring on the snowmen brigade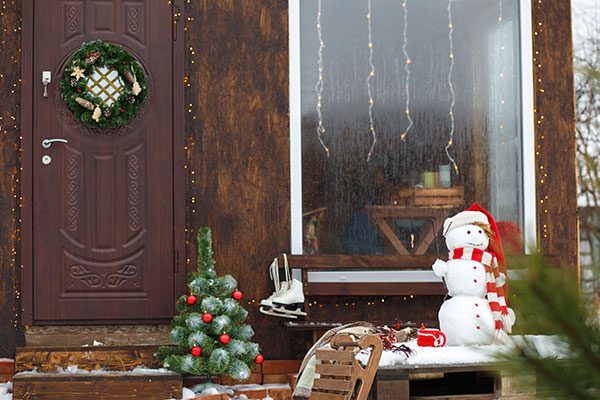 How could we forget the little snowmen? Whether your region experiences enough snow to carve out a snowman or not, you can always rely on fake snowmen to get the show running. And, they'll still be there when the real snow is gone!
Utilize your outdoor furniture
Cozy outdoor chairs can enhance the look of your porch besides adding comfort. You may even invest in a sturdy porch swing. Just add in a throw, some unique cushions, and a soft area rug to complete the look.
Make the space inviting with lots of greenery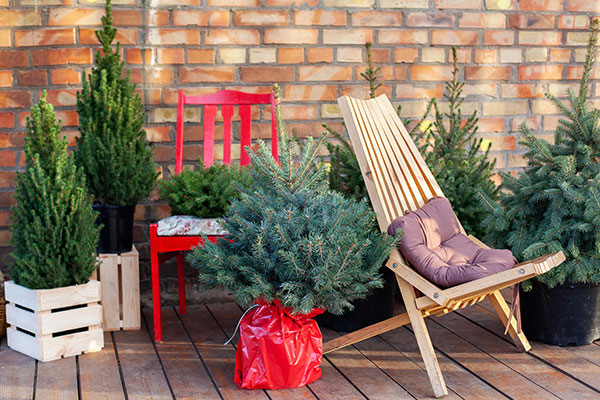 Decorating your porch or front door is incomplete without a good amount of greenery. Arrange porch pots or window boxes with hardy winter plants. Or, add a classic winter wreath made of natural dry flowers, rich red berries, painted pine cones, and lush green moss. Make your home entrance look winter chic!
Go crazy with candles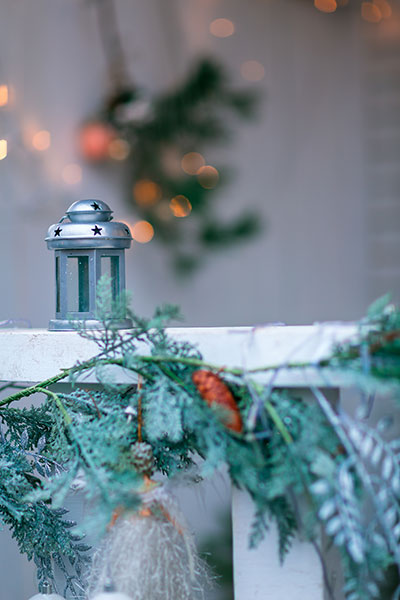 You can never have too many candles or lanterns in and outside your home. This kind of diffused lighting will make your porch look inviting and warm. Make sure the candles are waterproof and specially designed for the outdoors. Arrange the candles all over the porch area and light them up at dusk.
Wood logs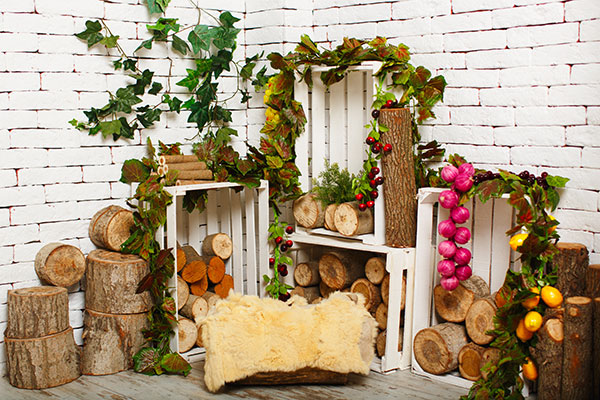 If you're looking for a rustic decor idea, plan on adding a few wood logs or piles. You can either take the natural route and get yourself some real wood or you can buy fake wood logs available online.
Place decorative floor mats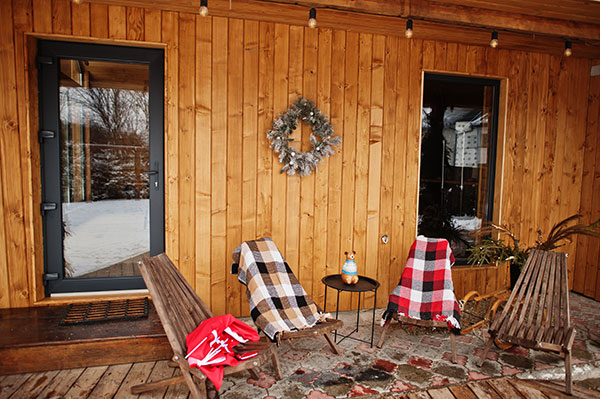 Buy a doormat that evokes the cozy feeling of winter. It could be the design of snowflakes, cardinals, or snowmen. Making your porch cheerful and fun will make the winter season a joyful time for you and your family.
Last thoughts
It becomes even more important to have great winter porch decor post-Christmas. Don't let the space look sad once the outdoor Christmas decorations go down. Why should just your holiday decor stand out? You need to make way for some newer winter decorating ideas! Think of your porch as a blank slate that you can decorate to your heart's content! Enjoy the beauty of winter and your home!
Beautiful and creative ideas for your winter porch decor
was last modified:
November 28th, 2022
by
Recommended