If you wish to have a better kitchen and at the same you don't want to spend much on it, you can look for a low-priced renovation. It should make your kitchen brighter, more organized, and overall a better one. You can easily change your kitchen into a brand-new place without wasting many bucks on it with some simple ideas.
How about giving your kitchen cabinet that interesting face-lift which could enhance the entire look of your kitchen?
This piece of writing will certainly let you know about some of such interesting kitchen improvement ideas. Above that, if you are on a tight budget, this article is certainly worth reading.
Read on some practical and affordable tips to refurbish your kitchen without spending much.
1. Clean Up
Before tackling a major kitchen renovation, let the mop take the major role. Start by washing up the pantry of the kitchen. The pantry covers most of the part of your kitchen. So, cleaning it lets the half of your work get over. Now, Clean the sink, tiles, stove, and other parts of the kitchen accurately. Also, polishing your kitchen furniture will help you give an entirely new and fresh look to your kitchen. Although this step won't cost you huge, it is certainly important when it comes to renovating a kitchen.
2. Paint
Repainting the walls is an easy fix that can brighten up your entire space. Choose the best colors which make your kitchen look vibrant and fresh. With the right colors in your kitchen, you can create an amazing difference in your home while spending just a couple of bucks. Try mix and match look for your kitchen by choosing the textured sheet of laminate instead of a plain color. Changing the colors of the walls can certainly create a huge impact.
3. Add bright lights
Proper lights create a good energy whereas dim lights will illuminate the grease stains on the wall near the kitchen stove. So, replacing all the dim light with the bright ones can prove to be a cheaper decoration which can make your kitchen look like a new one. Try some different types of lights like a modern chandelier if you have a kitchen island or you can choose 2 or 3 pendants to decorate your kitchen depending upon the space.
Read more: Basic Kitchen Lighting Types for Your Renovation
4. Change hardware
You can renew your kitchen cabinet with just a few dollars by removing the old fixtures. A simple way to make your kitchen new is to replace the old knobs and handles with the new ones. With easy pull out drawers, you can make your kitchen turn into a classy one. Choose the modern knobs which go with your kitchen furniture. Ensure to take care of some important factors while doing so. They are nothing but the size, colors, and durability.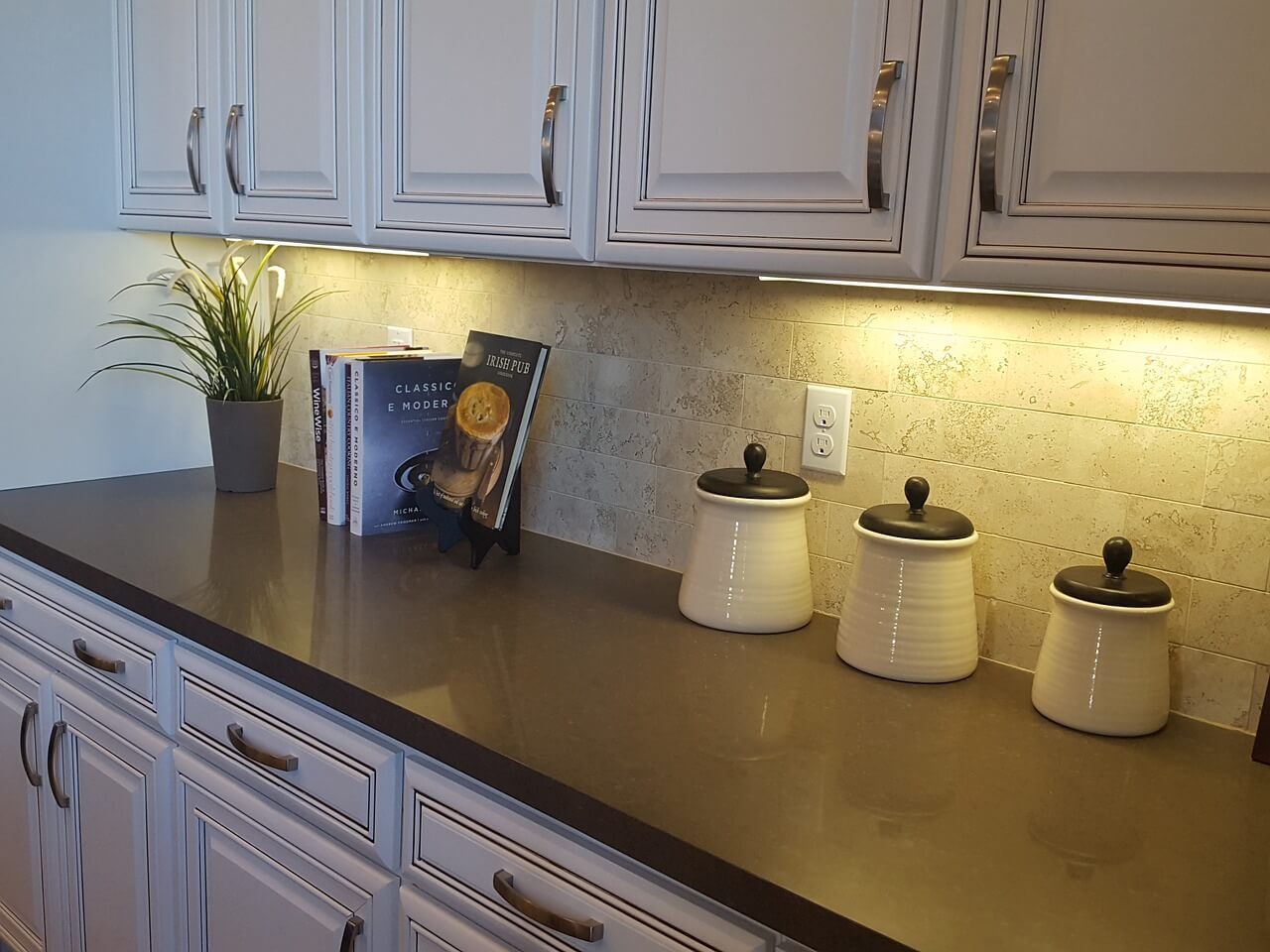 Pixabay
Take a look at these 12 Affordable Kitchen Upgrades Sure To Boost Your ROI
5. Buy new appliances frugally
New appliances can definitely give your kitchen an entirely new look. You don't need to buy fancy appliances. Instead, go for the ones which are available on discounted price at the nearby local markets. The kitchen appliances are sold during the sales several times a year. Thus, make sure that you are checking them out constantly. You can even consider buying the used but not so old appliances that someone might be planning to replace while having a kitchen makeover. Remember, you should shop from classifieds markets when purchasing such used appliances.
6. Bring the old furniture back to life
You can DIY your dated wood cabinets by giving it a new polished touch. Redo your kitchen and make it look new by refreshing the cabinets which are hardly used. By doing this, you will not only save bucks but also you will make your space look bright, clean and welcoming. Thus, by giving your old furniture a retouch can make your kitchen look like a new one without spending hundreds of dollars.
7. Place a rug
Placing a rug in your kitchen can give it a classy look. It will make the place more comfortable while adding a splash of color to the pantry. Rugs are durable and also if by chance, you spill something on it, you can easily wash it off. Whereas, your kitchen floor will take more time to clean, in comparison to the rug. So, covering your kitchen floor with a rug is definitely a smart idea.
8. Hang new window curtains
Changing your curtains will create a huge difference. Curtains will definitely make a surprisingly big difference to your kitchen. It is important to change your kitchen curtains frequently as it absorbs all the smoke and smells of your kitchen. You can buy curtains which match your interior to give your kitchen a modern look. Thus, it will make your kitchen look new again. Interestingly, it won't cost you huge to buy a pair of curtains.
Aren't these tips simply amazing? Just opt for them and renew your kitchen while not spending more without any more delay.
8 Affordable Ways to Upgrade an Outdated Kitchen
was last modified:
April 19th, 2023
by
Recommended